Fairfield County Gift Deed Forms (Connecticut)
Express Checkout
Form Package
Gift Deed
State
Connecticut
Area
Fairfield County
Price
$29.97
Delivery
Immediate Download
Payment Information
Included Forms
All Fairfield County specific forms and documents listed below are included in your immediate download package:
Gift Deed Form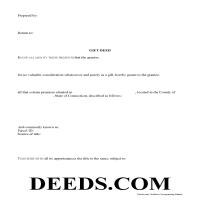 Fill in the blank form formatted to comply with all recording and content requirements.
Included document last reviewed/updated 6/12/2023
Gift Deed Guide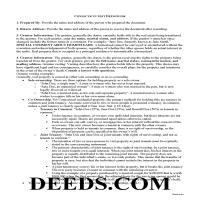 Line by line guide explaining every blank on the form.
Included document last reviewed/updated 9/29/2023
Completed Example of the Gift Deed Document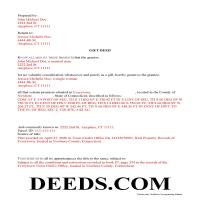 Example of a properly completed form for reference.
Included document last reviewed/updated 9/28/2023
Included Supplemental Documents
The following Connecticut and Fairfield County supplemental forms are included as a courtesy with your order.
Frequently Asked Questions:
How long does it take to get my forms?
Forms are available immediately after submitting payment.
What are supplemental forms?
Often when a deed is recorded additional documents are required by or Fairfield County. These could be tax related, informational, or even as simple as a coversheet. Supplemental forms are provided for free with your order where available.
How do I get my forms, are they emailed?
After you submit payment you will see a page listing the Fairfield County forms you ordered with a download link to the pdf form file. You download the forms to your computer. You will also receive an email with a link to your download page in case you need it later.
What type of files are the forms?
All of our Fairfield County Gift Deed forms are PDFs. You will need to have or get Adobe Reader to use our forms. Adobe Reader is free software that most computers already have installed.
Can the Gift Deed forms be re-used?
Yes. You can re-use the forms for your personal use. For example, if you have more than one property in Fairfield County that you need to transfer you would only need to order our forms once for all of your properties in Fairfield County.
Are these forms guaranteed to be recordable in Fairfield County?
Yes. Our form blanks are guaranteed to meet or exceed all formatting requirements set forth by Fairfield County including margin requirements, content requirements, font and font size requirements.
Do I have to enter all of my property information online?
No. The blank forms are downloaded to your computer and you fill them out there, at your convenience.
Can I save the completed form, email it to someone?
Yes, you can save your deed form at any point with your information in it. The forms can also be emailed, blank or complete, as attachments.
Do I need any special software to use these forms?
You will need to have Adobe Reader installed on your computer to use our forms. Adobe Reader is free software that most computers already have installed.
Are there any recurring fees involved?
No. Nothing to cancel, no memberships, no recurring fees.
Areas Covered by These Gift Deed Forms:
Including:
Bethel
Botsford
Bridgeport
Brookfield
Cos Cob
Danbury
Darien
Easton
Fairfield
Georgetown
Greens Farms
Greenwich
Hawleyville
Monroe
New Canaan
New Fairfield
Newtown
Norwalk
Old Greenwich
Redding
Redding Center
Redding Ridge
Ridgefield
Riverside
Sandy Hook
Shelton
Sherman
Southport
Stamford
Stevenson
Stratford
Trumbull
Weston
Westport
Wilton
What is the Connecticut Gift Deed
Gift deeds convey title to real property from one party to another with no exchange of consideration, monetary or otherwise. Often used to transfer property between family members or to gift property as a charitable act or donation, these conveyances occur during the grantor's lifetime. Gift deeds must contain language that explicitly states that no consideration is expected or required. Ambiguous language, or references to any type of consideration, can make the gift deed contestable in court.

A lawful gift deed includes the grantor's full name and marital status, as well as the grantee's full name, marital status, vesting, and mailing address. Vesting describes how the grantee holds title to the property. Generally, real property is owned in either sole ownership or in co-ownership. For Connecticut residential property, the primary methods for holding title in co-ownership are tenancy in common and joint tenancy. An estate conveyed to two or more people is presumed a tenancy in common, unless a joint tenancy is clearly specified (Conn. Gen. Stat. 47-14(a)). The primary characteristic of joint tenancy is the right of survivorship. In Connecticut, when joint tenancy is declared, the right of survivorship is presumed ( 47-14(a)).

As with any conveyance of realty, a gift deed requires a complete legal description of the parcel. Recite the source of title to maintain a clear chain of title, and detail any restrictions associated with the property. Each grantor must sign the deed in the presence of a notary public for a valid transfer. Transfers in Connecticut require two witness signatures, one of which may be the notary official ( 47-5(a)(4)). All signatures must be original.

All conveyances of real property require a Real Estate Conveyance Tax Return (OP-236) in Connecticut, completed by the grantor. For property located in more than one municipality, Conn. Gen. Stat. 12-500 requires a completed Real Estate Conveyance Tax Allocation Worksheet. Record the completed deed, along with any additional materials, in the appropriate town clerk's office. Contact the same office to verify accepted forms of payment.

With gifts of real property, the recipient of the gift (grantee or donee) is not required to declare the amount of the gift as income, but if the property accrues income after the transaction, the grantee is responsible for paying the requisite state and federal income tax [1].

Gifts of real property in Connecticut are subject to the federal gift tax. The person or entity making the gift (grantor or donor) is responsible for paying the federal gift tax; however, if the donor does not pay the gift tax, the donee (grantee) will be held liable [1]. In accordance with federal law, individuals are permitted an annual exclusion of $15,000 on gifts. This means that if a gift is valued below $15,000, a federal gift tax return (Form 709) does not need to be filed. However, if the gift is something that could possibly be disputed by the IRS -- such as real property -- a donor may benefit from filing a Form 709 [2].

If a federal gift tax return is required, a state gift tax return (Form CT-709) is also required for Connecticut residents, as well as non-residents when the subject property is situated in Connecticut [3]. For questions regarding state taxation laws, consult a tax specialist.

This article is provided for informational purposes only and is not a substitute for the advice of an attorney. Contact a Connecticut lawyer with any questions about gift deeds or other issues related to the transfer of real property.

[1] http://msuextension.org/publications/FamilyFinancialManagement/MT199105HR.pdf

[2] https://www.irs.gov/businesses/small-businesses-self-employed/frequently-asked-questions-on-gift-taxes

[3] http://www.ct.gov/drs/cwp/view.asp?A=1508&Q=266846

Our Promise
The documents you receive here will meet, or exceed, the Fairfield County recording requirements for formatting. If there's an issue caused by our formatting, we'll make it right and refund your payment.
Save Time and Money
Get your Fairfield County Gift Deed form done right the first time with Deeds.com Uniform Conveyancing Blanks. At Deeds.com, we understand that your time and money are valuable resources, and we don't want you to face a penalty fee or rejection imposed by a county recorder for submitting nonstandard documents. We constantly review and update our forms to meet rapidly changing state and county recording requirements for roughly 3,500 counties and local jurisdictions.
Reviews
4.8 out of 5 (4173 Reviews)
Norman J.
October 3rd, 2023
I really enjoyed your service. It was great.
Reply from Staff
Thank you!
Kristen N.
October 3rd, 2023
Very easy to use, helpful instructions and examples. I also like the chat feature and the erecording. So much better than other DIY law websites out there.
Reply from Staff
We appreciate your business and value your feedback. Thank you. Have a wonderful day!
Angela J M.
September 29th, 2023
Quick turnaround (about 24hrs) easy process.
Reply from Staff
Thank you for your feedback. We really appreciate it. Have a great day!
Cindy H.
October 22nd, 2021
Very easy to use and organized. When I needed the form I needed it immediately. I didn't want to get locked into a monthly subscription. Deeds.com met that need.
Thanks!
Reply from Staff
We appreciate your business and value your feedback. Thank you. Have a wonderful day!
Patricia H.
May 17th, 2022
I really like this site and it's actually recommended by many County Recorders. I especially like that there's not join up/monthly fee. It's easy to use and the customer support is outstanding. They're very helpful and patient.


Reply from Staff
Thank you for your feedback. We really appreciate it. Have a great day!
Jolene K.
June 6th, 2022
The forms were easy to download and use. I'm satisfied with it. The sample and the instructions were very helpful.
Reply from Staff
Thank you!
JERRY M.
March 11th, 2020
Had to modify the document form fill field to accept the information required. Had limited number of characters.
Reply from Staff
Thank you for your feedback. We really appreciate it. Have a great day!
Don R.
January 26th, 2022
From Pennsylvania here. Documents are great and easy to fill out however you are lacking a couple of things. You only provide the option for a Grant Deed when you purchase by your county which is Mercer County for me. Why not give the ability to get a Warranty Deed that better protects the Grantee?
Also, being from Pennsylvania and in a county that mined Buituminous Coal we are required to include the Coal Severance Notice and Bituminous Mine Subsidence and Land Conservation Act Notice. You can check the box on your Deed form that they are required and attached but you do not provide the verbiage or form for this. You state that you know what each county requires and include everything required but you do not include these two required Notices. This has been a requirement for years and the wording never changes. I had to look for these Notices and hand type this information and include it on another seperate page after the Notary section on the Deed. The Grantor has to sign the Coal Severance Notice and be witnessed by a Notary so I had to add another place for the Notary and will have to pay twice for witnessed signatures when it could have been included in your document. My Deed from 2003 was done that way and then the Notary statement after that so it was only one notarized witness of signature.
Reply from Staff
Thank you for your feedback. We really appreciate it. Have a great day!
Christina A G.
December 19th, 2020
It was easy to locate, purchase, and download the documents I needed on the Deeds.com website.
Reply from Staff
We appreciate your business and value your feedback. Thank you. Have a wonderful day!
Herman B.
May 19th, 2022
Special Warranty Deed I can't seem to type all my info in the blank spaces. It won't allow me to type any more. Maybe you should consider either allowing typists to type more (leaving more space) or allowing more room to type more.
Reply from Staff
Thank you!
John B.
July 15th, 2021
I bought a Quitclaim Deed package for Fayette County, Kentucky, to transfer my house into a Living Trust that I had set up previously. Creating my Quitclaim Deed was pretty straightforward, using the form, the instructions, and the sample Quitclaim Deed. I signed my Quitclaim Deed at a nearby Notary Public, then took it to the Fayette County Clerk's office to be recorded. The clerk there asked me to make two small changes to the Quitclaim Deed, which she let me do in pen on the spot:
* In the signature block for the receiver of the property, filled in "Capacity" as "Grantee as Trustee ______________________________ Living Trust".
* In the notary's section, changed "were acknowledged before me" to "were acknowledged and sworn to before me".
Reply from Staff
Thank you for your feedback. We really appreciate it. Have a great day!
Ron D.
January 14th, 2019
No choice since the county does not seem to provide info you supplied.
Reply from Staff
Thank Ron, have a great day!
Candace K.
April 1st, 2021
I was able to find the Certificate of Trust after a little searching. Once found, the remainder of the process was easy. My task was done in no time. It's a great site.
Reply from Staff
Thank you for your feedback. We really appreciate it. Have a great day!
Dennis O.
August 22nd, 2020
Everything I needed plus more. Great service!!!
Reply from Staff
Thank you for your feedback. We really appreciate it. Have a great day!
Kimberly F.
April 22nd, 2020
Ordered and received the quitclaim form. Exactly what I expected, perfect.
Reply from Staff
Thank you for your feedback. We really appreciate it. Have a great day!
Legal Forms Disclaimer
Use of Deeds.com Legal Forms:
On our Site, we provide self-help "Do It Yourself Legal Forms." By using a form from our Site, you explicitly agree to our Terms of Use. You acknowledge and agree that your purchase and/or use of a form document does not constitute legal advice nor the practice of law. Furthermore, each form, including any related instructions or guidance, is not tailored to your specific requirements and is not guaranteed or warranted to be up-to-date, accurate, or applicable to your individual circumstances.
NO WARRANTY:
The Do It Yourself Legal Forms provided on our Website are not guaranteed to be usable, accurate, up-to-date, or suitable for any legal purpose. Any use of a Do It Yourself Legal Form from our website is undertaken AT YOUR OWN RISK.
Limitation of Liability:
If you use a Do It Yourself Legal Form available on Deeds.com, you acknowledge and agree that, TO THE EXTENT PERMITTED BY APPLICABLE LAW, WE SHALL NOT BE LIABLE FOR DAMAGES OF ANY KIND (INCLUDING, WITHOUT LIMITATION, LOST PROFITS OR ANY SPECIAL, INCIDENTAL, OR CONSEQUENTIAL DAMAGES) ARISING OUT OF OR IN CONNECTION WITH THE LEGAL FORMS OR FOR ANY INFORMATION OR SERVICES PROVIDED TO YOU THROUGH THE DEEDS.COM WEBSITE.
Damage Cap:
In circumstances where the above limitation of liability is prohibited, OUR SOLE OBLIGATION TO YOU FOR DAMAGES SHALL BE CAPPED AT $100.00.