Baldwin County Quitclaim Deed Forms (Georgia)
Express Checkout
Form Package
Quitclaim Deed
State
Georgia
Area
Baldwin County
Price
$27.97
Delivery
Immediate Download
Payment Information
Included Forms
All Baldwin County specific forms and documents listed below are included in your immediate download package:
Quitclaim Deed Form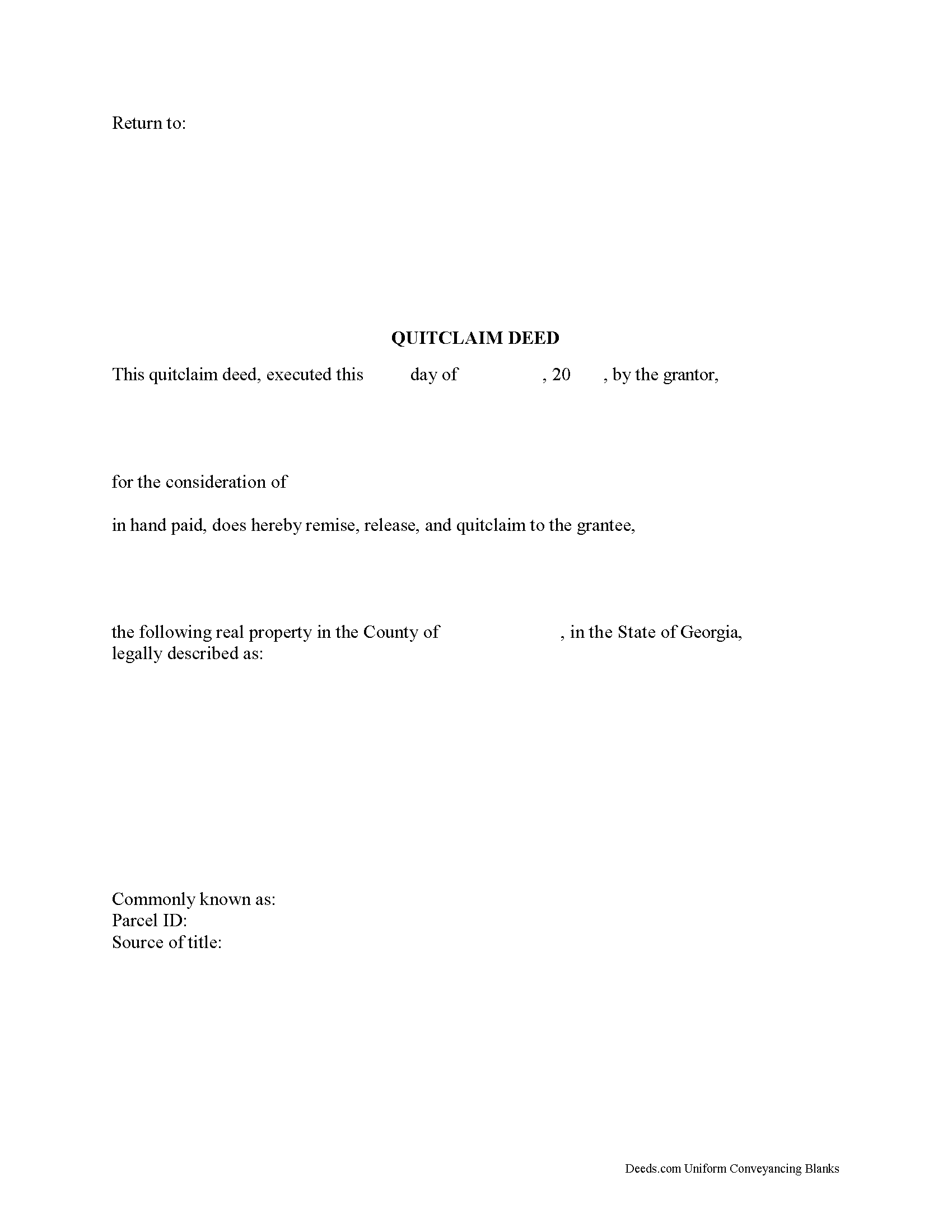 Fill in the blank Quitclaim Deed form formatted to comply with all Georgia recording and content requirements.
Included document last reviewed/updated 11/19/2023
Quitclaim Deed Guide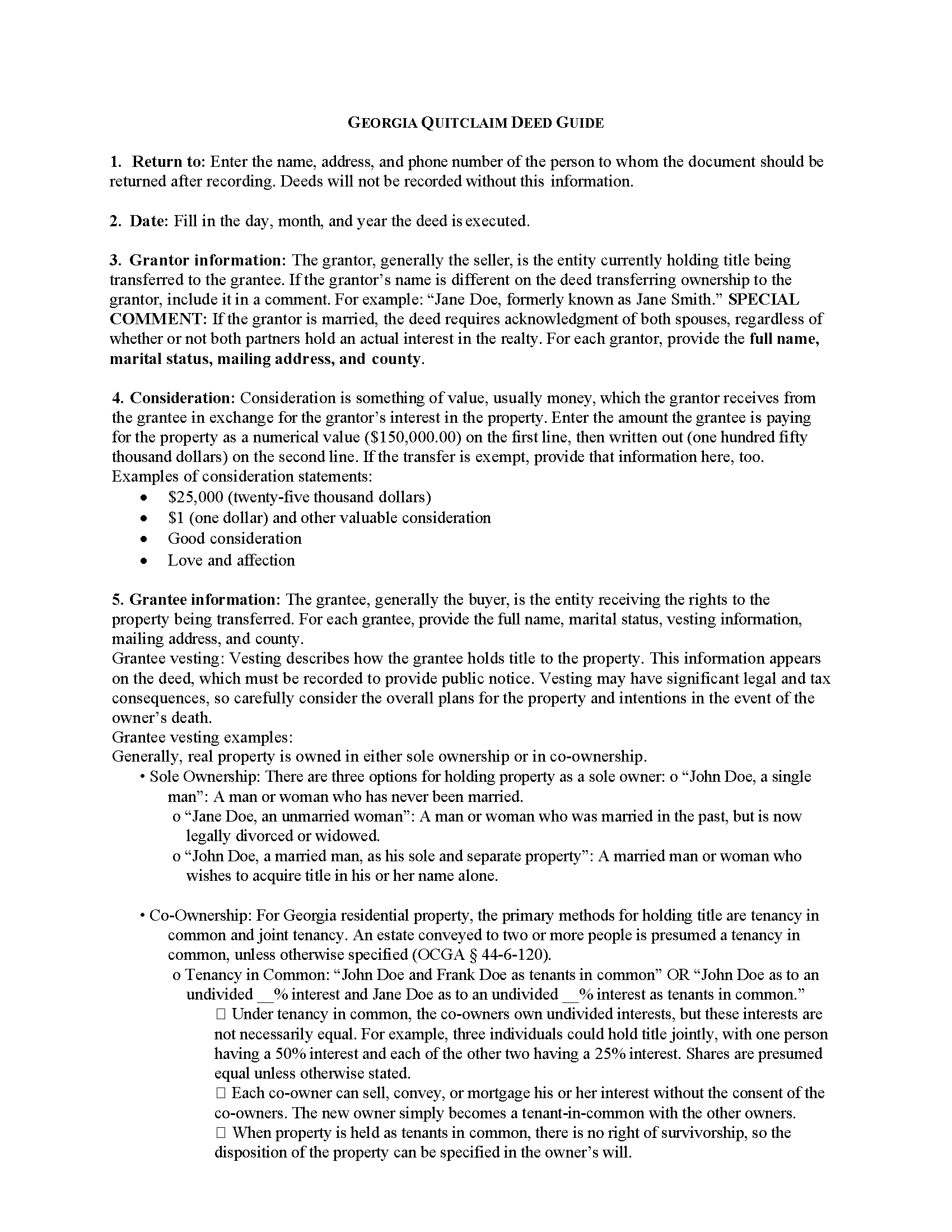 Line by line guide explaining every blank on the Quitclaim Deed form.
Included document last reviewed/updated 11/19/2023
Completed Example of the Quitclaim Deed Document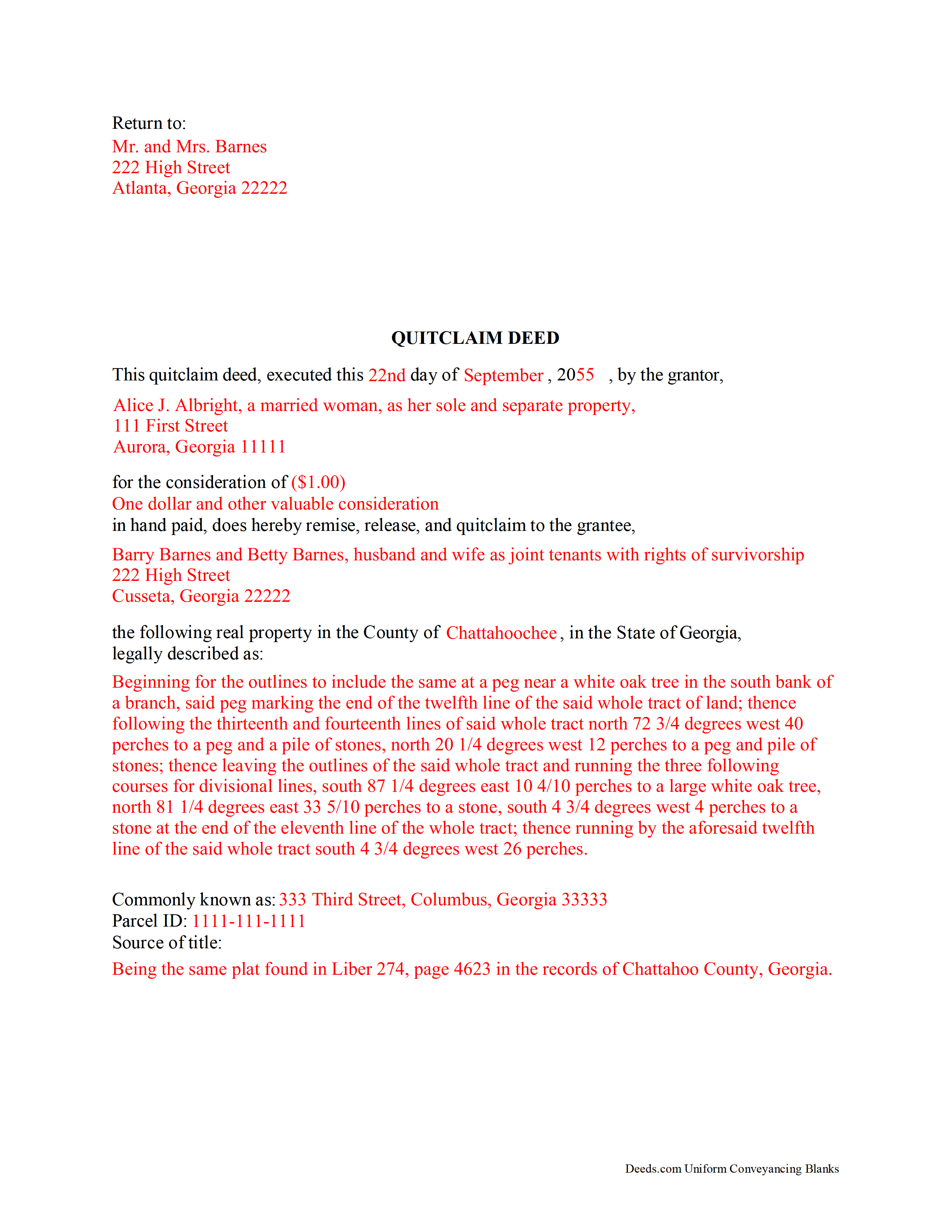 Example of a properly completed Georgia Quitclaim Deed document for reference.
Included document last reviewed/updated 11/19/2023
Included Supplemental Documents
The following Georgia and Baldwin County supplemental forms are included as a courtesy with your order.
Frequently Asked Questions:
How long does it take to get my forms?
Forms are available immediately after submitting payment.
What are supplemental forms?
Often when a deed is recorded additional documents are required by or Baldwin County. These could be tax related, informational, or even as simple as a coversheet. Supplemental forms are provided for free with your order where available.
How do I get my forms, are they emailed?
After you submit payment you will see a page listing the Baldwin County forms you ordered with a download link to the pdf form file. You download the forms to your computer. You will also receive an email with a link to your download page in case you need it later.
What type of files are the forms?
All of our Baldwin County Quitclaim Deed forms are PDFs. You will need to have or get Adobe Reader to use our forms. Adobe Reader is free software that most computers already have installed.
Can the Quitclaim Deed forms be re-used?
Yes. You can re-use the forms for your personal use. For example, if you have more than one property in Baldwin County that you need to transfer you would only need to order our forms once for all of your properties in Baldwin County.
Are these forms guaranteed to be recordable in Baldwin County?
Yes. Our form blanks are guaranteed to meet or exceed all formatting requirements set forth by Baldwin County including margin requirements, content requirements, font and font size requirements.
Do I have to enter all of my property information online?
No. The blank forms are downloaded to your computer and you fill them out there, at your convenience.
Can I save the completed form, email it to someone?
Yes, you can save your deed form at any point with your information in it. The forms can also be emailed, blank or complete, as attachments.
Do I need any special software to use these forms?
You will need to have Adobe Reader installed on your computer to use our forms. Adobe Reader is free software that most computers already have installed.
Are there any recurring fees involved?
No. Nothing to cancel, no memberships, no recurring fees.
Areas Covered by These Quitclaim Deed Forms:
Including:
What is the Georgia Quitclaim Deed
Georgia Quitclaim Deed Form Content:
Quitclaim deeds in Georgia are not specifically defined by statute. In fact, according to O.C.G.A 44-5-33, the deed must merely contain sufficient information to clearly represent the grantor's intention. As such, a heading of "Quitclaim Deed" alerts the recorder or title reviewer to the purpose of the conveyance. Quitclaim deed documents do not contain a guarantee title for the grantee. In fact, O.C.G.A. 44-5-61 declares that there is no implied warranty of title in any deed for land.

O.C.G.A. 44-5-30, provides the minimum requirements for deeds conveying real property, stating that a deed conveying land must be in writing; signed by the grantor; witnessed by two people who are not parties to the quit claim deed---one witness may be the notary or other official who acknowledges the grantor's execution of the document; and information about the consideration (value, usually money) given in exchange for the property. Deeds must also contain a name and return address at the top of the first page. In addition to these requirements, include the following information to ensure clarity of ownership: the full names and addresses of all parties (grantors and grantees); the grantee's marital status and vesting choice (how the grantee intends to hold title), and a complete legal description of the land.

Recording:
Georgia follows a "race-notice" recording statute. This means that according to O.C.G.A 44-2-1, 44-2-3, all documents changing how land is titled must be recorded in the office of the clerk of the superior court in the county where the land is located. By recording the instrument, the transfer is entered into the public record and serves as notice to future bona fide purchasers (buyers for value). There is no time limit for recording a quit claim deed, but if the same grantor conveys a parcel of land to one grantee, who fails to record the deed, and conveys it again to another grantee who records it, the earlier grantee generally loses the property. Interestingly, Georgia places the burden of recording on the grantee, as stated in O.C.G.A 44-5-47. So, by recording the quit claim deed as soon as possible after execution, the grantee protects the interests of all parties involved as well as preserving a clear chain of title (ownership history), which will simplify future conveyances.
Our Promise
The documents you receive here will meet, or exceed, the Baldwin County recording requirements for formatting. If there's an issue caused by our formatting, we'll make it right and refund your payment.
Save Time and Money
Get your Baldwin County Quitclaim Deed form done right the first time with Deeds.com Uniform Conveyancing Blanks. At Deeds.com, we understand that your time and money are valuable resources, and we don't want you to face a penalty fee or rejection imposed by a county recorder for submitting nonstandard documents. We constantly review and update our forms to meet rapidly changing state and county recording requirements for roughly 3,500 counties and local jurisdictions.
Reviews
4.8 out of 5 (4215 Reviews)
Lisa C.
December 5th, 2023
Thank you. Very easy!
Reply from Staff
We are delighted to have been of service. Thank you for the positive review!
Narcedalia G.
December 4th, 2023
Easy to use quick responses with accurate information and great customer service. No need to say more!
Reply from Staff
Your feedback is greatly appreciated. Thank you for taking the time to share your experience!
Sue C.
December 1st, 2023
Very helpful. Easy to use. Able to avoid the cost of having an attorney prepare the document I needed.
Reply from Staff
Your appreciative words mean the world to us. Thank you and we look forward to serving you again!
Remon W.
January 26th, 2021
Excellent and fast service. I will be using this site as needed in the future.
Reply from Staff
Thank you Remon, we appreciate you.
Catherine E.
January 7th, 2021
I was referred to your company, but when i tried to process the recording of a deed to a property in City of Philadelphia my service was rejected. I appreciated the feedback i received from one of your representatives who instructed me in the right process for recording a deed in philadelphia. Thank you for all your help. The deed that needed to be recorded was overnighted yesterday.
Stay safe and mask up
Reply from Staff
Thank you!
Jim J.
February 8th, 2019
The forms were easy to use and the fields are tabbed so that you can enter your information and then move quickly to the next entry. The Guide for the documents was very helpful.
Reply from Staff
Thanks Jim, we appreciate your feedback.
SHARON D.
December 23rd, 2018
This is one of the easiest sites to purchase and download needed forms. I would highly recommend this site.
Reply from Staff
Thank you Sharon. We really appreciate you. Enjoy your holidays.
Maria F.
June 26th, 2020
Easy forms to follow. Thank you for this service. You can even file them through e-filing. Great service.
Thanks.

Maria F.
Reply from Staff
Thank you!
Maribeth M.
June 25th, 2021
Usually I have trouble registering things online, even though people tell me it's easy. This time, it WAS easy and fast, and I'm grateful I didn't have to drive somewhere and stand in line. Thank you!
Reply from Staff
We appreciate your business and value your feedback. Thank you. Have a wonderful day!
David M.
April 24th, 2019
Why is Dade County not listed for the Lady Bird Deed?
Reply from Staff
Because on November 13, 1997, voters changed the name of the county from Dade to Miami-Dade.
Michael S.
July 11th, 2019
So far, I'm happy with my experience. I'm still reviewing the guide for the docs I downloaded. Including the guide for the docs is indeed a plus.
Reply from Staff
Thank you Michael, we really appreciate your feedback.
Ronald W.
July 30th, 2020
User friendly, but couldn't find the information needed.
Reply from Staff
Thank you for your feedback. We really appreciate it. Have a great day!
Paul S.
October 23rd, 2020
Directions were good.
It was an easy process.
Thank You.
Reply from Staff
We appreciate your business and value your feedback. Thank you. Have a wonderful day!
william w.
January 23rd, 2019
Simple, straight forward, and easy to use.
Reply from Staff
We appreciate your business and value your feedback. Thank you. Have a wonderful day!
Matthew T.
September 9th, 2020
I am a litigator based in Lee County that rarely needs to record deeds or mortgages. However, at times, the settlement or resolution of a dispute results in the conveyance of real property. I ended up in a situation where a deed to real property in Bradford County needed to be recorded on behalf of a client. My usual e-recording vendor does not include that County. Registering with Bradford County's regular e-recording vendor would have required an expensive and unnecessary annual fee.

Deeds.com was easy to use, inexpensive and fast. I highly encourage its use, especially for lawyers that occasionally need to record instruments but do not do so regularly.
Reply from Staff
We appreciate your business and value your feedback. Thank you. Have a wonderful day!
Legal Forms Disclaimer
Use of Deeds.com Legal Forms:
On our Site, we provide self-help "Do It Yourself Legal Forms." By using a form from our Site, you explicitly agree to our Terms of Use. You acknowledge and agree that your purchase and/or use of a form document does not constitute legal advice nor the practice of law. Furthermore, each form, including any related instructions or guidance, is not tailored to your specific requirements and is not guaranteed or warranted to be up-to-date, accurate, or applicable to your individual circumstances.
NO WARRANTY:
The Do It Yourself Legal Forms provided on our Website are not guaranteed to be usable, accurate, up-to-date, or suitable for any legal purpose. Any use of a Do It Yourself Legal Form from our website is undertaken AT YOUR OWN RISK.
Limitation of Liability:
If you use a Do It Yourself Legal Form available on Deeds.com, you acknowledge and agree that, TO THE EXTENT PERMITTED BY APPLICABLE LAW, WE SHALL NOT BE LIABLE FOR DAMAGES OF ANY KIND (INCLUDING, WITHOUT LIMITATION, LOST PROFITS OR ANY SPECIAL, INCIDENTAL, OR CONSEQUENTIAL DAMAGES) ARISING OUT OF OR IN CONNECTION WITH THE LEGAL FORMS OR FOR ANY INFORMATION OR SERVICES PROVIDED TO YOU THROUGH THE DEEDS.COM WEBSITE.
Damage Cap:
In circumstances where the above limitation of liability is prohibited, OUR SOLE OBLIGATION TO YOU FOR DAMAGES SHALL BE CAPPED AT $100.00.