Cook County Special Warranty Deed Forms (Illinois)
Express Checkout
Form Package
Special Warranty Deed
State
Illinois
Area
Cook County
Price
$27.97
Delivery
Immediate Download
Payment Information
Included Forms
All Cook County specific forms and documents listed below are included in your immediate download package:
Special Warranty Deed Form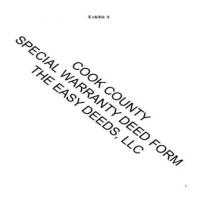 Fill in the blank form formatted to comply with all recording and content requirements.
Included document last reviewed/updated 6/14/2023
Special Warranty Deed Guide
Line by line guide explaining every blank on the form.
Included document last reviewed/updated 11/7/2023
Completed Example of the Special Warranty Deed Document
Example of a properly completed form for reference.
Included document last reviewed/updated 11/3/2023
Frequently Asked Questions:
How long does it take to get my forms?
Forms are available immediately after submitting payment.
What are supplemental forms?
Often when a deed is recorded additional documents are required by or Cook County. These could be tax related, informational, or even as simple as a coversheet. Supplemental forms are provided for free with your order where available.
How do I get my forms, are they emailed?
After you submit payment you will see a page listing the Cook County forms you ordered with a download link to the pdf form file. You download the forms to your computer. You will also receive an email with a link to your download page in case you need it later.
What type of files are the forms?
All of our Cook County Special Warranty Deed forms are PDFs. You will need to have or get Adobe Reader to use our forms. Adobe Reader is free software that most computers already have installed.
Can the Special Warranty Deed forms be re-used?
Yes. You can re-use the forms for your personal use. For example, if you have more than one property in Cook County that you need to transfer you would only need to order our forms once for all of your properties in Cook County.
Are these forms guaranteed to be recordable in Cook County?
Yes. Our form blanks are guaranteed to meet or exceed all formatting requirements set forth by Cook County including margin requirements, content requirements, font and font size requirements.
Do I have to enter all of my property information online?
No. The blank forms are downloaded to your computer and you fill them out there, at your convenience.
Can I save the completed form, email it to someone?
Yes, you can save your deed form at any point with your information in it. The forms can also be emailed, blank or complete, as attachments.
Do I need any special software to use these forms?
You will need to have Adobe Reader installed on your computer to use our forms. Adobe Reader is free software that most computers already have installed.
Are there any recurring fees involved?
No. Nothing to cancel, no memberships, no recurring fees.
Areas Covered by These Special Warranty Deed Forms:
Including:
Alsip
Arlington Heights
Bedford Park
Bellwood
Berkeley
Berwyn
Blue Island
Bridgeview
Broadview
Brookfield
Burbank
Calumet City
Chicago
Chicago Heights
Chicago Ridge
Cicero
Country Club Hills
Des Plaines
Dolton
Elk Grove Village
Elmwood Park
Evanston
Evergreen Park
Flossmoor
Forest Park
Franklin Park
Glencoe
Glenview
Glenwood
Golf
Hanover Park
Harvey
Harwood Heights
Hazel Crest
Hickory Hills
Hillside
Hines
Hoffman Estates
Hometown
Homewood
Justice
Kenilworth
La Grange
La Grange Park
Lansing
Lemont
Lincolnwood
Lyons
Markham
Matteson
Maywood
Melrose Park
Midlothian
Morton Grove
Mount Prospect
Niles
Northbrook
Oak Forest
Oak Lawn
Oak Park
Olympia Fields
Orland Park
Palatine
Palos Heights
Palos Hills
Palos Park
Park Forest
Park Ridge
Posen
Prospect Heights
Richton Park
River Forest
River Grove
Riverdale
Riverside
Robbins
Rolling Meadows
Schaumburg
Schiller Park
Skokie
South Holland
Steger
Stone Park
Streamwood
Summit Argo
Techny
Thornton
Tinley Park
Westchester
Western Springs
Wheeling
Willow Springs
Wilmette
Winnetka
Worth
What is the Illinois Special Warranty Deed
A special warranty deed is a legal document used to transfer, or convey, rights in real property from a grantor (seller) to a grantee (buyer). Also referred to as a limited warranty deed, this type of deed provides significant liability protection for the grantor (seller), and less protection for the grantee (buyer). In a special warranty deed, the grantor only warrants against defects in the title during his or her ownership, and that he or she has an actual right to the title, and is authorized to sell it. Unlike a deed with full warranty, however, it does not guarantee that there are no other claims on the title of the property before the grantor owned the property, nor does it bind the grantor to defend against them. Because of the risk of unknown claims on the title, special warranty deeds are less common than traditional warranty deeds for residential real estate transactions.

A special warranty deed, once acknowledged, should be recorded in the recorder's office in the county where such lands are located. If it is acknowledged in Illinois, acknowledgements may be taken before a notary public, United States commissioner, county clerk, or any court, judge, clerk, or deputy clerk of such court. When they are taken before a notary public or United States commissioner, they must be attested by his or her official seal; and if taken before a judge or clerk of a court, the acknowledgements must be attested by the seal of the court (765 ILCS 5/20).

A lawful deed includes the grantor's full name and marital status, as well as the grantee's full name, marital status, mailing address, and vesting. Vesting describes how the grantee holds title to the property. For Illinois residential property, the primary methods for holding title in co-ownership are tenancy in common, joint tenancy and tenancy by entirety. A grant of ownership of real estate to two or more persons creates a tenancy in common, unless a joint tenancy or tenancy by the entirety is specified. (765 ILCS 1005/1, 1005/1c.).

As with any conveyance of real estate, special warranty deeds must comply with all state and local recording standards, including a complete legal description of the parcel. Recite the source of title to establish a clear chain of title, and detail any restrictions associated with the property.

Include all relevant documents, affidavits, forms, and fees with the along with the deed for recording as well. Pursuant to 35 ILCS 200/31-10, documents conveying real property are subject to a documentary transfer tax. An Illinois Real Estate Transfer Declaration is required (35 ILCS 200/31-25), unless an exemption is claimed. See 35 ILCS 200/31-45 for a list of exemptions.

A Notarial Record Form is also required, unless an exemption is claimed. A list of exempt conveyances can be found on page 1 of the Notarial Record Form (5 ILCS 312/3-102). Some Illinois counties require a Plat Act Affidavit of Metes and Bounds pursuant to 765 ILCS 205/1 with all deeds, assuring that the land has not been divided or identifies specific types of division according to the plat act. Contact the local recorder for additional details about supplemental document requirements.

This article is provided for informational purposes only and is not a substitute for the advice of an attorney. Consult an attorney with questions about special warranty deeds or for any other issues related to the transfer of real property.
Our Promise
The documents you receive here will meet, or exceed, the Cook County recording requirements for formatting. If there's an issue caused by our formatting, we'll make it right and refund your payment.
Save Time and Money
Get your Cook County Special Warranty Deed form done right the first time with Deeds.com Uniform Conveyancing Blanks. At Deeds.com, we understand that your time and money are valuable resources, and we don't want you to face a penalty fee or rejection imposed by a county recorder for submitting nonstandard documents. We constantly review and update our forms to meet rapidly changing state and county recording requirements for roughly 3,500 counties and local jurisdictions.
Reviews
4.8 out of 5 (4215 Reviews)
Lisa C.
December 5th, 2023
Thank you. Very easy!
Reply from Staff
We are delighted to have been of service. Thank you for the positive review!
Narcedalia G.
December 4th, 2023
Easy to use quick responses with accurate information and great customer service. No need to say more!
Reply from Staff
Your feedback is greatly appreciated. Thank you for taking the time to share your experience!
Sue C.
December 1st, 2023
Very helpful. Easy to use. Able to avoid the cost of having an attorney prepare the document I needed.
Reply from Staff
Your appreciative words mean the world to us. Thank you and we look forward to serving you again!
Lane C.
March 2nd, 2023
The documents worked perfectly! Thanks
Reply from Staff
Thank you for your feedback. We really appreciate it. Have a great day!
Earline S.
December 24th, 2018
Total package. Very prompt with complete instructions & example to complete forms. If you don't want to hire a lawyer, this is pretty simple & will bypass probate.
Reply from Staff
Thank you, we really appreciate your feedback.
Gloria B.
September 1st, 2022
Super easy and efficient. One time charge for the form with no commitment to a recurring charge for monthly membership. *****
Reply from Staff
Thank you for your feedback. We really appreciate it. Have a great day!
REBECCA B.
May 8th, 2023
Documents arrived instantly. Performed exactly as stated. Will use website again.
Reply from Staff
We appreciate your business and value your feedback. Thank you. Have a wonderful day!
dill h.
March 5th, 2019
easy-peasy
Reply from Staff
We appreciate your business and value your feedback. Thank you. Have a wonderful day!
Marvita J.
September 26th, 2020
Deeds.com was fast and easy and I got everything I needed in one stop!
Reply from Staff
Thank you for your feedback. We really appreciate it. Have a great day!
Anita L.
January 22nd, 2020
Found this site very easy to navigate and customer service very supportive and quickly answers any questions you have regarding forms.
Best of all you can get the forms you need and only pay for those forms, not tied to some ongoing fee that you must cancel if you have no further need beyond forms you've already purchased.
Reply from Staff
We appreciate your business and value your feedback. Thank you. Have a wonderful day!
timothy h.
November 12th, 2020
Too complicated and too expensive
Reply from Staff
Sorry to hear that Timothy, we do hope that you found something more suitable to your needs elsewhere. Have a wonderful day.
Craig P.
August 19th, 2019
Good
Reply from Staff
Thank you!
Charles B.
April 5th, 2020
KVH really went above and beyond to help me try to find what I needed.
Reply from Staff
Thank you for your feedback. We really appreciate it. Have a great day!
RICHARD MANUEL F.
January 26th, 2023
I never could even think to solve an important issue involving even overseas individuals without even a lawyer within 24 h. This service works for real and I'll keep using it from now for any future needs, referring to and proposing it as a legitimate, trusted real Optimus service. I'm extremely satisfied and being a Public Official myself I got to say that these guys have really impressed me!
Reply from Staff
Thank you!
Maricela N.
May 5th, 2021
very easy and quick to get all the forms needed! Thank you!
Reply from Staff
Thank you for your feedback. We really appreciate it. Have a great day!
Legal Forms Disclaimer
Use of Deeds.com Legal Forms:
On our Site, we provide self-help "Do It Yourself Legal Forms." By using a form from our Site, you explicitly agree to our Terms of Use. You acknowledge and agree that your purchase and/or use of a form document does not constitute legal advice nor the practice of law. Furthermore, each form, including any related instructions or guidance, is not tailored to your specific requirements and is not guaranteed or warranted to be up-to-date, accurate, or applicable to your individual circumstances.
NO WARRANTY:
The Do It Yourself Legal Forms provided on our Website are not guaranteed to be usable, accurate, up-to-date, or suitable for any legal purpose. Any use of a Do It Yourself Legal Form from our website is undertaken AT YOUR OWN RISK.
Limitation of Liability:
If you use a Do It Yourself Legal Form available on Deeds.com, you acknowledge and agree that, TO THE EXTENT PERMITTED BY APPLICABLE LAW, WE SHALL NOT BE LIABLE FOR DAMAGES OF ANY KIND (INCLUDING, WITHOUT LIMITATION, LOST PROFITS OR ANY SPECIAL, INCIDENTAL, OR CONSEQUENTIAL DAMAGES) ARISING OUT OF OR IN CONNECTION WITH THE LEGAL FORMS OR FOR ANY INFORMATION OR SERVICES PROVIDED TO YOU THROUGH THE DEEDS.COM WEBSITE.
Damage Cap:
In circumstances where the above limitation of liability is prohibited, OUR SOLE OBLIGATION TO YOU FOR DAMAGES SHALL BE CAPPED AT $100.00.