Kansas - Seward County Grant Deed Form
All Seward County specific forms listed below are included in your immediate download:
---
Grant Deed Form - Seward County
Fill in the blank form formatted to comply with all recording and content requirements.
Included document last updated 9/12/2018
---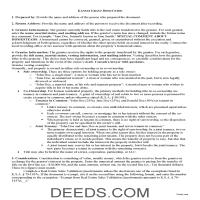 Grant Deed Guide - Seward County
Line by line guide explaining every blank on the form.
Included document last updated 10/3/2018
---
Completed Example of the Grant Deed Document - Seward County
Example of a properly completed form for reference.
Included document last updated 10/9/2018
---
*Kansas and Seward County supplemental forms are included as a courtesy with your order.
Frequently Asked Questions:
How long does it take to get my forms?

Forms are available immediately after submitting payment.

What are supplemental forms?

Often when a deed is recorded additional documents are required by the state or local jurisdiction. These could be tax related, informational, or even as simple as a coversheet. Supplemental forms are provided for free with your order where available.

How do I get my forms, are they emailed?

After you submit payment you will see a page listing the forms you ordered with a download link to the pdf form file. You download the forms to your computer. You will also receive an email with a link to your download page in case you need it later.

What type of files are the forms?

All of our forms are PDFs. You will need to have or get Adobe Reader to use our forms. Adobe Reader is free software that most computers already have installed.

Can the forms be re-used?

Yes. You can re-use the forms for your personal use. For example, if you have more than one property in a given county that you need to transfer you would only need to order our forms once for all of your properties in that county.

Are these forms guaranteed to be recordable in Seward County ?

Yes. Our form blanks are guaranteed to meet or exceed all formatting requirements set forth by Seward County including margin requirements, content requirements, font and font size requirements.

Do I have to enter all of my property information online?

No. The blank forms are downloaded to your computer and you fill them out there, at your convenience.

Can I save the completed form, email it to someone?

Yes, you can save your deed form at any point with your information in it. The forms can also be emailed, blank or complete, as attachments.

Do I need any special software to use these forms?

You will need to have Adobe Reader installed on your computer to use our forms. Adobe Reader is free software that most computers already have installed.

Are there any recurring fees involved?

No. Nothing to cancel, no memberships, no recurring fees.
Areas covered by these Grant Deed Forms:
Including:
What is the Kansas Grant Deed?
Real estate conveyances in Kansas are governed by Chapter 58, Section 22 of the Kansas Statutes, but the statutes do not specifically address grant deeds.

A grant deed is a legal document used to transfer, or convey, rights in real property from a grantor (seller) to a grantee (buyer). A recorded grant deed imparts notice of this transfer to all persons, including subsequent purchasers or mortgagees (K.S.A. 58-2222).

Within the deed are covenants, or guarantees, that the grantor has not previously sold the real property interest now being conveyed to the grantee, and that the property is being conveyed to the grantee without any liens or encumbrances, except for those specifically disclosed in the deed. Grant deeds do not generally require the grantor to defend title claims.

A lawful grant deed includes the grantor's full name and marital status, as well as the grantee's full name, marital status, mailing address, and vesting. Vesting describes how the grantee holds title to the property. For Kansas residential property, the primary methods for holding title in co-ownership are tenancy in common and joint tenancy. A grant of ownership of real estate to two or more persons is presumed to create a tenancy in common, unless otherwise stated (K.S.A. 58-501).

Include the complete legal description for the subject property, as well as its physical (street) address or common name and the derivation of title. Additionally, the form must meet state and local standards for recorded documents.

All deeds must be signed by the grantor, or by the party's lawful agent or attorney, and may be acknowledged or proved and certified in the manner prescribed by the Uniform Law on Notarial Acts (K.S.A. 58-2209).

The State Property Valuation Department requires a Real Estate Sales Validation Questionnaire with each deed unless it meets one of the exemptions provided in K.S.A. 79-1437e. Include the amount of consideration exchanged on the form (K.S.A. 79-1437g).

Submit the deed and any required supplemental documents for recording in the county where the property is located. In most cases, the deed will be returned to the grantee after recording. The register of deeds will forward the information to the county clerk, who will update records for mailing tax statements (K.S.A. 58-2221). Record the deed in the appropriate county to provide notice to third parties (K.S.A. 58-2223).

This article is provided for informational purposes only and is not a substitute for legal advice. Contact a lawyer with questions about limited warranty deeds or for any other issues related to the transfer of real property in Kansas.
Save time and money.
Get your Seward County Grant Deed form done right the first time with Deeds.com Uniform Conveyancing Blanks. At Deeds.com, we understand that your time and money are valuable resources, and we don't want you to face a penalty fee or rejection imposed by a county recorder for submitting nonstandard documents. We constantly review and update our forms to meet rapidly changing state and county recording requirements for roughly 3,500 counties.
Guarantee:
We guarantee that you will receive access to the forms that you order and that those forms will be compliant with the recording requirements for the jurisdiction the forms were purchased for and the statutory requirements for content of the document.
Customer Rating: 9.23 out of 10 (31 Reviews)
---
On 10/07/18 Kristin Chapman Said:
Score: 10
No Comment Left
---
On 10/01/18 Milly Harrison Said:
Score: 8
Needed ability to have 3 Owners signature notarized otherwise appears to be ok
---
On 09/24/18 Gary Pierce Said:
Score: 10
WOW! Showed the property and three days later everything was done! The Quit Claim Form was easy to fill out easy to file and much cheaper than an attorney! Thanks!
---
On 09/22/18 Amy Wilson Said:
Score: 10
I have never used a form online before for legal reasons. I hope this form is for real and will be legal enough to file with the courthoouse. The forms were easy to download and pretty self explanintory. I didnt use a lawyer I filled them out myself so I hope I did it right.
---
On 09/22/18 Dani Said:
Score: 10
I had no problems at all. The forms downloaded right to my computer and they were easy to fill out. Printed them and took them to the recorded all in a couple of hours.
---