Pike County Certificate of Trust Forms (Kentucky)
Express Checkout
Form Package
Certificate of Trust
State
Kentucky
Area
Pike County
Price
$29.97
Delivery
Immediate Download
Payment Information
Included Forms
All Pike County specific forms and documents listed below are included in your immediate download package:
Certificate of Trust Form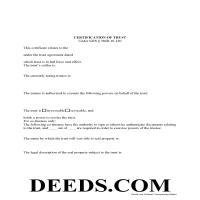 Fill in the blank form formatted to comply with all recording and content requirements.
Included document last reviewed/updated 8/4/2023
Certificate of Trust Guide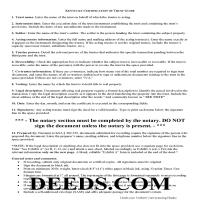 Line by line guide explaining every blank on the form.
Included document last reviewed/updated 5/18/2023
Completed Example of the Certificate of Trust Document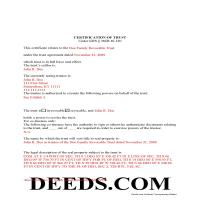 Example of a properly completed form for reference.
Included document last reviewed/updated 2/22/2023
Included Supplemental Documents
The following Kentucky and Pike County supplemental forms are included as a courtesy with your order.
Frequently Asked Questions:
How long does it take to get my forms?
Forms are available immediately after submitting payment.
What are supplemental forms?
Often when a deed is recorded additional documents are required by or Pike County. These could be tax related, informational, or even as simple as a coversheet. Supplemental forms are provided for free with your order where available.
How do I get my forms, are they emailed?
After you submit payment you will see a page listing the Pike County forms you ordered with a download link to the pdf form file. You download the forms to your computer. You will also receive an email with a link to your download page in case you need it later.
What type of files are the forms?
All of our Pike County Certificate of Trust forms are PDFs. You will need to have or get Adobe Reader to use our forms. Adobe Reader is free software that most computers already have installed.
Can the Certificate of Trust forms be re-used?
Yes. You can re-use the forms for your personal use. For example, if you have more than one property in Pike County that you need to transfer you would only need to order our forms once for all of your properties in Pike County.
Are these forms guaranteed to be recordable in Pike County?
Yes. Our form blanks are guaranteed to meet or exceed all formatting requirements set forth by Pike County including margin requirements, content requirements, font and font size requirements.
Do I have to enter all of my property information online?
No. The blank forms are downloaded to your computer and you fill them out there, at your convenience.
Can I save the completed form, email it to someone?
Yes, you can save your deed form at any point with your information in it. The forms can also be emailed, blank or complete, as attachments.
Do I need any special software to use these forms?
You will need to have Adobe Reader installed on your computer to use our forms. Adobe Reader is free software that most computers already have installed.
Are there any recurring fees involved?
No. Nothing to cancel, no memberships, no recurring fees.
Areas Covered by These Certificate of Trust Forms:
Including:
Ashcamp
Belcher
Belfry
Canada
Dorton
Elkhorn City
Fedscreek
Fords Branch
Forest Hills
Freeburn
Hardy
Hellier
Huddy
Jonancy
Kimper
Lick Creek
Lookout
Majestic
Mc Andrews
Mc Carr
Mouthcard
Myra
Phelps
Phyllis
Pikeville
Pinsonfork
Raccoon
Ransom
Regina
Robinson Creek
Rockhouse
Shelbiana
Shelby Gap
Sidney
South Williamson
Steele
Stone
Stopover
Varney
Virgie
What is the Kentucky Certificate of Trust
Codified under the Kentucky Uniform Trust Code at KSA 386B.10-120, the certification of trust is a document containing the relevant details of a trust and certifying a trustee's authority to act on behalf of a trust.
(Note: this certificate of trust is separate from the certificate of trust for business trusts under 386A.2-010 of the Kentucky Uniform Statutory Trust Act.)

A trustee can furnish the certification of trust instead of providing the entire trust instrument, as it "need not contain the dispositive terms of a trust" (KSA 386B.10-120(4)). In this way, the trustee can keep information irrelevant to the transaction, specifically the identities of trust beneficiaries, private.

A certificate of trust requires the name and date of the trust, along with the settlor's name. The settlor is the person who created the trust and is funding the trust with assets. In addition, the certificate identifies the currently acting trustee. The trustee is the fiduciary in charge of administering the trust.

In addition, the document details the powers of the trustee concerning the transaction at hand. For example, the certification of trust is commonly used in conjunction with a deed executed by a trustee, so the trustee's power to convey property is often cited, with reference to the article or section of the trust instrument where the power is conferred. Recipients of a certificate can request excerpts from the trust instrument that designate the trustee and authorize the power to act in the pending transaction (KSA 386B.10-120(5)).

The certificate states whether the trust is irrevocable or revocable, and the identity of anyone with the power to revoke the trust, if applicable. If there are co-trustees, the document names the trustees authorized to sign trust documents and whether all or fewer than all are needed to carry out the trustee's powers. The certificate also gives the full name by which the trust will vest real property.

Since the document affects real property, a certificate should include the legal description of the subject property or properties. Pursuant to KSA 386B.10-120(2), any trustee can sign a certification of trust in the presence of a notary public. Certifications may be recorded as a supplemental document in the county in which the real property is located.

Finally, the certificate requires a statement that the trust referred to within "has not been revoked, modified, or amended" so as to cause the statements within to be incorrect (KSA 386B.10-120(3)). Recipients may rely on the representations within the certification as factual (KSA 386B.10-120(6)). They may request the trust instrument in addition to the excerpts mentioned above, but doing so opens them to certain liabilities under KSA 386B.10-120(8).

Consult a lawyer for guidance, as trust law can quickly become complicated.
Our Promise
The documents you receive here will meet, or exceed, the Pike County recording requirements for formatting. If there's an issue caused by our formatting, we'll make it right and refund your payment.
Save Time and Money
Get your Pike County Certificate of Trust form done right the first time with Deeds.com Uniform Conveyancing Blanks. At Deeds.com, we understand that your time and money are valuable resources, and we don't want you to face a penalty fee or rejection imposed by a county recorder for submitting nonstandard documents. We constantly review and update our forms to meet rapidly changing state and county recording requirements for roughly 3,500 counties and local jurisdictions.
Reviews
4.8 out of 5 (4171 Reviews)
Angela J M.
September 29th, 2023
Quick turnaround (about 24hrs) easy process.
Reply from Staff
Thank you for your feedback. We really appreciate it. Have a great day!
Jennifer T.
September 29th, 2023
I got instant access to the exact forms I needed! The guide to completing the form was very thorough and easy to understand. I am very thankful for this service!
Reply from Staff
Thank you for the kind words Jennifer. We appreciate you!
Maria M.
September 27th, 2023
The requested documents I needed were provided and also complete instructions on how to fill them out. I definitely will you this service again.
Reply from Staff
We appreciate your business and value your feedback. Thank you. Have a wonderful day!
Woody P.
August 28th, 2021
I was informed that a quit Claim Deed that I had submitted, did not meet county requirements. I ordered the correct form and was surprised that the form included instructions and a sample "completed" form for me to follow. I found it al very helpful. Thank you !!!
Reply from Staff
Thank you!
Kelly W.
March 26th, 2020
Great resource! Wish you could expand to more than just deeds, but then you would have to rename it. :)
Thanks!
Kelly
Reply from Staff
Thank you!
dill h.
March 5th, 2019
easy-peasy
Reply from Staff
We appreciate your business and value your feedback. Thank you. Have a wonderful day!
Valerie I.
November 19th, 2020
Quick and easy! Had my document submitted to the county and back in one day. Good rates as well!
Reply from Staff
Thank you!
Jimmy W.
February 15th, 2022
The forms where easy to get to and I hope that they will be as easy to fill out.
Reply from Staff
Thank you!
Nawal F.
June 1st, 2023
Friendly user
Reply from Staff
Thank you!
Shirley B.
July 9th, 2019
Very convenient, glad I discovered this website.
Reply from Staff
We appreciate your business and value your feedback. Thank you. Have a wonderful day!
albert C.
May 21st, 2021
thumbs up
Reply from Staff
Thank you!
Carole L.
December 30th, 2018
Perfectly easy, perfectly complete! I had no problems with downloading these forms. I have been a paralegal for 20 years and came up on a situation where I was not familiar with the forms. Deeds.com saved my life and allowed me to get the documents done and done right. I will keep deeds.com on my list of favorites!
Reply from Staff
Thank you Carole. Glad we could help. We appreciate you taking the time to leave your review.
Norma O.
March 10th, 2020
good
Reply from Staff
Thank you!
Darlene P.
November 12th, 2021
Deeds.com was a money saver for me. It made a daunting task of preparing a Quit Claim Deed a very simple task. I was happy that my documentation was accepted by my state and County first round.

Thank you Deeds.com
Reply from Staff
We appreciate your business and value your feedback. Thank you. Have a wonderful day!
catheirne o.
January 10th, 2019
Easy to use!
Reply from Staff
Thank you!
Legal Forms Disclaimer
Use of Deeds.com Legal Forms:
On our Site, we provide self-help "Do It Yourself Legal Forms." By using a form from our Site, you explicitly agree to our Terms of Use. You acknowledge and agree that your purchase and/or use of a form document does not constitute legal advice nor the practice of law. Furthermore, each form, including any related instructions or guidance, is not tailored to your specific requirements and is not guaranteed or warranted to be up-to-date, accurate, or applicable to your individual circumstances.
NO WARRANTY:
The Do It Yourself Legal Forms provided on our Website are not guaranteed to be usable, accurate, up-to-date, or suitable for any legal purpose. Any use of a Do It Yourself Legal Form from our website is undertaken AT YOUR OWN RISK.
Limitation of Liability:
If you use a Do It Yourself Legal Form available on Deeds.com, you acknowledge and agree that, TO THE EXTENT PERMITTED BY APPLICABLE LAW, WE SHALL NOT BE LIABLE FOR DAMAGES OF ANY KIND (INCLUDING, WITHOUT LIMITATION, LOST PROFITS OR ANY SPECIAL, INCIDENTAL, OR CONSEQUENTIAL DAMAGES) ARISING OUT OF OR IN CONNECTION WITH THE LEGAL FORMS OR FOR ANY INFORMATION OR SERVICES PROVIDED TO YOU THROUGH THE DEEDS.COM WEBSITE.
Damage Cap:
In circumstances where the above limitation of liability is prohibited, OUR SOLE OBLIGATION TO YOU FOR DAMAGES SHALL BE CAPPED AT $100.00.