Beauregard Parish Quitclaim Deed Forms (Louisiana)
Express Checkout
Form Package
Quitclaim Deed
State
Louisiana
Area
Beauregard Parish
Price
$27.97
Delivery
Immediate Download
Payment Information
Included Forms
All Beauregard Parish specific forms and documents listed below are included in your immediate download package:
Quitclaim Deed Form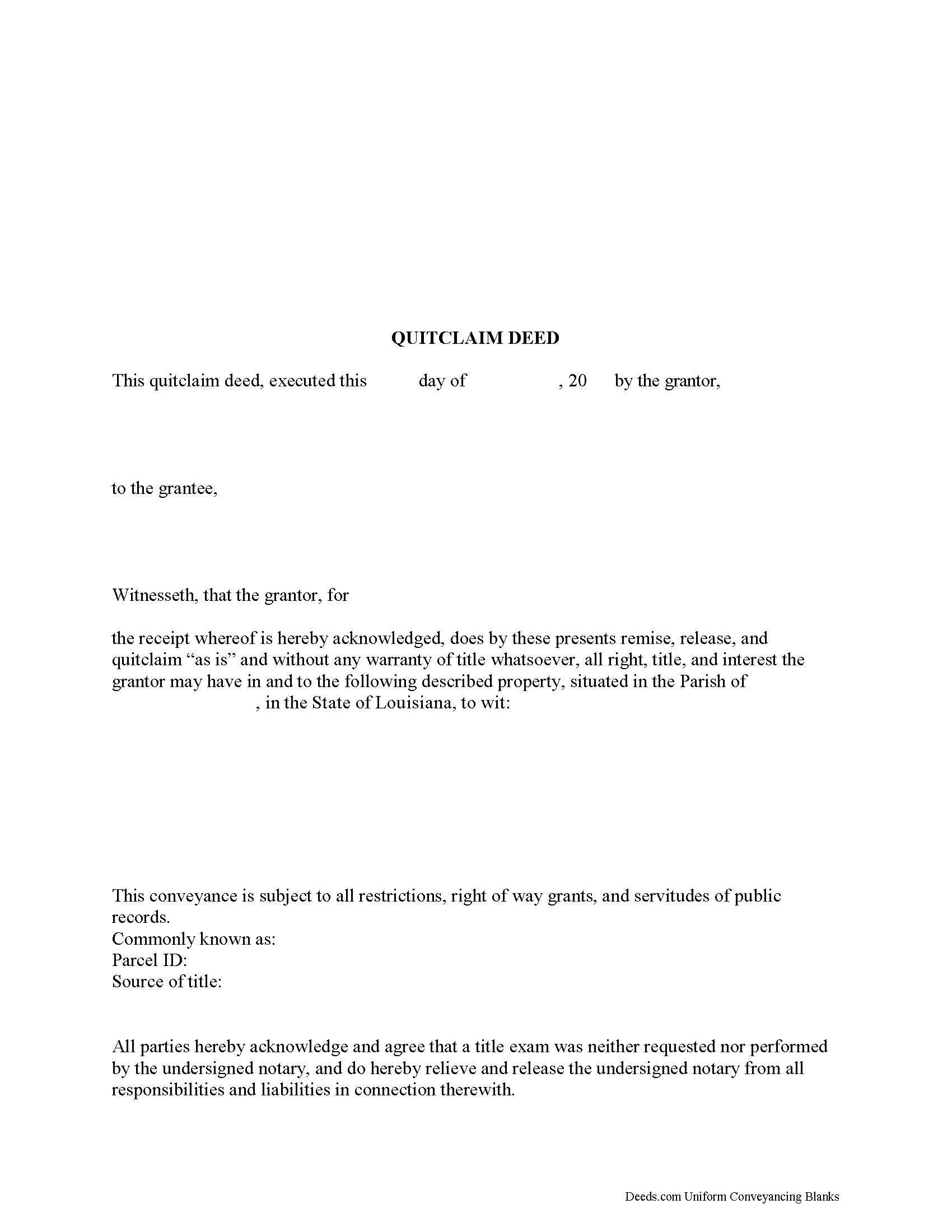 Fill in the blank Quitclaim Deed form formatted to comply with all Louisiana recording and content requirements.
Included document last reviewed/updated 11/20/2023
Quitclaim Deed Guide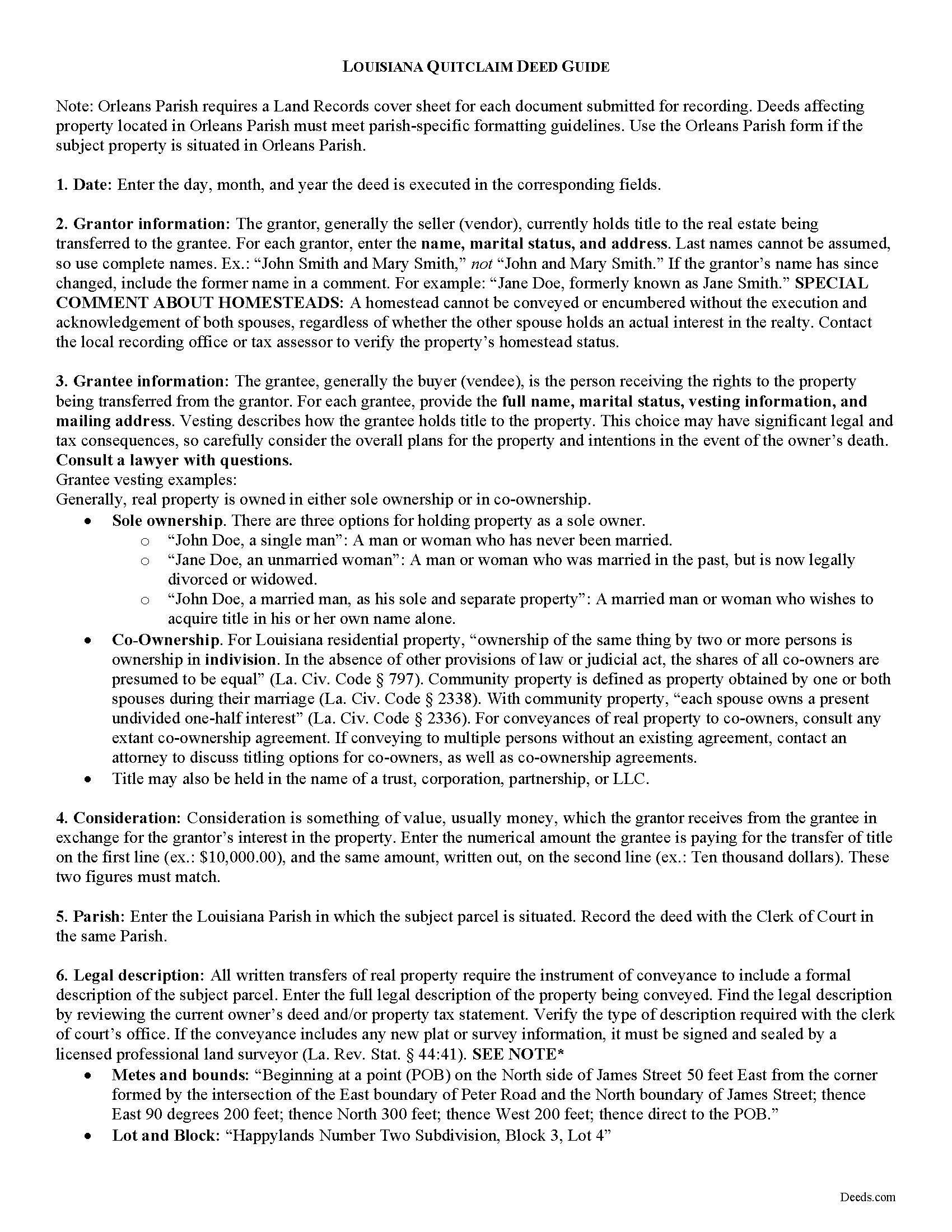 Line by line guide explaining every blank on the Quitclaim Deed form.
Included document last reviewed/updated 11/20/2023
Completed Example of the Quitclaim Deed Document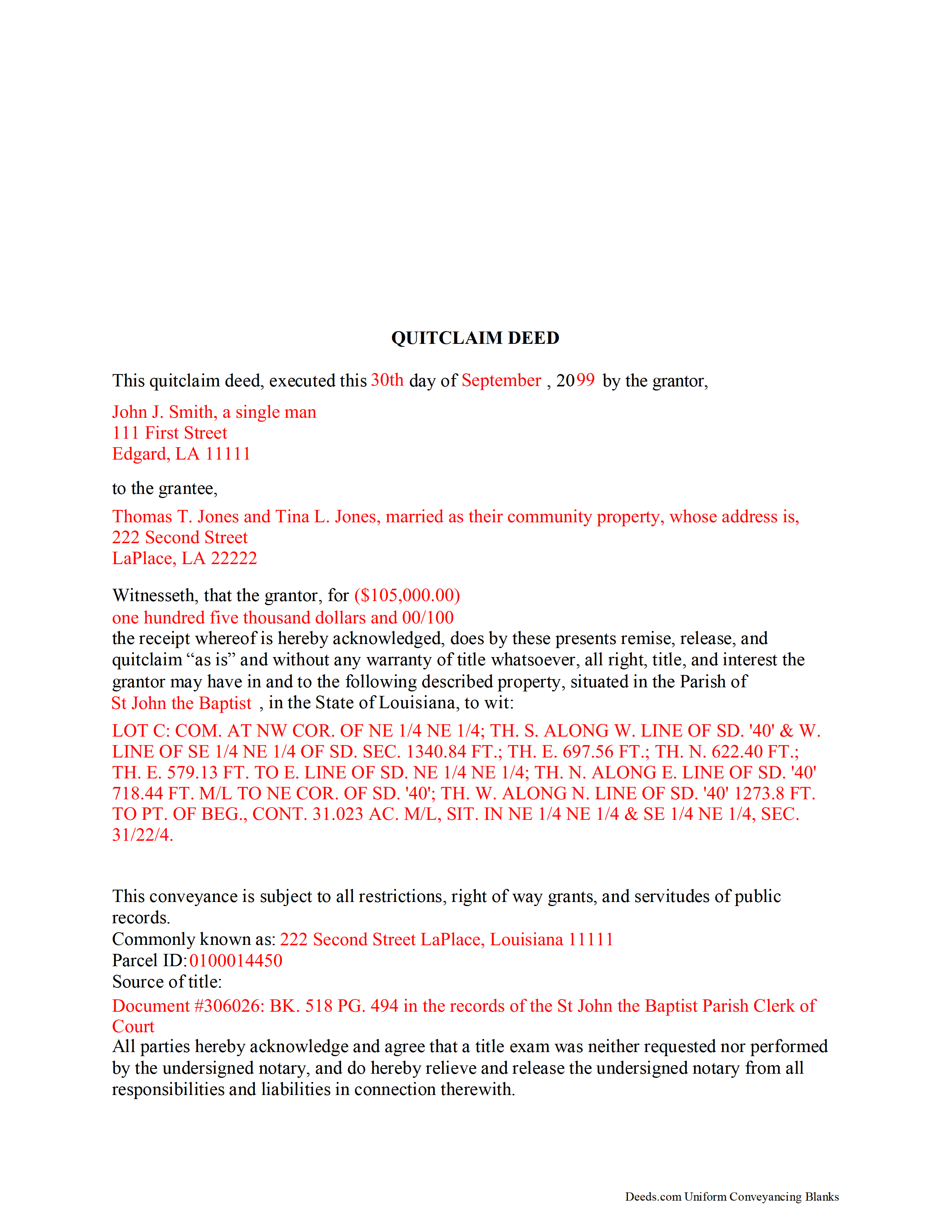 Example of a properly completed Louisiana Quitclaim Deed document for reference.
Included document last reviewed/updated 11/20/2023
Included Supplemental Documents
The following Louisiana and Beauregard Parish supplemental forms are included as a courtesy with your order.
No available supplemental forms at this time.
Frequently Asked Questions:
How long does it take to get my forms?
Forms are available immediately after submitting payment.
What are supplemental forms?
Often when a deed is recorded additional documents are required by or Beauregard Parish. These could be tax related, informational, or even as simple as a coversheet. Supplemental forms are provided for free with your order where available.
How do I get my forms, are they emailed?
After you submit payment you will see a page listing the Beauregard Parish forms you ordered with a download link to the pdf form file. You download the forms to your computer. You will also receive an email with a link to your download page in case you need it later.
What type of files are the forms?
All of our Beauregard Parish Quitclaim Deed forms are PDFs. You will need to have or get Adobe Reader to use our forms. Adobe Reader is free software that most computers already have installed.
Can the Quitclaim Deed forms be re-used?
Yes. You can re-use the forms for your personal use. For example, if you have more than one property in Beauregard Parish that you need to transfer you would only need to order our forms once for all of your properties in Beauregard Parish.
Are these forms guaranteed to be recordable in Beauregard Parish?
Yes. Our form blanks are guaranteed to meet or exceed all formatting requirements set forth by Beauregard Parish including margin requirements, content requirements, font and font size requirements.
Do I have to enter all of my property information online?
No. The blank forms are downloaded to your computer and you fill them out there, at your convenience.
Can I save the completed form, email it to someone?
Yes, you can save your deed form at any point with your information in it. The forms can also be emailed, blank or complete, as attachments.
Do I need any special software to use these forms?
You will need to have Adobe Reader installed on your computer to use our forms. Adobe Reader is free software that most computers already have installed.
Are there any recurring fees involved?
No. Nothing to cancel, no memberships, no recurring fees.
Areas Covered by These Quitclaim Deed Forms:
Including:
Deridder
Dry Creek
Longville
Merryville
Ragley
Singer
Sugartown
What is the Louisiana Quitclaim Deed
The state of Louisiana defines the minimum requirements to execute a lawful quitclaim deed in Civil Code 1839: an authentic act entered into the public record by formal recording. An authentic act is a written agreement, executed in the presence of a notary or other authorized official and two witnesses who are not otherwise part of the transaction. The code goes on to state that all grantors must sign the deed, and the name of each signor must be typed or printed immediately beneath the signature. CC 2503 states that every sale includes a warranty against eviction, so ensure that the lack of title guarantee is noted in the body of the document. CC 3352 codifies other requirements: the full name, domicile, and permanent mailing address of all grantors and grantees; the marital status, including spouse's full name (if any) of all parties; a statement detailing any change in the grantor's marital status; a complete legal description and the municipal ID or address of the property; and the ID number and typed, printed, or stamped name of the notary or attorney. These requirements are further supported by Louisiana Revised Statutes 35:11, 12. Finally, it is customary to include a recitation of the consideration (usually money) paid by the grantee.

Louisiana follows a "race" recording statute, which basically means that the first to record a deed holds the priority for ownership in the event of a dispute. For example, let's say the grantor quitclaims the property to grantee A, who fails to record the deed. Then the grantor quitclaims the same property to grantee B, who records it immediately. Even if grantee A tries to record the earlier document, grantee B's claim holds higher priority because it was recorded first.

CC 517 asserts that the voluntary transfer of ownership is not fully effective without entry into the land records of the parish where the immovable is situated. CC 2442 restates this, explaining that the "parties to an act of sale or promise of sale of immovable property are bound from the time the act is made, but such an act is not effective against third parties until it is filed for registry according to the laws of registry." Recording land transactions is also important because it helps to preserve a clear chain of title (ownership history) which will likely make the process for future conveyances smoother. In short, recording the quit claim deed as soon as possible after it is executed is an effective way to preserve the grantee's rights in the land.
Our Promise
The documents you receive here will meet, or exceed, the Beauregard Parish recording requirements for formatting. If there's an issue caused by our formatting, we'll make it right and refund your payment.
Save Time and Money
Get your Beauregard Parish Quitclaim Deed form done right the first time with Deeds.com Uniform Conveyancing Blanks. At Deeds.com, we understand that your time and money are valuable resources, and we don't want you to face a penalty fee or rejection imposed by a county recorder for submitting nonstandard documents. We constantly review and update our forms to meet rapidly changing state and county recording requirements for roughly 3,500 counties and local jurisdictions.
Reviews
4.8 out of 5 (4215 Reviews)
Lisa C.
December 5th, 2023
Thank you. Very easy!
Reply from Staff
We are delighted to have been of service. Thank you for the positive review!
Narcedalia G.
December 4th, 2023
Easy to use quick responses with accurate information and great customer service. No need to say more!
Reply from Staff
Your feedback is greatly appreciated. Thank you for taking the time to share your experience!
Sue C.
December 1st, 2023
Very helpful. Easy to use. Able to avoid the cost of having an attorney prepare the document I needed.
Reply from Staff
Your appreciative words mean the world to us. Thank you and we look forward to serving you again!
Kay C.
November 16th, 2020
that worked great I like to see what I'm filling out and the extra info is really helpful..
Reply from Staff
Thank you!
Eugenia T.
August 9th, 2023
I am the Kent County Recorder of Deeds in Central Delaware. I am impressed by the accuracy of your website. All data you post is correct regarding forms, fees, etc. We have just spent several months researching Property Theft, using many cites from various sources. I just discovered your white paper on this subject, and it is excellent. It also covers a few things we did not, such as house flipping and immigrants. Congratulations!
Reply from Staff
Thank you for your kind words and thoughtful review! It's an honor to know that our resources have been valuable to the Kent County Recorder of Deeds. Your feedback is particularly meaningful to us, and we are glad that our white paper contributed to your research on Property Theft. We fully support your vital efforts to combat property theft and deed fraud, and if there's anything else we can assist you with or any further insights you'd like to share, please don't hesitate to reach out. Keep up the outstanding work!
Martha B.
January 11th, 2019
Not too hard to do, I did get it checked out by an attorney after I completed it just to be safe. He said it was fine, made no changes.
Reply from Staff
We appreciate your business and value your feedback. Thank you. Have a wonderful day!
Dagmar R.
April 28th, 2021
Great Service, very helpful and knowledgeable.
Reply from Staff
Thank you for your feedback. We really appreciate it. Have a great day!
Martin T.
January 8th, 2021
The deed I needed was available to me easily. I was able to fill it out with the help of the example deed provided. I am very satisfied with the value received for the price paid.
Reply from Staff
Thank you!
Marites T.
April 6th, 2023
Extremely helpful team of professionals who are patient when you need to get things filed correctly.
Very small price for the comfort of knowing your DOCUMENTS are FILED with you local Recorder's Office.

Some of the filings, if they are correctly formatted are already uploaded and official within a few hours.

Here's the ALTERNATIVE you may encounter.

For Example:

King County Recorder's Office moved which means most filings are backed up 7-10 days if you DROP your filing in a BOX with your CHECK or MAIL IT. Neither is a great option, since they have no WALK IN HOURS.
Reply from Staff
We appreciate your business and value your feedback. Thank you. Have a wonderful day!
John S.
May 20th, 2023
Easy to use website and reasonably priced forms. I recommend it.
Reply from Staff
Thank you for the kind words John.
Rosanne E.
October 8th, 2020
Excellent response and all went well with downloading documents. Thank you for offering this important service.
Reply from Staff
We appreciate your business and value your feedback. Thank you. Have a wonderful day!
David M.
April 24th, 2019
Why is Dade County not listed for the Lady Bird Deed?
Reply from Staff
Because on November 13, 1997, voters changed the name of the county from Dade to Miami-Dade.
brian t.
December 19th, 2020
The docs were precise and accurate for my specific needs. I greatly appreciated the accompanying forms and instructional guidance to help make the use of the forms direct and easy to complete. Equally important, I was not suckered in to get a great price for the docs I needed only to be led to expensive subscriptions or additional fees. Very impressive and professional site.
Reply from Staff
Thank you for your feedback. We really appreciate it. Have a great day!
Gina B.
June 26th, 2019
Super easy to use! Thanks!
Reply from Staff
We appreciate your business and value your feedback. Thank you. Have a wonderful day!
Ralph H.
May 8th, 2019
Your documents resolved my problem. Thanks.
Reply from Staff
Thank you Ralph, we appreciate your feedback.
Legal Forms Disclaimer
Use of Deeds.com Legal Forms:
On our Site, we provide self-help "Do It Yourself Legal Forms." By using a form from our Site, you explicitly agree to our Terms of Use. You acknowledge and agree that your purchase and/or use of a form document does not constitute legal advice nor the practice of law. Furthermore, each form, including any related instructions or guidance, is not tailored to your specific requirements and is not guaranteed or warranted to be up-to-date, accurate, or applicable to your individual circumstances.
NO WARRANTY:
The Do It Yourself Legal Forms provided on our Website are not guaranteed to be usable, accurate, up-to-date, or suitable for any legal purpose. Any use of a Do It Yourself Legal Form from our website is undertaken AT YOUR OWN RISK.
Limitation of Liability:
If you use a Do It Yourself Legal Form available on Deeds.com, you acknowledge and agree that, TO THE EXTENT PERMITTED BY APPLICABLE LAW, WE SHALL NOT BE LIABLE FOR DAMAGES OF ANY KIND (INCLUDING, WITHOUT LIMITATION, LOST PROFITS OR ANY SPECIAL, INCIDENTAL, OR CONSEQUENTIAL DAMAGES) ARISING OUT OF OR IN CONNECTION WITH THE LEGAL FORMS OR FOR ANY INFORMATION OR SERVICES PROVIDED TO YOU THROUGH THE DEEDS.COM WEBSITE.
Damage Cap:
In circumstances where the above limitation of liability is prohibited, OUR SOLE OBLIGATION TO YOU FOR DAMAGES SHALL BE CAPPED AT $100.00.