Itasca County Quitclaim Deed Forms (Minnesota)
Express Checkout
Form Package
Quitclaim Deed
State
Minnesota
Area
Itasca County
Price
$27.97
Delivery
Immediate Download
Payment Information
Included Forms
All Itasca County specific forms and documents listed below are included in your immediate download package:
Quitclaim Deed Form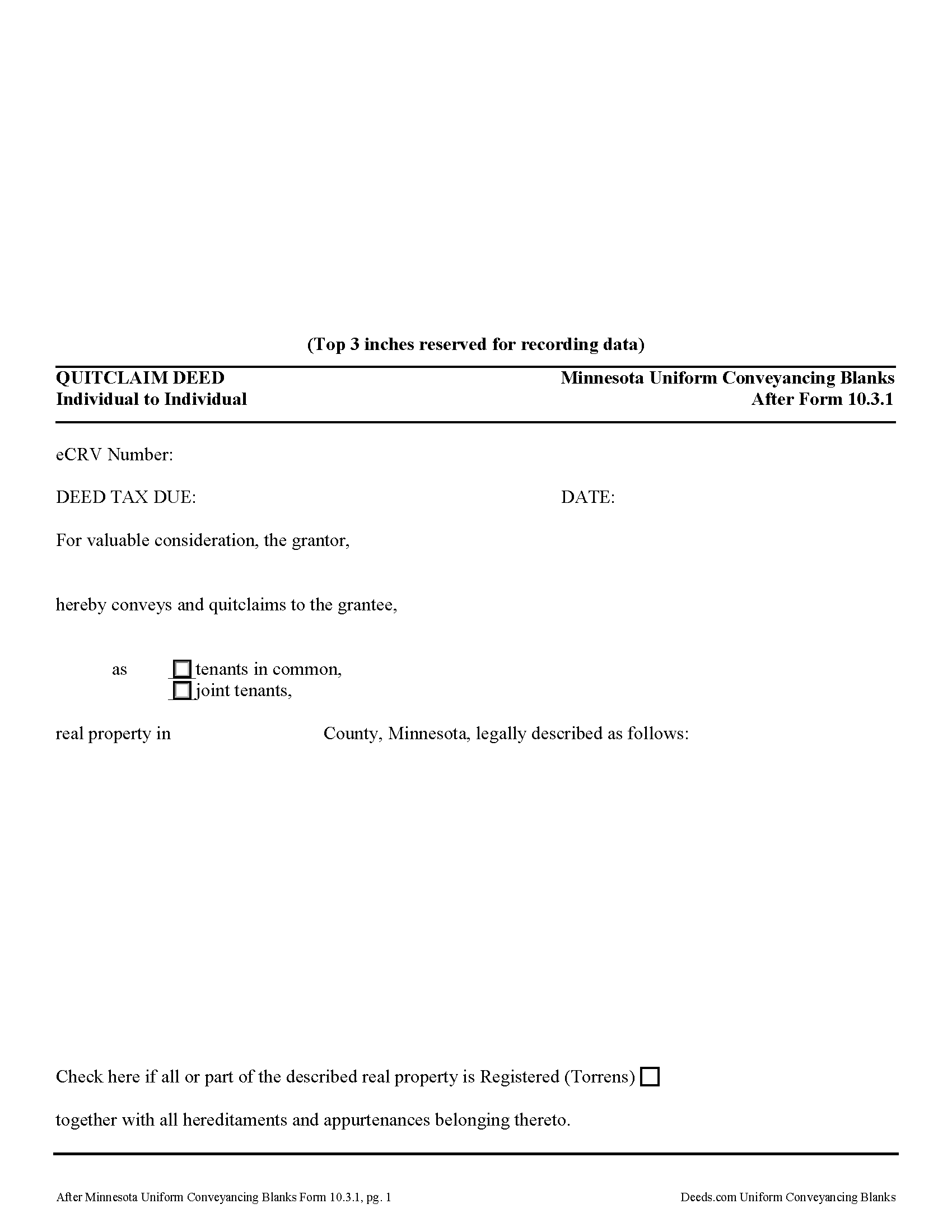 Fill in the blank Quitclaim Deed form formatted to comply with all Minnesota recording and content requirements.
Included document last reviewed/updated 11/21/2023
Quitclaim Deed Guide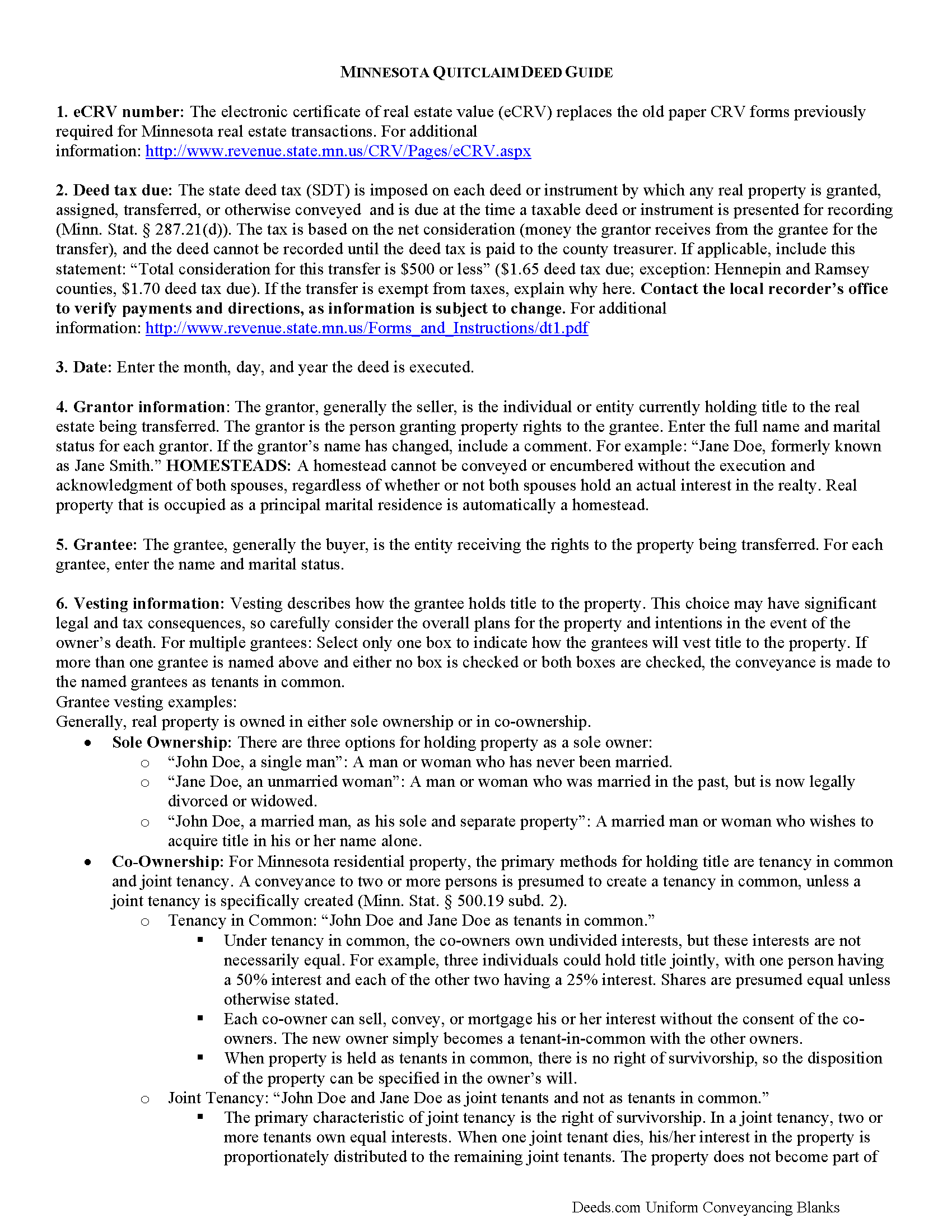 Line by line guide explaining every blank on the Quitclaim Deed form.
Included document last reviewed/updated 11/21/2023
Completed Example of the Quitclaim Deed Document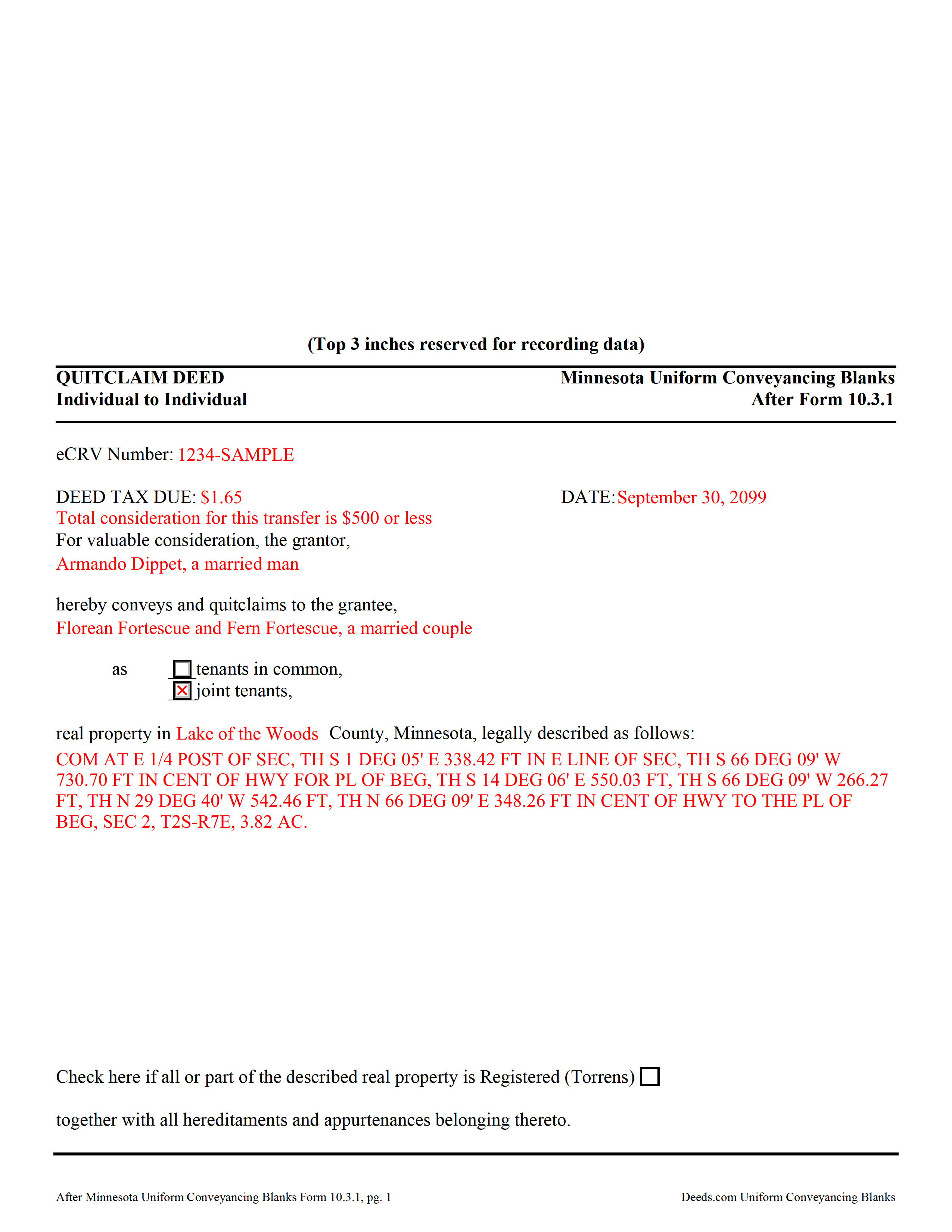 Example of a properly completed Minnesota Quitclaim Deed document for reference.
Included document last reviewed/updated 11/21/2023
Included Supplemental Documents
The following Minnesota and Itasca County supplemental forms are included as a courtesy with your order.
Frequently Asked Questions:
How long does it take to get my forms?
Forms are available immediately after submitting payment.
What are supplemental forms?
Often when a deed is recorded additional documents are required by or Itasca County. These could be tax related, informational, or even as simple as a coversheet. Supplemental forms are provided for free with your order where available.
How do I get my forms, are they emailed?
After you submit payment you will see a page listing the Itasca County forms you ordered with a download link to the pdf form file. You download the forms to your computer. You will also receive an email with a link to your download page in case you need it later.
What type of files are the forms?
All of our Itasca County Quitclaim Deed forms are PDFs. You will need to have or get Adobe Reader to use our forms. Adobe Reader is free software that most computers already have installed.
Can the Quitclaim Deed forms be re-used?
Yes. You can re-use the forms for your personal use. For example, if you have more than one property in Itasca County that you need to transfer you would only need to order our forms once for all of your properties in Itasca County.
Are these forms guaranteed to be recordable in Itasca County?
Yes. Our form blanks are guaranteed to meet or exceed all formatting requirements set forth by Itasca County including margin requirements, content requirements, font and font size requirements.
Do I have to enter all of my property information online?
No. The blank forms are downloaded to your computer and you fill them out there, at your convenience.
Can I save the completed form, email it to someone?
Yes, you can save your deed form at any point with your information in it. The forms can also be emailed, blank or complete, as attachments.
Do I need any special software to use these forms?
You will need to have Adobe Reader installed on your computer to use our forms. Adobe Reader is free software that most computers already have installed.
Are there any recurring fees involved?
No. Nothing to cancel, no memberships, no recurring fees.
Areas Covered by These Quitclaim Deed Forms:
Including:
Bigfork
Bovey
Bowstring
Calumet
Cohasset
Coleraine
Deer River
Effie
Goodland
Grand Rapids
Jacobson
Keewatin
Marble
Marcell
Max
Nashwauk
Pengilly
Spring Lake
Squaw Lake
Swan River
Taconite
Talmoon
Warba
Wirt
What is the Minnesota Quitclaim Deed
The quitclaim deed from individual to individual (Minnesota Conveyancing Blanks Form 10.3.1) is "sufficient to pass all the estate which the grantor could convey by deed of bargain and sale" in Minnesota (Minn. Stat. 507.06).

The deed conveys to the named grantee "all right, title, and interest of the grantor in the premises described," and does not extend to any after-acquired title ( 507.07). A quitclaim deed contains no warranties of title. For this reason, the quitclaim deed is often used in divorce or other transactions between family members.

Requirements of the form include the names and marital status of each grantor and grantee and a complete legal description of the property subject to transfer. All grantors or grantors' authorized representatives and joining spouses must sign the deed. A state deed tax, the amount of which is cited on the face of the deed is levied on the amount of consideration made for the transfer, and must be paid before the deed can be recorded.

Minnesota requires an electronic certificate of real estate value and a well disclosure statement for all sales of real property.

Ensure the deed meets document recording standards ( 507.093) before submitting to the recorder's office (or registrar's office, for Torrens land). Consult a lawyer with any questions related to quitclaim deeds or other real property transfers.
Our Promise
The documents you receive here will meet, or exceed, the Itasca County recording requirements for formatting. If there's an issue caused by our formatting, we'll make it right and refund your payment.
Save Time and Money
Get your Itasca County Quitclaim Deed form done right the first time with Deeds.com Uniform Conveyancing Blanks. At Deeds.com, we understand that your time and money are valuable resources, and we don't want you to face a penalty fee or rejection imposed by a county recorder for submitting nonstandard documents. We constantly review and update our forms to meet rapidly changing state and county recording requirements for roughly 3,500 counties and local jurisdictions.
Reviews
4.8 out of 5 (4213 Reviews)
Sue C.
December 1st, 2023
Very helpful. Easy to use. Able to avoid the cost of having an attorney prepare the document I needed.
Reply from Staff
Your appreciative words mean the world to us. Thank you and we look forward to serving you again!
Mark C.
November 29th, 2023
WOW! I am so pleased the County Registrar's office recommended Deeds.com. From start to a very quick finish Deeds.com worked to ensure my documents were correct and they immediately filed them. The Warranty Deed was accepted by the County and registered within a hour. Deeds.com's communication was superb. I will use this handy resource every time I am in need.
Reply from Staff
Your feedback is greatly appreciated. Thank you for taking the time to share your experience!
Maria B.
November 27th, 2023
Deeds.com has excellent customer service and great processing times! I highly recommend their services.
Reply from Staff
We appreciate your business and value your feedback. Thank you. Have a wonderful day!
Donald S.
July 7th, 2020
Good
Reply from Staff
Thank you!
Lana B.
February 5th, 2021
Website is easy to use. I ordered the form, filled it out and uploaded it for recording. My only critique is that you can't preview the form before ordering and paying for it. I ordered a Deed of Full Reconveyance form only to find out I needed the Substitution of Trustee and Deedn of Reconveyance form instead. So I wasted $22 on the wrong form.
Reply from Staff
Thank you for your feedback. Order and payment for the incorrect order has been canceled. Have a wonderful day.
Michael T.
July 6th, 2020
Quick, simple and easy\.
Reply from Staff
Thank you!
Bryan C.
September 5th, 2021
Your service is sweet. It is self-explanatory and easy to download. I am excited about finding your website.
Reply from Staff
Thank you!
Samantha S.
April 29th, 2021
I really appreciated Deeds.com. It was quick and easy to use. Saved me substantial time completing my deed recording.
Reply from Staff
Thank you for your feedback. We really appreciate it. Have a great day!
Susan M.
July 13th, 2019
I was able to download a lot of forms that I need, will be going back to day to search for records so I can fill in the blanks. A great website for forms - It was easy to find what I needed and download! Thanks!!!
Reply from Staff
We appreciate your business and value your feedback. Thank you. Have a wonderful day!
Ralph E.
March 24th, 2019
I wish I had found this site earlier!!! Not only was it helpful and just what I needed but I got my information so fast AND on the weekend. I would recommend this site to everyone. I plan on using it more. Its cheap and I can get my information while sitting at home. Very impressed!
Reply from Staff
Thank you for the kinds words Ralph. Have a great day!
John L B.
November 2nd, 2020
I ordered the Deed package for my state of NJ and the county I needed to prepare the documents. I was able to complete everything that is required to close on an investment property. Fast easy with step by step instructions no matter your situation. Definitely will recommend to family & friends. Save $ instead of paying others to do the same thing you can do yourself.
Reply from Staff
Thank you for your feedback. We really appreciate it. Have a great day!
Carole L.
December 30th, 2018
Perfectly easy, perfectly complete! I had no problems with downloading these forms. I have been a paralegal for 20 years and came up on a situation where I was not familiar with the forms. Deeds.com saved my life and allowed me to get the documents done and done right. I will keep deeds.com on my list of favorites!
Reply from Staff
Thank you Carole. Glad we could help. We appreciate you taking the time to leave your review.
Cathaleen P.
April 26th, 2021
Excellent service and very easy to process. Thank you!
Reply from Staff
Thank you for your feedback. We really appreciate it. Have a great day!
Shirley C.
November 17th, 2019
I liked that the documents could be filled in on my computer. All the documents came out nice, better than I expected really.
Reply from Staff
Thank you Shirley, we appreciate your feedback. Have a great day!
Armando B.
October 23rd, 2021
This was so simple to get around your web site. Guide was easy to follow. Great experience. Would use again.
Reply from Staff
Thank you for your feedback. We really appreciate it. Have a great day!
Legal Forms Disclaimer
Use of Deeds.com Legal Forms:
On our Site, we provide self-help "Do It Yourself Legal Forms." By using a form from our Site, you explicitly agree to our Terms of Use. You acknowledge and agree that your purchase and/or use of a form document does not constitute legal advice nor the practice of law. Furthermore, each form, including any related instructions or guidance, is not tailored to your specific requirements and is not guaranteed or warranted to be up-to-date, accurate, or applicable to your individual circumstances.
NO WARRANTY:
The Do It Yourself Legal Forms provided on our Website are not guaranteed to be usable, accurate, up-to-date, or suitable for any legal purpose. Any use of a Do It Yourself Legal Form from our website is undertaken AT YOUR OWN RISK.
Limitation of Liability:
If you use a Do It Yourself Legal Form available on Deeds.com, you acknowledge and agree that, TO THE EXTENT PERMITTED BY APPLICABLE LAW, WE SHALL NOT BE LIABLE FOR DAMAGES OF ANY KIND (INCLUDING, WITHOUT LIMITATION, LOST PROFITS OR ANY SPECIAL, INCIDENTAL, OR CONSEQUENTIAL DAMAGES) ARISING OUT OF OR IN CONNECTION WITH THE LEGAL FORMS OR FOR ANY INFORMATION OR SERVICES PROVIDED TO YOU THROUGH THE DEEDS.COM WEBSITE.
Damage Cap:
In circumstances where the above limitation of liability is prohibited, OUR SOLE OBLIGATION TO YOU FOR DAMAGES SHALL BE CAPPED AT $100.00.