Missouri - Saint Louis City Quit Claim Deed Form
All Saint Louis City specific forms listed below are included in your immediate download:
---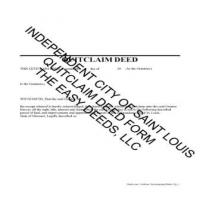 Quit Claim Deed Form - Saint Louis City
Fill in the blank form formatted to comply with all recording and content requirements.
Included document last updated 5/3/2018
---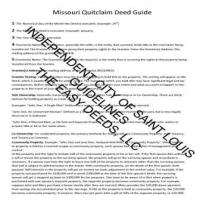 Quit Claim Deed Guide - Saint Louis City
Line by line guide explaining every blank on the form.
Included document last updated 5/18/2018
---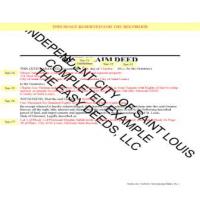 Completed Example of a Quit Claim Deed - Saint Louis City
Example of a properly completed form for reference.
Included document last updated 4/24/2018
---
*Missouri and Saint Louis City supplemental forms are included as a courtesy with your order.
Frequently Asked Questions:
How long does it take to get my forms?

Forms are available immediately after submitting payment.

What are supplemental forms?

Often when a deed is recorded additional documents are required by the state or local jurisdiction. These could be tax related, informational, or even as simple as a coversheet. Supplemental forms are provided for free with your order where available.

How do I get my forms, are they emailed?

After you submit payment you will see a page listing the forms you ordered with a download link to the pdf form file. You download the forms to your computer. You will also receive an email with a link to your download page in case you need it later.

What type of files are the forms?

All of our forms are PDFs. You will need to have or get Adobe Reader to use our forms. Adobe Reader is free software that most computers already have installed.

Can the forms be re-used?

Yes. You can re-use the forms for your personal use. For example, if you have more than one property in a given county that you need to transfer you would only need to order our forms once for all of your properties in that county.

Are these forms guaranteed to be recordable in Saint Louis City ?

Yes. Our form blanks are guaranteed to meet or exceed all formatting requirements set forth by Saint Louis City including margin requirements, content requirements, font and font size requirements.

Do I have to enter all of my property information online?

No. The blank forms are downloaded to your computer and you fill them out there, at your convenience.

Can I save the completed form, email it to someone?

Yes, you can save your deed form at any point with your information in it. The forms can also be emailed, blank or complete, as attachments.

Do I need any special software to use these forms?

You will need to have Adobe Reader installed on your computer to use our forms. Adobe Reader is free software that most computers already have installed.

Are there any recurring fees involved?

No. Nothing to cancel, no memberships, no recurring fees.
Areas covered by these Quit Claim Deed Forms:
Including:
What is the Missouri Quit Claim Deed?
A quitclaim deed should list the names of all grantors and grantees involved in the conveyance (MRS 59.310.1). The grantor to a quitclaim deed in Missouri must sign and acknowledge it before presenting it to the county recorder. In the City of St. Louis, both the grantor and grantee must sign the real estate document. A recorder of deeds in Missouri can refuse a quit claim deed if it does not contain the grantee's mailing address or a legal description of the real property (MRS 59.330). Any signors to the document must have their name typed beneath their signature. The Missouri Revised Statutes, The Recorders Association of Missouri, and the Missouri section of this website list recording requirements in more detail.

A quitclaim deed in writing, certified, and properly recorded will provide notice to all persons of the contents of the instrument. All subsequent purchasers and mortgagees shall be deemed to purchase with notice (MRS 442.390). An unrecorded quit claim deed in writing will be valid between the parties to it and those that have actual notice of it (442.400). Notice is not provided until recordation occurs.
Save time and money.
Get your Saint Louis City Quit Claim Deed form done right the first time with Deeds.com Uniform Conveyancing Blanks. At Deeds.com, we understand that your time and money are valuable resources, and we don't want you to face a penalty fee or rejection imposed by a county recorder for submitting nonstandard documents. We constantly review and update our forms to meet rapidly changing state and county recording requirements for roughly 3,500 counties.
Guarantee:
We guarantee that you will receive access to the forms that you order and that those forms will be compliant with the recording requirements for the jurisdiction the forms were purchased for and the statutory requirements for content of the document.
Customer Rating: 9.17 out of 10 (58 Reviews)
---
On 05/19/18 Mark Blackwell Said:
Score: 9
easy to find and use well worth what i paid
---
On 05/12/18 Todd Lampe Said:
Score: 10
Super product
---
On 05/09/18 PF Said:
Score: 9
The form was what I needed. No problems
---
On 05/06/18 Tatsiana Seibel Said:
Score: 10
Pretty Easy and Great for Quit Claim Deed
---
On 05/06/18 Elizabeth M. Said:
Score: 10
If only everything in real estate could be this easy Thanks!
---