Quitclaim Deed for Real Estate Located in New York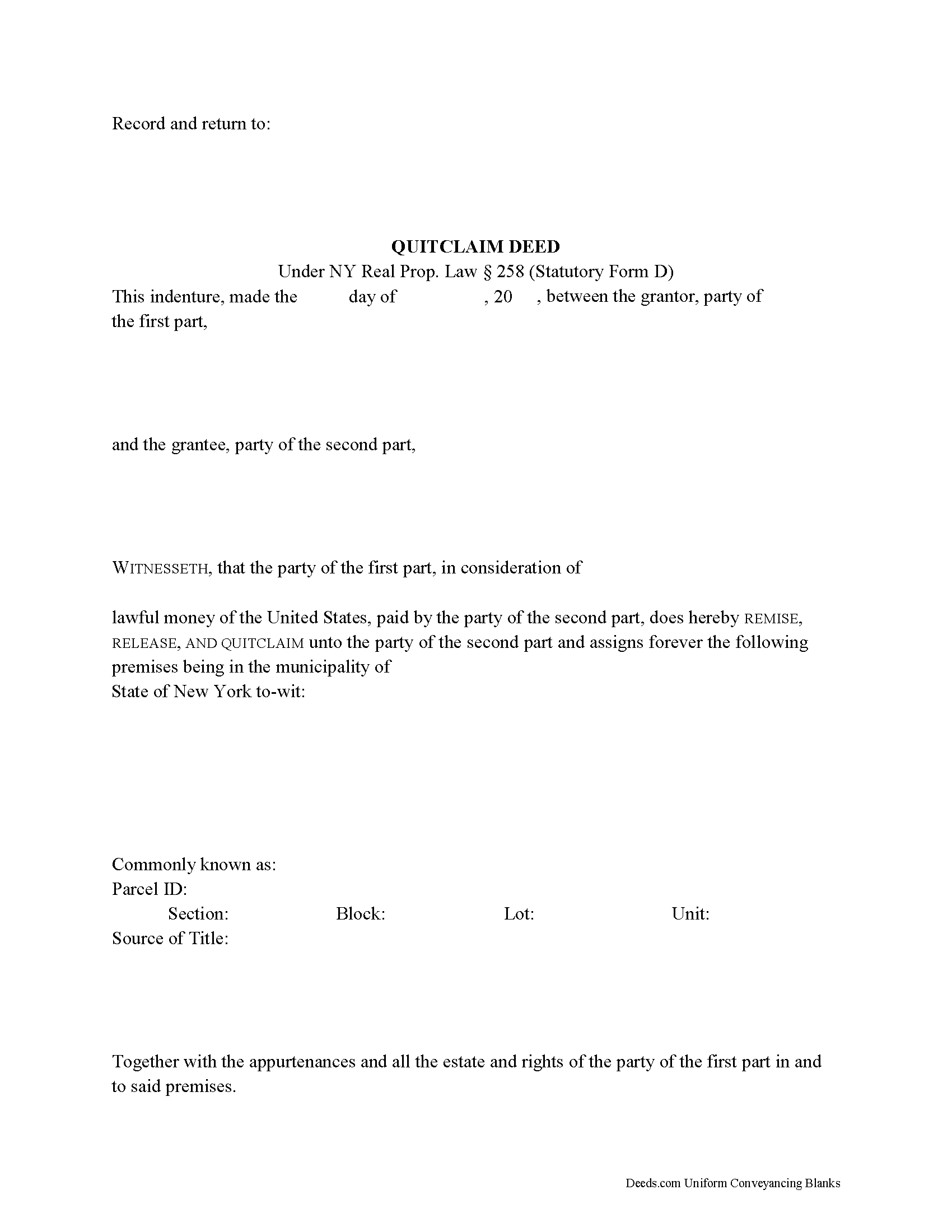 In New York, interest to real property can be transferred from one party to another by executing a quitclaim deed. Quitclaim deeds are statutory under NY Real Prop. Law Section 258 Statutory Form D.

Quitclaim deeds offer no warranties of title and provide the least amount of protection to the grantee. They do not guarantee that the grantor has good title or ownership of the property and only transfer whatever interest the grantor may have in the property at the time of execution. They are generally reserved for divorces and other transfers of property between family members.

Quitclaim deeds offer less assurance than bargain and sale deeds, which convey whatever interest the grantor holds at the time of execution, sometimes with the promise that the grantor "has not done or suffered anything whereby the said premises have been incumbered in any way whatever" (NY Real Prop. Law Section 258 (Statutory Form C)). Bargain and sale deeds without covenant against grantor do not guarantee that the property conveyed is without encumbrances made by the grantor, but they do imply that the grantor held or holds an interest in the property being conveyed.

A lawful quitclaim deed must meet all state and local standards for recorded documents, including the grantor's full name, mailing address, and marital status; the consideration given for the transfer; and the grantee's full name, mailing address, marital status, and vesting. Vesting describes how the grantee holds title to the property. Generally, real property is owned in either sole ownership or in co-ownership.

For New York residential property, the primary methods for holding title are tenancy in common, joint tenancy, and tenancy by entirety. A grant of ownership of real estate to two or more unmarried persons is presumed to create a tenancy in common, unless a joint tenancy is expressly declared. In the case of married persons, a tenancy by entirety is presumed, unless a joint tenancy or tenancy in common is expressly declared (E.P.T. Law Sections 6-2.1, 6-2.2).

As with any conveyance of realty, a quitclaim deed requires a complete legal description of the parcel, including the section, block, lot, and unit numbers. Recite the prior deed reference to maintain a clear chain of title, and detail any restrictions associated with the property.

Sign the deed in the presence of a notary public or other authorized official. Record the deed at the county clerk's office in the county where the property is located for a valid transfer. Contact the same office to confirm accepted forms of payment.

Most counties in New York require a recording page to accompany all documents for recording. This cover page is available on the local county clerk's website, and it factors into the total page count when calculating recording fees. Contact the county clerk's office to verify requirements.

In New York, the real estate transfer tax is due at the time of recording. File Form TP-584 (Combined Real Estate Transfer Tax Return) with the appropriate county clerk (TAX Law 31-D-1449-EE(2)(d)). Non-residents of New York State must also file an IT-266 Tax Form (Non-Resident Real Property Estimated Income Tax Payment Form) (TAX Law 22-663).

Pursuant to R.P.P. Law 9-333.3, a Real Property Transfer Report is required to accompany all conveyances, excluding deeds of oil and gas or mineral rights. Use Form RP-5217-NYC for real property transfers within the five boroughs of New York City, and use Form RP-5217 for real property transfers in all other counties. Contact the local county clerk's office to confirm the specific local requirements.

This article is provided for informational purposes only and is not a substitute for legal advice. Speak to an attorney with questions about quitclaim deeds or for any other issues related to transfers of real property in New York.
Back to New York