Ulster County Warranty Deed Forms (New York)
Express Checkout
Form Package
Warranty Deed
State
New York
Area
Ulster County
Price
$29.97
Delivery
Immediate Download
Payment Information
Included Forms
All Ulster County specific forms and documents listed below are included in your immediate download package:
Warranty Deed Form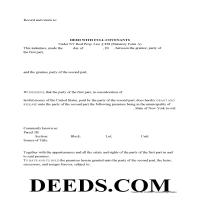 Fill in the blank form formatted to comply with all recording and content requirements.
Included document last updated 9/22/2023
Warranty Deed Guide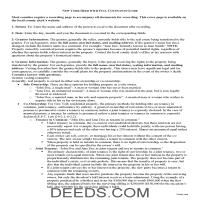 Line by line guide explaining every blank on the form.
Included document last updated 8/22/2023
Completed Example of the Warranty Deed Document
Example of a properly completed form for reference.
Included document last updated 8/16/2023
Included Supplemental Documents
The following New York and Ulster County supplemental forms are included as a courtesy with your order.
Frequently Asked Questions:
How long does it take to get my forms?
Forms are available immediately after submitting payment.
What are supplemental forms?
Often when a deed is recorded additional documents are required by or Ulster County. These could be tax related, informational, or even as simple as a coversheet. Supplemental forms are provided for free with your order where available.
How do I get my forms, are they emailed?
After you submit payment you will see a page listing the Ulster County forms you ordered with a download link to the pdf form file. You download the forms to your computer. You will also receive an email with a link to your download page in case you need it later.
What type of files are the forms?
All of our Ulster County Warranty Deed forms are PDFs. You will need to have or get Adobe Reader to use our forms. Adobe Reader is free software that most computers already have installed.
Can the Warranty Deed forms be re-used?
Yes. You can re-use the forms for your personal use. For example, if you have more than one property in Ulster County that you need to transfer you would only need to order our forms once for all of your properties in Ulster County.
Are these forms guaranteed to be recordable in Ulster County?
Yes. Our form blanks are guaranteed to meet or exceed all formatting requirements set forth by Ulster County including margin requirements, content requirements, font and font size requirements.
Do I have to enter all of my property information online?
No. The blank forms are downloaded to your computer and you fill them out there, at your convenience.
Can I save the completed form, email it to someone?
Yes, you can save your deed form at any point with your information in it. The forms can also be emailed, blank or complete, as attachments.
Do I need any special software to use these forms?
You will need to have Adobe Reader installed on your computer to use our forms. Adobe Reader is free software that most computers already have installed.
Are there any recurring fees involved?
No. Nothing to cancel, no memberships, no recurring fees.
Areas Covered by These Warranty Deed Forms:
Including:
Accord
Bearsville
Big Indian
Bloomington
Boiceville
Chichester
Clintondale
Connelly
Cottekill
Cragsmoor
Ellenville
Esopus
Gardiner
Glasco
Glenford
Greenfield Park
High Falls
Highland
Highmount
Hurley
Kerhonkson
Kingston
Lake Hill
Lake Katrine
Malden On Hudson
Marlboro
Milton
Modena
Mount Marion
Mount Tremper
Napanoch
New Paltz
Olivebridge
Phoenicia
Pine Hill
Plattekill
Port Ewen
Rifton
Rosendale
Ruby
Saugerties
Shandaken
Shokan
Spring Glen
Stone Ridge
Tillson
Ulster Park
Walker Valley
Wallkill
Wawarsing
West Camp
West Hurley
West Park
West Shokan
Willow
Woodstock
What is the New York Warranty Deed
New York Deed with Full Covenants

In New York, title to real property can be transferred from one party to another by executing a deed with full covenants. A deed with full covenants conveys fee simple interest in real property to the named grantee with the greatest assurance of title.

Deeds with full covenants are statutory under NY Real Prop. Law Section 258 Statutory Form A. This form includes specific covenants that the grantor holds title to the property and has good right to convey it; that the grantee "shall quietly enjoy the said premises," which means that the grantee has the right to use and enjoy the property without disturbance from claimants; that the property is free from encumbrances (with the exception of any noted in the deed); that the grantor will "execute or procure any further necessary assurance of the title"; and that the grantor will defend the title against all lawful claimants (NY Real Prop. Law Section 258 (Statutory Form A)).

A deed with full covenants offers the highest protection to the grantee (buyer), covering the entire ownership history, even preceding the time the grantor obtained title. This warranty is greater than that of a bargain and sale deed, which, at most, may contain a covenant against grantor's acts (that the property conveyed is without encumbrances made by the grantor). Deeds with full covenants also provide more surety than a quitclaim deed, which offers no warranties of title.

A lawful deed with full covenants includes the grantor's full name, mailing address, and marital status; the consideration given for the transfer; and the grantee's full name, mailing address, marital status, and vesting. Vesting describes how the grantee holds title to the property. Generally, real property is owned in either sole ownership or in co-ownership.

For New York residential property, the primary methods for holding title are tenancy in common, joint tenancy, and tenancy by entirety. A grant of ownership of real estate to two or more unmarried persons is presumed to create a tenancy in common, unless a joint tenancy is expressly declared. In the case of married persons, a tenancy by entirety is presumed, unless a joint tenancy or tenancy in common is expressly declared (E.P.T. Law Sections 6-2.1, 6-2.2).

As with any conveyance of realty, a deed with full covenants must meet all state and local standards for recorded documents. It requires a complete legal description of the parcel, including the section, block, lot, and unit numbers. Recite the prior deed reference to maintain a clear chain of title, and detail any restrictions associated with the property.

Sign the deed in the presence of a notary public or other authorized official, then record it at the county clerk's office in the county where the property is located for a valid transfer. Contact the same office to confirm accepted forms of payment.

Most counties in New York require a recording page to accompany all documents for recording. This cover page is available on the local county clerk's website, and it factors into the total page count when calculating recording fees.

In New York, the real estate transfer tax is due at the time of recording. File Form TP-584 (Combined Real Estate Transfer Tax Return) with the appropriate county clerk (TAX Law 31-D-1449-EE(2)(d)). Non-residents of New York State must also file an IT-266 Tax Form (Non-Resident Real Property Estimated Income Tax Payment Form) (TAX Law 22-663).

Pursuant to R.P.P. Law 9-333.3, all conveyances, excluding deeds of oil and gas or mineral rights, require a Real Property Transfer Report. Use Form RP-5217-NYC for real property transfers within the five boroughs of New York City, and use Form RP-5217 for real property transfers in all other counties. Contact the local county clerk's office to confirm the specific county's requirements.

This article is provided for informational purposes only and is not a substitute for legal advice. Speak to an attorney with questions related to deeds with full covenants or any other issues associated with transfers of real property in New York.
Our Promise
The documents you receive here will meet, or exceed, the Ulster County recording requirements for formatting. If there's an issue caused by our formatting, we'll make it right and refund your payment.
Save Time and Money
Get your Ulster County Warranty Deed form done right the first time with Deeds.com Uniform Conveyancing Blanks. At Deeds.com, we understand that your time and money are valuable resources, and we don't want you to face a penalty fee or rejection imposed by a county recorder for submitting nonstandard documents. We constantly review and update our forms to meet rapidly changing state and county recording requirements for roughly 3,500 counties and local jurisdictions.
Reviews
4.8 out of 5 (4166 Reviews)
Edward B.
September 22nd, 2023
I was looking for a certain form I needed. Deeds.com had the necessary form and I was able to purchase it with little effort on my part. This was a good customer experience.
Reply from Staff
We appreciate your business and value your feedback. Thank you. Have a wonderful day!
Jerry G.
September 21st, 2023
I found the document confusing and I don't think I can use it.
Reply from Staff
Thank you for your feedback. We recognize that do-it-yourself legal documents may not be suitable for everyone. We always advise all our customers to seek assistance from a legal professional familiar with their specific situation for any form they do not completely understand. For your convenience, we have canceled your order and processed a refund.
Reliant Roofers, Inc. N.
September 20th, 2023
Great communication. Quick response. deeds.com is timely and efficient.
Reply from Staff
We appreciate your business and value your feedback. Thank you. Have a wonderful day!
Patricia C.
May 13th, 2019
I found there were a large number of documents available to download. The file naming on the PDFs could be more descriptive, and it would be nice to be able to download a complete set with one click.
Reply from Staff
Thank you for your feedback. We really appreciate it. Have a great day!
Alexis R.
January 25th, 2021
Excellent service and reasonable fees. Highly recommend this company.
Reply from Staff
We appreciate your business and value your feedback. Thank you. Have a wonderful day!
William B.
September 18th, 2020
Fastest online reply of nearly anything on the planet. Very impressed!!
Reply from Staff
Thank you!
Jack S.
March 5th, 2019
This is a great service and fairly priced.
Reply from Staff
Thank you Jack. hope you're having a great day!
George D.
August 23rd, 2020
The TODD form has been notarized and registered with my county Register of Deeds office, so it works just fine.

My only quibble is that when I printed it out, it missed part of the last line of the notary's info and the fine print in the bottom corners. When I printed it at 90% scale, it included those things.
Reply from Staff
Thank you for your feedback. We really appreciate it. Have a great day!
BARBARA T.
July 16th, 2019
Love this site! So easy to use and very economical
Reply from Staff
Thank you!
Mica M.
September 25th, 2020
Best Way EVER to record a warranty deed! It was nice to not have to drive anywhere and find the facility closed or "unable to process due to covid19 and buildings being closed". The correspondence between me and deeds.com was very timely in our back and forth email correspondence, and the processing was all finished in a timely manner. Totally worth the extra $15 that I paid in addition to the recording fee. I would use this again and again. My time and the efficiency of the job completed is worth the money.
Reply from Staff
We appreciate your business and value your feedback. Thank you. Have a wonderful day!
Gerald S.
November 7th, 2020
Very pleased with the services provided by deeds.com. Quick response time after information was provided.
Reply from Staff
We appreciate your business and value your feedback. Thank you. Have a wonderful day!
Jon I.
May 27th, 2020
I liked the information I download. Just what I was looking for.
Reply from Staff
We appreciate your business and value your feedback. Thank you. Have a wonderful day!
Kenneth S.
December 30th, 2018
Navigating the site was fine, but the service was not able to find my deed. Still have not received my refund.
Reply from Staff
Thanks for your feedback Kenneth. Sorry we were not able to pull the deed for your property. We voided your payment on December 28, 2018. Sometimes, depending on your financial institution, it can take a few days for the pending charge (hold) to expire.
Renee H.
July 9th, 2021
First time to use this service, was easy and quick return.
Reply from Staff
We appreciate your business and value your feedback. Thank you. Have a wonderful day!
Betty A.
March 2nd, 2022
You've made it very easy to download the form I needed. Thank you.
Reply from Staff
Thank you!
Legal Forms Disclaimer
Use of Deeds.com Legal Forms:
On our Site, we provide self-help "Do It Yourself Legal Forms." By using a form from our Site, you explicitly agree to our Terms of Use. You acknowledge and agree that your purchase and/or use of a form document does not constitute legal advice nor the practice of law. Furthermore, each form, including any related instructions or guidance, is not tailored to your specific requirements and is not guaranteed or warranted to be up-to-date, accurate, or applicable to your individual circumstances.
NO WARRANTY:
The Do It Yourself Legal Forms provided on our Website are not guaranteed to be usable, accurate, up-to-date, or suitable for any legal purpose. Any use of a Do It Yourself Legal Form from our website is undertaken AT YOUR OWN RISK.
Limitation of Liability:
If you use a Do It Yourself Legal Form available on Deeds.com, you acknowledge and agree that, TO THE EXTENT PERMITTED BY APPLICABLE LAW, WE SHALL NOT BE LIABLE FOR DAMAGES OF ANY KIND (INCLUDING, WITHOUT LIMITATION, LOST PROFITS OR ANY SPECIAL, INCIDENTAL, OR CONSEQUENTIAL DAMAGES) ARISING OUT OF OR IN CONNECTION WITH THE LEGAL FORMS OR FOR ANY INFORMATION OR SERVICES PROVIDED TO YOU THROUGH THE DEEDS.COM WEBSITE.
Damage Cap:
In circumstances where the above limitation of liability is prohibited, OUR SOLE OBLIGATION TO YOU FOR DAMAGES SHALL BE CAPPED AT $100.00.