Alexander County Beneficiary and Administrator Deed Forms (North Carolina)
Express Checkout
Form Package
Beneficiary and Administrator Deed
State
North Carolina
Area
Alexander County
Price
$29.97
Delivery
Immediate Download
Payment Information
Included Forms
All Alexander County specific forms and documents listed below are included in your immediate download package:
Beneficiary and Administrator Deed Form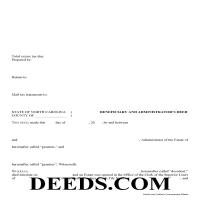 Fill in the blank form formatted to comply with all recording and content requirements.
Included document last reviewed/updated 4/6/2023
Beneficiary and Administrator Deed Guide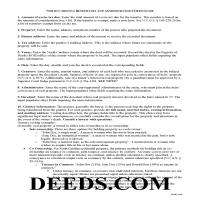 Line by line guide explaining every blank on the form.
Included document last reviewed/updated 7/25/2023
Completed Example of the Beneficiary and Administrator Deed Document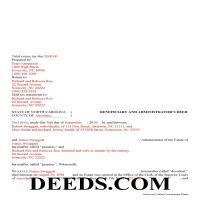 Example of a properly completed form for reference.
Included document last reviewed/updated 6/30/2023
Included Supplemental Documents
The following North Carolina and Alexander County supplemental forms are included as a courtesy with your order.
Frequently Asked Questions:
How long does it take to get my forms?
Forms are available immediately after submitting payment.
What are supplemental forms?
Often when a deed is recorded additional documents are required by or Alexander County. These could be tax related, informational, or even as simple as a coversheet. Supplemental forms are provided for free with your order where available.
How do I get my forms, are they emailed?
After you submit payment you will see a page listing the Alexander County forms you ordered with a download link to the pdf form file. You download the forms to your computer. You will also receive an email with a link to your download page in case you need it later.
What type of files are the forms?
All of our Alexander County Beneficiary and Administrator Deed forms are PDFs. You will need to have or get Adobe Reader to use our forms. Adobe Reader is free software that most computers already have installed.
Can the Beneficiary and Administrator Deed forms be re-used?
Yes. You can re-use the forms for your personal use. For example, if you have more than one property in Alexander County that you need to transfer you would only need to order our forms once for all of your properties in Alexander County.
Are these forms guaranteed to be recordable in Alexander County?
Yes. Our form blanks are guaranteed to meet or exceed all formatting requirements set forth by Alexander County including margin requirements, content requirements, font and font size requirements.
Do I have to enter all of my property information online?
No. The blank forms are downloaded to your computer and you fill them out there, at your convenience.
Can I save the completed form, email it to someone?
Yes, you can save your deed form at any point with your information in it. The forms can also be emailed, blank or complete, as attachments.
Do I need any special software to use these forms?
You will need to have Adobe Reader installed on your computer to use our forms. Adobe Reader is free software that most computers already have installed.
Are there any recurring fees involved?
No. Nothing to cancel, no memberships, no recurring fees.
Areas Covered by These Beneficiary and Administrator Deed Forms:
Including:
Hiddenite
Stony Point
Taylorsville
What is the North Carolina Beneficiary and Administrator Deed
Probate is the legal process of settling a decedent's (deceased person's) estate. An administrator is the personal representative appointed by the clerk of superior court to administer a decedent's estate.

When the estate's assets are not sufficient to pay debts, the administrator may need to petition the superior court where the estate is open to obtain an order to sell the decedent's real property. In North Carolina, title to real property vests in the decedent's heirs upon death, and a special proceeding is required to bring the property into the estate. An administrator may not sell realty without the court's permission.

The beneficiary and administrator's deed is an instrument executed by a decedent's heirs and joined by the administrator of the estate to convey an interest in real property from an intestate estate (so called when the decedent dies without a will, or does not name an executor of the estate) to a purchaser.

When the estate is still open in probate, the administrator joins in the deed consenting to the sale of the real property described within as required by N.C.G.S. 28A-17-12. By signing the deed, the administrator waives the possibility of opening a special proceeding to bring the property back into the estate later.

Heirs must execute the deed for a valid transfer. The deed lists all heirs and their marital status; spouses of heirs must join in signing the deed to release homestead rights under North Carolina law. Because title is legally vested in them, the executing heirs may make warranties of title, but the administrator typically does not. Any warranty language included in the deed is binding on the heirs.

Recitals of a beneficiary and administrator's deed include a statement that the decedent died intestate and information regarding the opened estate, including the decedent's date of death, the county of probate, and the file number assigned to the estate by the clerk of superior court. In addition, the deed states that the administrator named within is qualified to administer the estate and joins to evidence consent to the sale, and includes the date of first notice to creditors.

A lawful deed in North Carolina states the consideration made for the transfer of title, contains an accurate legal description of the subject parcel and recites the grantor's source of title. When properly executed and recorded, the beneficiary and administrator's deed vests title to the within-described property in the named grantee(s). Any restrictions to the transfer should be noted in the body of the deed.

Both the heirs' signatures and the administrator's signature must be acknowledged in the presence of a notarial official before the deed can be recorded in the county where the subject property is located. For a valid deed, the signatures of heirs and their spouses, when applicable, must be present. An affidavit of consideration or value may be required.

Consult an attorney licensed in the State of North Carolina with questions regarding beneficiary and administrator's deeds, as each situation is unique.
Our Promise
The documents you receive here will meet, or exceed, the Alexander County recording requirements for formatting. If there's an issue caused by our formatting, we'll make it right and refund your payment.
Save Time and Money
Get your Alexander County Beneficiary and Administrator Deed form done right the first time with Deeds.com Uniform Conveyancing Blanks. At Deeds.com, we understand that your time and money are valuable resources, and we don't want you to face a penalty fee or rejection imposed by a county recorder for submitting nonstandard documents. We constantly review and update our forms to meet rapidly changing state and county recording requirements for roughly 3,500 counties and local jurisdictions.
Reviews
4.8 out of 5 (4168 Reviews)
Anne J.
September 25th, 2023
I could not be happier with the service. Shortly after I uploaded my documents, my package was prepared and invoiced. It was only minutes before the document was recorded with the County I selected and returned to me with their seal for download.
Reply from Staff
We appreciate your business and value your feedback. Thank you. Have a wonderful day!
Daniel L.
September 25th, 2023
so far appears to meet my needs!
Reply from Staff
Thank you for your feedback. We really appreciate it. Have a great day!
Edward B.
September 22nd, 2023
I was looking for a certain form I needed. Deeds.com had the necessary form and I was able to purchase it with little effort on my part. This was a good customer experience.
Reply from Staff
We appreciate your business and value your feedback. Thank you. Have a wonderful day!
SheRon F.
March 21st, 2022
It was a quick and easy process and deeds.com was very helpful and dealt with a very stressful situation, painless.
Reply from Staff
We appreciate your business and value your feedback. Thank you. Have a wonderful day!
Kathy C.
March 7th, 2022
It's worth the cost to download the fill in the blank forms. So quick and easy. The lady I spoke to on the phone was super nice and very helpful. She deserves a medal for being so patient with me.

Reply from Staff
Thank you!
Julie K.
September 4th, 2023
The process for obtaining document itself was easy, and the included guide and example are great! \r\nI do have an issue with the format itself, though. The form has pre-defined text boxes, which cannot be altered without partially rebuilding the entire document. For the \'property description\' field on the Mineral Deed form, the text box is not large enough for the rather lengthy legal description entered on my original plat.\r\nFortunately, I have a copy of Adobe Pro, so I have been able to re-build the doc to accommodate this short-coming.
Reply from Staff
Thank you for taking the time to provide feedback on our legal form. We're pleased to hear that you found the process for obtaining the document and the included guide beneficial.

We understand and appreciate your concern regarding the formatting and size limitations of certain fields, especially the 'property description' field. Our forms are designed to adhere to specific formatting requirements that are often mandated for legal compliance. Making direct alterations to the document can result in them becoming non-conforming, which is why we advise customers to use an exhibit page when their legal description is extensive or does not fit.
Joseph L.
February 11th, 2019
Very easy to fill out and and saved a lot of extra cost by doing it ourselves and getting it notarized.
Reply from Staff
Thank you Joseph, we really appreciate your feedback.
Kate J.
January 10th, 2022
Easy to use.
Reply from Staff
Thank you!
Renee K.
November 19th, 2022
So very easy to upload documents to the site and communication is very quick. It made our transactions so effortless.
Reply from Staff
Thank you!
Abby H.
September 1st, 2020
Purchased the forms to make a deed. They were available immediately as promised. Easy to use. The guide and example was a big help. Will definitely use again if/when needed. Thanks.
Reply from Staff
Thank you Abby, we appreciate you. Have a great day!
Carole L.
December 30th, 2018
Perfectly easy, perfectly complete! I had no problems with downloading these forms. I have been a paralegal for 20 years and came up on a situation where I was not familiar with the forms. Deeds.com saved my life and allowed me to get the documents done and done right. I will keep deeds.com on my list of favorites!
Reply from Staff
Thank you Carole. Glad we could help. We appreciate you taking the time to leave your review.
suzanne m.
April 9th, 2020
Finding what I needed was quick and easy.
Reply from Staff
Thank you!
Paul V.
January 10th, 2022
Easy to use , so far
Reply from Staff
Thank you!
Corey G.
May 24th, 2023
Very informative and helpful
Thank you so much
Reply from Staff
Thank you for the kinds words Corey, glad we could help.
Robert S.
November 15th, 2021
Very nice!
Reply from Staff
Thank you!
Legal Forms Disclaimer
Use of Deeds.com Legal Forms:
On our Site, we provide self-help "Do It Yourself Legal Forms." By using a form from our Site, you explicitly agree to our Terms of Use. You acknowledge and agree that your purchase and/or use of a form document does not constitute legal advice nor the practice of law. Furthermore, each form, including any related instructions or guidance, is not tailored to your specific requirements and is not guaranteed or warranted to be up-to-date, accurate, or applicable to your individual circumstances.
NO WARRANTY:
The Do It Yourself Legal Forms provided on our Website are not guaranteed to be usable, accurate, up-to-date, or suitable for any legal purpose. Any use of a Do It Yourself Legal Form from our website is undertaken AT YOUR OWN RISK.
Limitation of Liability:
If you use a Do It Yourself Legal Form available on Deeds.com, you acknowledge and agree that, TO THE EXTENT PERMITTED BY APPLICABLE LAW, WE SHALL NOT BE LIABLE FOR DAMAGES OF ANY KIND (INCLUDING, WITHOUT LIMITATION, LOST PROFITS OR ANY SPECIAL, INCIDENTAL, OR CONSEQUENTIAL DAMAGES) ARISING OUT OF OR IN CONNECTION WITH THE LEGAL FORMS OR FOR ANY INFORMATION OR SERVICES PROVIDED TO YOU THROUGH THE DEEDS.COM WEBSITE.
Damage Cap:
In circumstances where the above limitation of liability is prohibited, OUR SOLE OBLIGATION TO YOU FOR DAMAGES SHALL BE CAPPED AT $100.00.