Burleigh County Correction Deed Forms (North Dakota)
Express Checkout
Form Package
Correction Deed
State
North Dakota
Area
Burleigh County
Price
$29.97
Delivery
Immediate Download
Payment Information
Included Forms
All Burleigh County specific forms and documents listed below are included in your immediate download package:
Correction Deed Form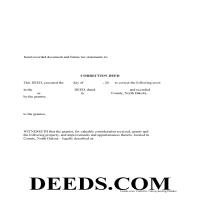 Fill in the blank form formatted to comply with all recording and content requirements.
Included document last updated 2/21/2023
Correction Deed Guide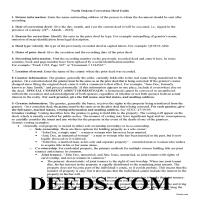 Line by line guide explaining every blank on the form.
Included document last updated 2/13/2023
Completed Example of the Correction Deed Document
Example of a properly completed form for reference.
Included document last updated 5/26/2023
Included Supplemental Documents
The following North Dakota and Burleigh County supplemental forms are included as a courtesy with your order.
Frequently Asked Questions:
How long does it take to get my forms?
Forms are available immediately after submitting payment.
What are supplemental forms?
Often when a deed is recorded additional documents are required by or Burleigh County. These could be tax related, informational, or even as simple as a coversheet. Supplemental forms are provided for free with your order where available.
How do I get my forms, are they emailed?
After you submit payment you will see a page listing the Burleigh County forms you ordered with a download link to the pdf form file. You download the forms to your computer. You will also receive an email with a link to your download page in case you need it later.
What type of files are the forms?
All of our Burleigh County Correction Deed forms are PDFs. You will need to have or get Adobe Reader to use our forms. Adobe Reader is free software that most computers already have installed.
Can the Correction Deed forms be re-used?
Yes. You can re-use the forms for your personal use. For example, if you have more than one property in Burleigh County that you need to transfer you would only need to order our forms once for all of your properties in Burleigh County.
Are these forms guaranteed to be recordable in Burleigh County?
Yes. Our form blanks are guaranteed to meet or exceed all formatting requirements set forth by Burleigh County including margin requirements, content requirements, font and font size requirements.
Do I have to enter all of my property information online?
No. The blank forms are downloaded to your computer and you fill them out there, at your convenience.
Can I save the completed form, email it to someone?
Yes, you can save your deed form at any point with your information in it. The forms can also be emailed, blank or complete, as attachments.
Do I need any special software to use these forms?
You will need to have Adobe Reader installed on your computer to use our forms. Adobe Reader is free software that most computers already have installed.
Are there any recurring fees involved?
No. Nothing to cancel, no memberships, no recurring fees.
Areas Covered by These Correction Deed Forms:
Including:
Baldwin
Bismarck
Driscoll
Menoken
Moffit
Regan
Sterling
Wing
What is the North Dakota Correction Deed
Use the correction deed to correct an error in a previously recorded deed of conveyance in North Dakota.

Correcting an error in a recorded deed helps prevent problems that might arise when the current owner tries to sell the property. The best method for correction is to prepare and record a new document, a so-called correction deed. This document does not convey title; instead, it confirms the prior conveyance of the property.

Apart from supplying the correct information, the new deed must give the reason for the correction by identifying the error. It also must reference the prior deed by title, date, and recording number. The original grantor has to sign again, which confirms the property transfer to the grantee. Generally, corrective deeds are used to address minor errors in a deed, such as typos, accidentally omitted suffixes or middle initials of names, and other minor omissions. When in doubt about the gravity of an error and whether a correction deed is the appropriate vehicle to address it, consult with a lawyer.

For certain changes, a correction deed may not be appropriate. Adding or removing a grantee, for example, or making material changes to the legal description, especially deleting a portion of the originally transferred property, may all require a new deed of conveyance, instead of a correction deed. When correcting the legal description, both grantor and grantee should sign the corrective instrument to avoid doubt regarding any portions of the conveyed property.
Our Promise
The documents you receive here will meet, or exceed, the Burleigh County recording requirements for formatting. If there's an issue caused by our formatting, we'll make it right and refund your payment.
Save Time and Money
Get your Burleigh County Correction Deed form done right the first time with Deeds.com Uniform Conveyancing Blanks. At Deeds.com, we understand that your time and money are valuable resources, and we don't want you to face a penalty fee or rejection imposed by a county recorder for submitting nonstandard documents. We constantly review and update our forms to meet rapidly changing state and county recording requirements for roughly 3,500 counties and local jurisdictions.
Reviews
4.8 out of 5 (4166 Reviews)
Edward B.
September 22nd, 2023
I was looking for a certain form I needed. Deeds.com had the necessary form and I was able to purchase it with little effort on my part. This was a good customer experience.
Reply from Staff
We appreciate your business and value your feedback. Thank you. Have a wonderful day!
Jerry G.
September 21st, 2023
I found the document confusing and I don't think I can use it.
Reply from Staff
Thank you for your feedback. We recognize that do-it-yourself legal documents may not be suitable for everyone. We always advise all our customers to seek assistance from a legal professional familiar with their specific situation for any form they do not completely understand. For your convenience, we have canceled your order and processed a refund.
Reliant Roofers, Inc. N.
September 20th, 2023
Great communication. Quick response. deeds.com is timely and efficient.
Reply from Staff
We appreciate your business and value your feedback. Thank you. Have a wonderful day!
Vita L.
January 28th, 2021
A coworker recommended this service to me and I was hesitant to try it. Turned out to be a life saver, they filed my document in 24 hours. No standing in line and no confusing government websites to navigate.
Reply from Staff
Thank you!
STACIA V.
July 19th, 2019
I filled out the forms that were somewhat easy. I was surprised that it was recorded by the county recording office. I just hope that it really worked. I think it did. I will find out later this year.
Reply from Staff
Thank you!
David P.
August 8th, 2019
Easy to use, all the information I wanted. Took about a minute to get it.
Reply from Staff
Thank you for your feedback. We really appreciate it. Have a great day!
Eugenia T.
August 9th, 2023
I am the Kent County Recorder of Deeds in Central Delaware. I am impressed by the accuracy of your website. All data you post is correct regarding forms, fees, etc. We have just spent several months researching Property Theft, using many cites from various sources. I just discovered your white paper on this subject, and it is excellent. It also covers a few things we did not, such as house flipping and immigrants. Congratulations!
Reply from Staff
Thank you for your kind words and thoughtful review! It's an honor to know that our resources have been valuable to the Kent County Recorder of Deeds. Your feedback is particularly meaningful to us, and we are glad that our white paper contributed to your research on Property Theft. We fully support your vital efforts to combat property theft and deed fraud, and if there's anything else we can assist you with or any further insights you'd like to share, please don't hesitate to reach out. Keep up the outstanding work!
darryl c.
July 24th, 2021
very easy to use website
Reply from Staff
Thank you!
Alex Q.
July 26th, 2023
The best people to work with! Thank you for all you do. We send documents from all states to Deeds.com to record for us. They are professional, keep us updated and always notify us if there is an issue with one of our documents prior to sending to recording and that saves us money and time! Thank you!!
Reply from Staff
Thanks for the kind words Alex. We appreciate you!
Donna r.
September 18th, 2020
Downloads were easy but I am pretty lost in filling out. Thought be more instructions
Reply from Staff
Thank you for your feedback Donna. If you are not completely sure of what you are doing we highly recommend seeking the assistance of a legal professional familiar with your specific situation.
Kristina H.
January 23rd, 2020
Everything I needed to complete my release of lien was easy to obtain from Deed.com - and the example and instructions were helpful as well. The website is simple and efficient. Thanks!
Reply from Staff
We appreciate your business and value your feedback. Thank you. Have a wonderful day!
Patricia R.
September 26th, 2022
Great Transaction. Easy to follow instructions!
Reply from Staff
We appreciate your business and value your feedback. Thank you. Have a wonderful day!
Karen J.
December 20th, 2018
Excellent and easy to download and use. Love the example page and was so easy to fill out and use immediately. Thank you
Reply from Staff
Thank you for your feedback Karen. We really appreciate it. Enjoy your day!
LEIGH M.
February 19th, 2022
Skamania County, WA tax affidavit wouldn't download. Otherwise, a good program
Reply from Staff
Thank you!
Joyce S.
November 5th, 2021
I am very pleased with Deeds.com. I have every form and information I need to meet Legal requirements. Thank You!
Reply from Staff
Thank you for your feedback. We really appreciate it. Have a great day!
Legal Forms Disclaimer
Use of Deeds.com Legal Forms:
On our Site, we provide self-help "Do It Yourself Legal Forms." By using a form from our Site, you explicitly agree to our Terms of Use. You acknowledge and agree that your purchase and/or use of a form document does not constitute legal advice nor the practice of law. Furthermore, each form, including any related instructions or guidance, is not tailored to your specific requirements and is not guaranteed or warranted to be up-to-date, accurate, or applicable to your individual circumstances.
NO WARRANTY:
The Do It Yourself Legal Forms provided on our Website are not guaranteed to be usable, accurate, up-to-date, or suitable for any legal purpose. Any use of a Do It Yourself Legal Form from our website is undertaken AT YOUR OWN RISK.
Limitation of Liability:
If you use a Do It Yourself Legal Form available on Deeds.com, you acknowledge and agree that, TO THE EXTENT PERMITTED BY APPLICABLE LAW, WE SHALL NOT BE LIABLE FOR DAMAGES OF ANY KIND (INCLUDING, WITHOUT LIMITATION, LOST PROFITS OR ANY SPECIAL, INCIDENTAL, OR CONSEQUENTIAL DAMAGES) ARISING OUT OF OR IN CONNECTION WITH THE LEGAL FORMS OR FOR ANY INFORMATION OR SERVICES PROVIDED TO YOU THROUGH THE DEEDS.COM WEBSITE.
Damage Cap:
In circumstances where the above limitation of liability is prohibited, OUR SOLE OBLIGATION TO YOU FOR DAMAGES SHALL BE CAPPED AT $100.00.