Steele County Correction Deed Forms (North Dakota)
Express Checkout
Form Package
Correction Deed
State
North Dakota
Area
Steele County
Price
$29.97
Delivery
Immediate Download
Payment Information
Included Forms
All Steele County specific forms and documents listed below are included in your immediate download package:
Correction Deed Form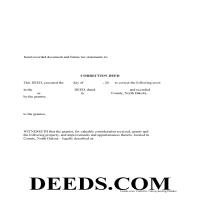 Fill in the blank form formatted to comply with all recording and content requirements.
Included document last updated 2/21/2023
Correction Deed Guide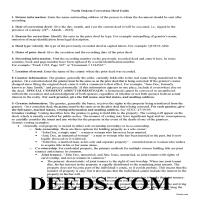 Line by line guide explaining every blank on the form.
Included document last updated 2/13/2023
Completed Example of the Correction Deed Document
Example of a properly completed form for reference.
Included document last updated 5/26/2023
Included Supplemental Documents
The following North Dakota and Steele County supplemental forms are included as a courtesy with your order.
Frequently Asked Questions:
How long does it take to get my forms?
Forms are available immediately after submitting payment.
What are supplemental forms?
Often when a deed is recorded additional documents are required by or Steele County. These could be tax related, informational, or even as simple as a coversheet. Supplemental forms are provided for free with your order where available.
How do I get my forms, are they emailed?
After you submit payment you will see a page listing the Steele County forms you ordered with a download link to the pdf form file. You download the forms to your computer. You will also receive an email with a link to your download page in case you need it later.
What type of files are the forms?
All of our Steele County Correction Deed forms are PDFs. You will need to have or get Adobe Reader to use our forms. Adobe Reader is free software that most computers already have installed.
Can the Correction Deed forms be re-used?
Yes. You can re-use the forms for your personal use. For example, if you have more than one property in Steele County that you need to transfer you would only need to order our forms once for all of your properties in Steele County.
Are these forms guaranteed to be recordable in Steele County?
Yes. Our form blanks are guaranteed to meet or exceed all formatting requirements set forth by Steele County including margin requirements, content requirements, font and font size requirements.
Do I have to enter all of my property information online?
No. The blank forms are downloaded to your computer and you fill them out there, at your convenience.
Can I save the completed form, email it to someone?
Yes, you can save your deed form at any point with your information in it. The forms can also be emailed, blank or complete, as attachments.
Do I need any special software to use these forms?
You will need to have Adobe Reader installed on your computer to use our forms. Adobe Reader is free software that most computers already have installed.
Are there any recurring fees involved?
No. Nothing to cancel, no memberships, no recurring fees.
Areas Covered by These Correction Deed Forms:
Including:
What is the North Dakota Correction Deed
Use the correction deed to correct an error in a previously recorded deed of conveyance in North Dakota.

Correcting an error in a recorded deed helps prevent problems that might arise when the current owner tries to sell the property. The best method for correction is to prepare and record a new document, a so-called correction deed. This document does not convey title; instead, it confirms the prior conveyance of the property.

Apart from supplying the correct information, the new deed must give the reason for the correction by identifying the error. It also must reference the prior deed by title, date, and recording number. The original grantor has to sign again, which confirms the property transfer to the grantee. Generally, corrective deeds are used to address minor errors in a deed, such as typos, accidentally omitted suffixes or middle initials of names, and other minor omissions. When in doubt about the gravity of an error and whether a correction deed is the appropriate vehicle to address it, consult with a lawyer.

For certain changes, a correction deed may not be appropriate. Adding or removing a grantee, for example, or making material changes to the legal description, especially deleting a portion of the originally transferred property, may all require a new deed of conveyance, instead of a correction deed. When correcting the legal description, both grantor and grantee should sign the corrective instrument to avoid doubt regarding any portions of the conveyed property.
Our Promise
The documents you receive here will meet, or exceed, the Steele County recording requirements for formatting. If there's an issue caused by our formatting, we'll make it right and refund your payment.
Save Time and Money
Get your Steele County Correction Deed form done right the first time with Deeds.com Uniform Conveyancing Blanks. At Deeds.com, we understand that your time and money are valuable resources, and we don't want you to face a penalty fee or rejection imposed by a county recorder for submitting nonstandard documents. We constantly review and update our forms to meet rapidly changing state and county recording requirements for roughly 3,500 counties and local jurisdictions.
Reviews
4.8 out of 5 (4166 Reviews)
Edward B.
September 22nd, 2023
I was looking for a certain form I needed. Deeds.com had the necessary form and I was able to purchase it with little effort on my part. This was a good customer experience.
Reply from Staff
We appreciate your business and value your feedback. Thank you. Have a wonderful day!
Jerry G.
September 21st, 2023
I found the document confusing and I don't think I can use it.
Reply from Staff
Thank you for your feedback. We recognize that do-it-yourself legal documents may not be suitable for everyone. We always advise all our customers to seek assistance from a legal professional familiar with their specific situation for any form they do not completely understand. For your convenience, we have canceled your order and processed a refund.
Reliant Roofers, Inc. N.
September 20th, 2023
Great communication. Quick response. deeds.com is timely and efficient.
Reply from Staff
We appreciate your business and value your feedback. Thank you. Have a wonderful day!
Chanda C.
June 2nd, 2020
It's going well so far!

Reply from Staff
Thank you!
Sarjit K.
August 30th, 2023
excellent
Reply from Staff
Thank you!
Tamara H.
May 11th, 2023
Absolutely awesome! Quick, easy and efficient. I will definitely be using again!
Reply from Staff
Thank you Tamara. We really appreciate you taking the time to leave your comments. Have an amazing day!
Kevin M.
January 31st, 2022
Thought I knew what I was doing but it turns out I was in way over my head. Thankfully customer service pointed me in the right direction to get the help I needed.
Reply from Staff
Glad to hear you are seeking the assistance you need. Have a wonderful day.
Niki G.
January 13th, 2022
Absolutely love the Golden Girls homage in the quit claim deed example. Funny stuff!
Reply from Staff
Thanks for the feedback Niki. Glad you enjoyed our attempt to spice up the mundane. Have an amazing day.
Leticia A.
January 20th, 2020
Down to the point,covers every angle with great tips:Don't forget Probate.

Reply from Staff
Thank you!
JOHN P.
January 20th, 2019
I thought your service would comply with my request quicker.
Reply from Staff
Looks like it took 4 minutes to complete your order, sorry it took so long.
Vicky M.
September 1st, 2022
I would give Deeds.com 10 stars if I could!! The staff were super friendly and easy to work with. They kept me constantly updated during the process of uploading and forwarding my deeds for recording. And, the price was extremely reasonable. I look forward to utilizing Deeds.com every time I need to record a deed no matter what U.S. State. I wholeheartedly recommend them!
Reply from Staff
Thank you for your feedback. We really appreciate it. Have a great day!
Heidi S.
August 5th, 2021
I had prompt service thank you
Reply from Staff
Thank you!
Patricia W.
August 30th, 2022
I am working with the document to complete it. It's taking me some time but I'll get it.
Reply from Staff
Thank you for your feedback. We really appreciate it. Have a great day!
JAMSHEAD T.
December 13th, 2020
An excellent service. Exactly what one would hope for in the 21st century.
Reply from Staff
Thank you for your feedback. We really appreciate it. Have a great day!
Jill A.
March 26th, 2021
Finding current forms in one place helps simplify the process. Thank you.
Reply from Staff
Thank you!