Alfalfa County Trustee Deed Forms (Oklahoma)
Express Checkout
Form Package
Trustee Deed
State
Oklahoma
Area
Alfalfa County
Price
$29.97
Delivery
Immediate Download
Payment Information
Included Forms
All Alfalfa County specific forms and documents listed below are included in your immediate download package:
Trustee Deed Form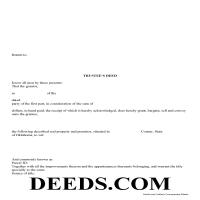 Fill in the blank form formatted to comply with all recording and content requirements.
Included document last updated 7/25/2023
Trustee Deed Guide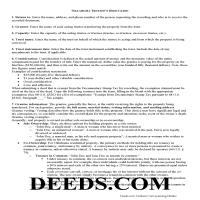 Line by line guide explaining every blank on the form.
Included document last updated 9/21/2023
Completed Example of the Trustee Deed Document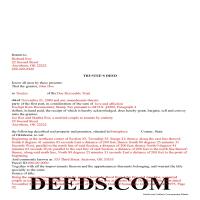 Example of a properly completed form for reference.
Included document last updated 9/15/2023
Included Supplemental Documents
The following Oklahoma and Alfalfa County supplemental forms are included as a courtesy with your order.
Frequently Asked Questions:
How long does it take to get my forms?
Forms are available immediately after submitting payment.
What are supplemental forms?
Often when a deed is recorded additional documents are required by or Alfalfa County. These could be tax related, informational, or even as simple as a coversheet. Supplemental forms are provided for free with your order where available.
How do I get my forms, are they emailed?
After you submit payment you will see a page listing the Alfalfa County forms you ordered with a download link to the pdf form file. You download the forms to your computer. You will also receive an email with a link to your download page in case you need it later.
What type of files are the forms?
All of our Alfalfa County Trustee Deed forms are PDFs. You will need to have or get Adobe Reader to use our forms. Adobe Reader is free software that most computers already have installed.
Can the Trustee Deed forms be re-used?
Yes. You can re-use the forms for your personal use. For example, if you have more than one property in Alfalfa County that you need to transfer you would only need to order our forms once for all of your properties in Alfalfa County.
Are these forms guaranteed to be recordable in Alfalfa County?
Yes. Our form blanks are guaranteed to meet or exceed all formatting requirements set forth by Alfalfa County including margin requirements, content requirements, font and font size requirements.
Do I have to enter all of my property information online?
No. The blank forms are downloaded to your computer and you fill them out there, at your convenience.
Can I save the completed form, email it to someone?
Yes, you can save your deed form at any point with your information in it. The forms can also be emailed, blank or complete, as attachments.
Do I need any special software to use these forms?
You will need to have Adobe Reader installed on your computer to use our forms. Adobe Reader is free software that most computers already have installed.
Are there any recurring fees involved?
No. Nothing to cancel, no memberships, no recurring fees.
Areas Covered by These Trustee Deed Forms:
Including:
Aline
Amorita
Burlington
Carmen
Cherokee
Goltry
Helena
Jet
What is the Oklahoma Trustee Deed
Oklahoma Conveyances of Real Property to and from Express Trusts

The Oklahoma Trust Act, codified at 60 O.S. 175.1 et seq., governs express trusts in the State of Oklahoma (60 O.S. 175.3(F)). An express trust is one "created with the settlor's express intent, usually declared in writing," and is sometimes referred to as a direct trust or declared trust.

Real property may be titled in the name of a trust, an arrangement whereby one person (the settlor; also called a trustor or grantor) conveys title to another person (the trustee) for the benefit of a third (the beneficiary). The various methods of creating a trust in Oklahoma are specified at 60 175.6, and include a transfer made during the settlor's lifetime to a trustee either for the settlor or for a third person (60 175.6(B)). In this type of trust, called an inter vivos (living) trust, the roles of settlor, trustee, and beneficiary are sometimes combined in one individual, on the condition that the settlor cannot also be the sole beneficiary (see 60 175.6(A)). Testamentary trusts, specified by a will to take effect upon the settlor's death, are another option (60 O.S. 175.3(C)).

In Oklahoma, a trust containing real property is invalid without "a written instrument subscribed by the trustor" and witnessing its existence (60 O.S. 175.6(F)). The trust instrument establishes the terms of the trust, enumerates the trust's assets, designates the trustee and the trustee's powers and restrictions, and identifies the trust beneficiaries. While this document is generally unrecorded to maintain privacy, a settlor may record a trust instrument pertaining to real property, particularly when he wishes to give notice to the public of restrictions on the trustee's powers (60 O.S. 175.45(c)).

To convey real property into trust, the settlor executes and records a deed, granting title to the trustee as representative of the trust. The property should be titled in the name the trustee, referencing the trust and execution date of the trust instrument. A memorandum of trust under 60 O.S. 175.6a may be required. See 60 O.S. 156 for problems arising with conveyances into trust, and consult a lawyer with questions.

Once the trustee holds legal title to the property, he is presumed to have all the powers of an individual person holding absolute title unless specified otherwise by the trust instrument (60 O.S. 161, 171). This includes the specific power "to sell real or personal property at public auction or at private sale for cash" (60 O.S. 175.24(A)(2)). In order to convey real property from the trust, the trustee must execute a deed.

The trustee's deed is descriptively named for the granting party, rather than for the type of warranty conveyed (as in a "warranty deed" or "special warranty deed"). The form of a transfer from a representative is generally the same as a statutory deed, with wording varying slightly depending on the type of warranty of title the grantor wishes to convey.

In Oklahoma, a warranty deed, codified at 16 O.S. 40, conveys title with the broadest warranty, guaranteeing that the grantor has not already conveyed the property to someone else; that the property is free from encumbrances apart from those already disclosed; and that the grantor will warrant and defend the title against the claims of all persons. A grant deed transfers title with only the first two warranties listed above. A special warranty provides a lesser warranty, guaranteeing title only against defects arising during the period of the grantor's ownership. A quitclaim deed offers no warranty and merely transfers any interest a grantor may have in the property.

Trustees in Oklahoma generally convey real property from a trust using a special warranty deed, due to the fact that the trustee may not have knowledge of the condition of the title prior to the property's conveyance into trust. It is important to consult a lawyer in determining what level of warranty, if any, is appropriate to convey, as this has significant legal consequences for both the grantor and the grantee.

In any case, the transfer instrument should meet the same requirements for form and content of any instrument pertaining to real property. In the granting clause, the deed should name the trustee, trust, and the trust instrument date, and give the grantee's name, address, and vesting information. The deed should also list the consideration paid for the transfer; the consideration (or the value of the property conveyed) will determine the amount of documentary stamp tax paid. The deed must also include a legal description of the real property being conveyed. Additional documentation, such as a memorandum of trust, may be required (60 175.6a).

All instruments relating to real property must be signed by the granting party in the presence of a notary public before they are recorded in the county in which the subject property is situated.

Consult a lawyer with questions regarding real property transfers to and from trusts in Oklahoma.
Our Promise
The documents you receive here will meet, or exceed, the Alfalfa County recording requirements for formatting. If there's an issue caused by our formatting, we'll make it right and refund your payment.
Save Time and Money
Get your Alfalfa County Trustee Deed form done right the first time with Deeds.com Uniform Conveyancing Blanks. At Deeds.com, we understand that your time and money are valuable resources, and we don't want you to face a penalty fee or rejection imposed by a county recorder for submitting nonstandard documents. We constantly review and update our forms to meet rapidly changing state and county recording requirements for roughly 3,500 counties and local jurisdictions.
Reviews
4.8 out of 5 (4166 Reviews)
Edward B.
September 22nd, 2023
I was looking for a certain form I needed. Deeds.com had the necessary form and I was able to purchase it with little effort on my part. This was a good customer experience.
Reply from Staff
We appreciate your business and value your feedback. Thank you. Have a wonderful day!
Jerry G.
September 21st, 2023
I found the document confusing and I don't think I can use it.
Reply from Staff
Thank you for your feedback. We recognize that do-it-yourself legal documents may not be suitable for everyone. We always advise all our customers to seek assistance from a legal professional familiar with their specific situation for any form they do not completely understand. For your convenience, we have canceled your order and processed a refund.
Reliant Roofers, Inc. N.
September 20th, 2023
Great communication. Quick response. deeds.com is timely and efficient.
Reply from Staff
We appreciate your business and value your feedback. Thank you. Have a wonderful day!
John F.
January 28th, 2021
The document I purchased was perfect for what I needed done. Very easy to obtain the document. Website very easy to navigate. Would use again and would recommend to anyone who needs the documents.
Reply from Staff
Thank you for your feedback. We really appreciate it. Have a great day!
Tricia M.
May 15th, 2020
The document I purchased (QuitClaim Deed) had detailed directions explaining how to complete the form. This made it easy to complete without any doubt that it was completed incorrectly (which was my fear). I also used the E-File service and it was processed very quickly without any issues. Thank you for making this process simple! I will definitely use this service again.
Reply from Staff
We appreciate your business and value your feedback. Thank you. Have a wonderful day!
Katie G.
February 3rd, 2019
I haven't used the forms yet but it appears, with your tutelage, that they should not be too difficult to fill out and file.
Your site was easy to navigate.
Thank You
Reply from Staff
Thank you for the kinds words Katie. have a fantastic day!
Michelle K.
August 20th, 2020
Excellent service! Easy to use, great communication, quick response time and very helpful with any questions I had. I would recommend to anyone seeking the services they provide.
Reply from Staff
We appreciate your business and value your feedback. Thank you. Have a wonderful day!
Faye C.
June 13th, 2021
Product was ok; except in divorce cases there are usually two grantors - your form had only one signature and notary line for a grantor on the Quitclaim deed.
Reply from Staff
Thank you for your feedback. We really appreciate it. Have a great day!
Hamed T.
January 12th, 2022
Easy Process! Realy recommend them for E-Recording!
Reply from Staff
Thank you for your feedback. We really appreciate it. Have a great day!
Freddy S.
August 2nd, 2019
great job
Reply from Staff
Thank you!
heather i.
December 5th, 2022
I don't pay very close attention to what I'm doing all the time which leads to mistakes. Deeds.com was helpful in correcting my error and getting me on my way.
Reply from Staff
Thank you!
John R.
October 22nd, 2020
5stars for prompt and fast! Website needs work. Hard to navigate for first time users and hard to find where to pay. Emails are more clear than the "message center". Not sure what happened to my other documents, lol
Reply from Staff
Thank you for your feedback. We really appreciate it. Have a great day!
Daniel F.
June 26th, 2020
It was convenient to be able to download the deed template, instructions, and a completed sample deed all from deeds.com. I was able to complete my deed with little effort. My only complaint is that the editable fields in the pdf document are of fixed size, leaving some large spaces within a sentence, for example: Executed on this 1st day of July ,2020. This makes the printed document look a little peculiar.
Reply from Staff
Thank you for your feedback. We really appreciate it. Have a great day!
Donna J.
June 29th, 2019
Doesn't have samples pertaining to me. Still searching for correct wording forGRANTORS (plural) so its legally written.
Reply from Staff
Thank you for your feedback. We really appreciate it. Have a great day!
Roy S.
January 5th, 2022
The website is easy to maneuver and information needed was readily available. Thanks so much!
Reply from Staff
Thank you!