Roane County Warranty Deed Forms (Tennessee)
Express Checkout
Form Package
Warranty Deed
State
Tennessee
Area
Roane County
Price
$29.97
Delivery
Immediate Download
Payment Information
Included Forms
All Roane County specific forms and documents listed below are included in your immediate download package:
Warranty Deed Form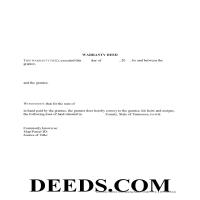 Fill in the blank form formatted to comply with all recording and content requirements.
Included document last reviewed/updated 5/30/2023
Warranty Deed Guide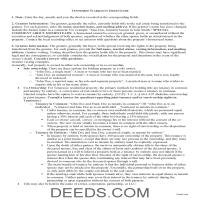 Line by line guide explaining every blank on the form.
Included document last reviewed/updated 8/4/2023
Completed Example of the Warranty Deed Document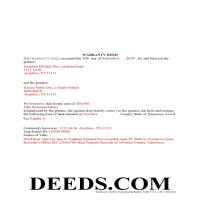 Example of a properly completed form for reference.
Included document last reviewed/updated 5/26/2023
Included Supplemental Documents
The following Tennessee and Roane County supplemental forms are included as a courtesy with your order.
Frequently Asked Questions:
How long does it take to get my forms?
Forms are available immediately after submitting payment.
What are supplemental forms?
Often when a deed is recorded additional documents are required by or Roane County. These could be tax related, informational, or even as simple as a coversheet. Supplemental forms are provided for free with your order where available.
How do I get my forms, are they emailed?
After you submit payment you will see a page listing the Roane County forms you ordered with a download link to the pdf form file. You download the forms to your computer. You will also receive an email with a link to your download page in case you need it later.
What type of files are the forms?
All of our Roane County Warranty Deed forms are PDFs. You will need to have or get Adobe Reader to use our forms. Adobe Reader is free software that most computers already have installed.
Can the Warranty Deed forms be re-used?
Yes. You can re-use the forms for your personal use. For example, if you have more than one property in Roane County that you need to transfer you would only need to order our forms once for all of your properties in Roane County.
Are these forms guaranteed to be recordable in Roane County?
Yes. Our form blanks are guaranteed to meet or exceed all formatting requirements set forth by Roane County including margin requirements, content requirements, font and font size requirements.
Do I have to enter all of my property information online?
No. The blank forms are downloaded to your computer and you fill them out there, at your convenience.
Can I save the completed form, email it to someone?
Yes, you can save your deed form at any point with your information in it. The forms can also be emailed, blank or complete, as attachments.
Do I need any special software to use these forms?
You will need to have Adobe Reader installed on your computer to use our forms. Adobe Reader is free software that most computers already have installed.
Are there any recurring fees involved?
No. Nothing to cancel, no memberships, no recurring fees.
Areas Covered by These Warranty Deed Forms:
Including:
Harriman
Kingston
Oliver Springs
Rockwood
What is the Tennessee Warranty Deed
In Tennessee, title to real property can be transferred from one party to another using a warranty deed. When recorded, a warranty deed conveys an interest in real property to the named grantee with full warranties of title.

In Tennessee, warranty deeds are statutory. They must use the term "convey," and contains language stating that the grantor will defend the title against "all persons whomsoever" (66-5-103(1)(A)). A warranty deed offers the highest level of protection for the grantee (buyer). It conveys real property in fee simple and contains implied covenants that the grantor holds title to the property and has good right to convey it; and that the property is free from encumbrances (with the exception of any noted in the deed). The guarantee is greater than that of a limited or special warranty deed, which only protects against claims that arising while the grantor held title to the property, or a quitclaim deed, which offers no warranties of title at all.

A lawful warranty deed includes the grantor's full name, mailing address, and marital status, the consideration given for the transfer, and the grantee's full name, marital status, vesting, and mailing address. Vesting describes how the grantee holds title to the property. Generally, real property is owned in either sole ownership or in co-ownership. For Tennessee residential property, the primary methods for holding title are tenancy in common and tenancy by entirety. A conveyance of real estate to two or more persons creates a tenancy in common. Married couples have the option to vests as tenants by entirety. T.C.A. 66-1-107 abolishes survivorship in joint tenancy. Consult a lawyer for questions regarding joint tenancy and/or survivorship rights in Tennessee.

As with any conveyance of realty, a warranty deed requires a complete legal description of the parcel. Recite the prior deed reference to maintain a clear chain of title, and detail any restrictions associated with the property. The completed deed must be acknowledged by the grantor (and his or her spouse, if applicable) in the presence of a notary. Finally, the deed must meet all state and local standards for recorded documents.

Record the original completed deed, along with any additional materials, at the recorder's office in the county where the property is located. Recordation taxes are due upon recording. See 67-4-409 for exemptions. Refer to the same statute and contact the appropriate recorder's office for information on up-to-date fees.

This article is provided for informational purposes only and is not a substitute for the advice of an attorney. Contact a Tennessee lawyer with any questions related to the transfer of real property.
Our Promise
The documents you receive here will meet, or exceed, the Roane County recording requirements for formatting. If there's an issue caused by our formatting, we'll make it right and refund your payment.
Save Time and Money
Get your Roane County Warranty Deed form done right the first time with Deeds.com Uniform Conveyancing Blanks. At Deeds.com, we understand that your time and money are valuable resources, and we don't want you to face a penalty fee or rejection imposed by a county recorder for submitting nonstandard documents. We constantly review and update our forms to meet rapidly changing state and county recording requirements for roughly 3,500 counties and local jurisdictions.
Reviews
4.8 out of 5 (4171 Reviews)
Angela J M.
September 29th, 2023
Quick turnaround (about 24hrs) easy process.
Reply from Staff
Thank you for your feedback. We really appreciate it. Have a great day!
Jennifer T.
September 29th, 2023
I got instant access to the exact forms I needed! The guide to completing the form was very thorough and easy to understand. I am very thankful for this service!
Reply from Staff
Thank you for the kind words Jennifer. We appreciate you!
Maria M.
September 27th, 2023
The requested documents I needed were provided and also complete instructions on how to fill them out. I definitely will you this service again.
Reply from Staff
We appreciate your business and value your feedback. Thank you. Have a wonderful day!
Karri P.
February 28th, 2019
Great service and easy to purchase exactly what you want.
Reply from Staff
We appreciate your business and value your feedback. Thank you. Have a wonderful day!
Teri B.
January 7th, 2019
Glad to have all of the helpful extra information, even though they don't answer all questions for all situations. So, I accessed public records and asked questions at the auditor's office. Also, on my Mac computer, filling out the actual deed form is a challenge because the screen jumps to the last page everytime I try to type a few letters or hit the return key, so I'm rollling back up to the first 2 pages after most keystrokes. A bit annoying.

Overall, happy to have these form options are available! There is really no need to wait and pay for an attorney when all the information needed is available via public records. Fill in the blanks!
Reply from Staff
Thanks so much for the feedback Teri. There are known issues between Adobe and Mac, we try to work around them as much as possible. Have a wonderful day!
TEDDY Y.
January 29th, 2022
this experience was made possible with the ease of using your service thank you
Reply from Staff
Thank you!
Tammie S.
February 8th, 2019
No review provided.
Reply from Staff
Thank you for your feedback. We really appreciate it. Have a great day!
Spencer A.
January 25th, 2019
Deeds.com made it so easy to file my paper work with the county. It saved me half a days travel and cost me about a tank of gas. This service was well worth the saved travel time and energy. I would highly recommend this service to other individuals. The other companies I spoke with only service law firms, title companies & banks etc. Thanks deed.com, I'll be back and will refer all my friends too.
Reply from Staff
Thank you so much Spencer, we really appreciate your feedback!
Mary Ann H.
February 4th, 2021
The Deeds.com website was clear and easy to follow. I completed it about 20 minutes. I appreciate the convenience of doing it from home and that I will receive a copy by mail.
Reply from Staff
Thank you for your feedback. We really appreciate it. Have a great day!
Marisela S.
June 25th, 2019
This is my first time and your service appears to be very user-friendly; however, since I am new to this service, I'm not sure if my e-filings were received as I've not heard anything back nor have I received any type of confirmation of receipt.
Reply from Staff
Thank you for your feedback. We really appreciate it. Have a great day!
Michael B.
May 25th, 2021
Download was easy to complete, but difficult to revisit site to review purchased forms on line. Suggest you download everything at one sitting to make sure you get everything you need from your purchase.
Reply from Staff
Thank you!
Armando R.
December 13th, 2022
Great service and support!
Reply from Staff
Thank you!
Geneen C.
August 4th, 2022
Love this site. The form directions are easy and I finished in less than an hour! Totally recommend it.
Reply from Staff
Thank you for your feedback. We really appreciate it. Have a great day!
Ronene T.
August 14th, 2020
I cannot believe how fast your service is! Thank you!
Reply from Staff
Thank you!
Anna S.
July 17th, 2020
You guys are awesome, The service, expertise and quick communication were amazing. I think you guys are charging to little, but you didn't hear that from me. Thank you for making this process quick and easy.
Reply from Staff
Thank you for your feedback. We really appreciate it. Have a great day!
Legal Forms Disclaimer
Use of Deeds.com Legal Forms:
On our Site, we provide self-help "Do It Yourself Legal Forms." By using a form from our Site, you explicitly agree to our Terms of Use. You acknowledge and agree that your purchase and/or use of a form document does not constitute legal advice nor the practice of law. Furthermore, each form, including any related instructions or guidance, is not tailored to your specific requirements and is not guaranteed or warranted to be up-to-date, accurate, or applicable to your individual circumstances.
NO WARRANTY:
The Do It Yourself Legal Forms provided on our Website are not guaranteed to be usable, accurate, up-to-date, or suitable for any legal purpose. Any use of a Do It Yourself Legal Form from our website is undertaken AT YOUR OWN RISK.
Limitation of Liability:
If you use a Do It Yourself Legal Form available on Deeds.com, you acknowledge and agree that, TO THE EXTENT PERMITTED BY APPLICABLE LAW, WE SHALL NOT BE LIABLE FOR DAMAGES OF ANY KIND (INCLUDING, WITHOUT LIMITATION, LOST PROFITS OR ANY SPECIAL, INCIDENTAL, OR CONSEQUENTIAL DAMAGES) ARISING OUT OF OR IN CONNECTION WITH THE LEGAL FORMS OR FOR ANY INFORMATION OR SERVICES PROVIDED TO YOU THROUGH THE DEEDS.COM WEBSITE.
Damage Cap:
In circumstances where the above limitation of liability is prohibited, OUR SOLE OBLIGATION TO YOU FOR DAMAGES SHALL BE CAPPED AT $100.00.