Virginia - Isle Of Wight County Transfer on Death Deed Form
All Isle Of Wight County specific forms listed below are included in your immediate download:
---
Transfer on Death Deed Form - Isle Of Wight County
Fill in the blank form formatted to comply with all recording and content requirements.
Included document last updated 10/15/2018
---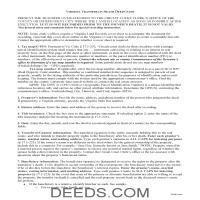 Transfer on Death Deed Guide - Isle Of Wight County
Line by line guide explaining every blank on the form.
Included document last updated 10/1/2018
---
Completed Example of the Transfer on Death Deed Document - Isle Of Wight County
Example of a properly completed form for reference.
Included document last updated 10/15/2018
---
*Virginia and Isle Of Wight County supplemental forms are included as a courtesy with your order.
Frequently Asked Questions:
How long does it take to get my forms?

Forms are available immediately after submitting payment.

What are supplemental forms?

Often when a deed is recorded additional documents are required by the state or local jurisdiction. These could be tax related, informational, or even as simple as a coversheet. Supplemental forms are provided for free with your order where available.

How do I get my forms, are they emailed?

After you submit payment you will see a page listing the forms you ordered with a download link to the pdf form file. You download the forms to your computer. You will also receive an email with a link to your download page in case you need it later.

What type of files are the forms?

All of our forms are PDFs. You will need to have or get Adobe Reader to use our forms. Adobe Reader is free software that most computers already have installed.

Can the forms be re-used?

Yes. You can re-use the forms for your personal use. For example, if you have more than one property in a given county that you need to transfer you would only need to order our forms once for all of your properties in that county.

Are these forms guaranteed to be recordable in Isle Of Wight County ?

Yes. Our form blanks are guaranteed to meet or exceed all formatting requirements set forth by Isle Of Wight County including margin requirements, content requirements, font and font size requirements.

Do I have to enter all of my property information online?

No. The blank forms are downloaded to your computer and you fill them out there, at your convenience.

Can I save the completed form, email it to someone?

Yes, you can save your deed form at any point with your information in it. The forms can also be emailed, blank or complete, as attachments.

Do I need any special software to use these forms?

You will need to have Adobe Reader installed on your computer to use our forms. Adobe Reader is free software that most computers already have installed.

Are there any recurring fees involved?

No. Nothing to cancel, no memberships, no recurring fees.
Areas covered by these Transfer on Death Deed Forms:
Including:
Battery Park
Carrollton
Carrsville
Isle Of Wight
Rescue
Smithfield
Windsor
Zuni
What is the Virginia Transfer on Death Deed?
Virginia's statutory transfer on death deed became effective on July 1, 2013. These deeds are governed by the Uniform Real Property Transfer on Death Act (URPTODA), which is incorporated into the Virginia statutes at 64.2-621 et seq.

A transfer on death deed is an instrument that allows owners of Virginia real estate to convey land to chosen beneficiaries without the need for a will or probate distribution ( 64.2-624). To be valid, the completed and notarized form must, among other things, meet the same standards as a regular inter vivos deed (one that transfers title while the owner is still living); state that the transfer will only occur at the owner/transferor's death; and be recorded <i>while the transferor is alive</i> in the land records at clerk's office of the county where the property is located ( 64.2-628).

The deeds are revocable, which means that while alive, the owner retains 100% control over the property, may use or sell it as desired, and may also redirect, modify, or even cancel the future transfer at will. As a result, there is no requirement for notice, delivery, acceptance, or consideration, all necessary for standard deeds ( 64.2-629). This is possible because the named beneficiaries only have a potential future interest in the real estate. The process and requirements for revocation are specified in 64.2-630.

During the owner/transferor's life, the recorded transfer on death deed does not change the owner's interest or rights to sell or mortgage the property; grant the beneficiary any interest in the land; change a creditor's interest in the real estate; affect the owner's or beneficiary's eligibility for public assistance; create a legal or equitable interest in favor of the beneficiary; or open the property up to claims from the beneficiary's creditors ( 64.2-631).

When the transferor dies, the title to the real property vests in the beneficiary according to the rules stated in 64.2-632. In some cases, however, the beneficiary may not wish to accept the property. If that happens, he/she may "disclaim all or part of the beneficiary's interest as provided by Chapter 26 ( 64.2-2600 et seq.)" ( 64.2-633).

Overall, Virginia's transfer on death deed adds an efficient, flexible tool for those considering options for estate planning. As with other important financial decisions, take the time to carefully review the different options. Each case is unique, so when in doubt, contact an attorney or other appropriate professional for advice.
Save time and money.
Get your Isle Of Wight County Transfer on Death Deed form done right the first time with Deeds.com Uniform Conveyancing Blanks. At Deeds.com, we understand that your time and money are valuable resources, and we don't want you to face a penalty fee or rejection imposed by a county recorder for submitting nonstandard documents. We constantly review and update our forms to meet rapidly changing state and county recording requirements for roughly 3,500 counties.
Guarantee:
We guarantee that you will receive access to the forms that you order and that those forms will be compliant with the recording requirements for the jurisdiction the forms were purchased for and the statutory requirements for content of the document.
Customer Rating: 9.35 out of 10 (37 Reviews)
---
On 10/08/18 Diane Andrews Said:
Score: 10
Looks good to me, thanks for making this easy
---
On 10/05/18 brian calderbank Said:
Score: 10
fast easy to use could improve by giving an example or instructions how to fill out
---
On 10/05/18 james greenquist Said:
Score: 10
Great web site. Still working out the deed but optimistic i will do it correctly-following Web guidance. thank you
---
On 10/05/18 Michael Duffy Said:
Score: 10
It worked great and was recorded as I wanted for transfer of title on death of owner. Saved me lawyers fees. Nice thanks
---
On 10/04/18 Diane A Cooley Said:
Score: 10
The form was very helpful and easy to fill out just what I needed
---