Alabama Notice of Intention to File Mechanic Lien
Notice of Intention to File Mechanic Lien for Real Estate Located in Alabama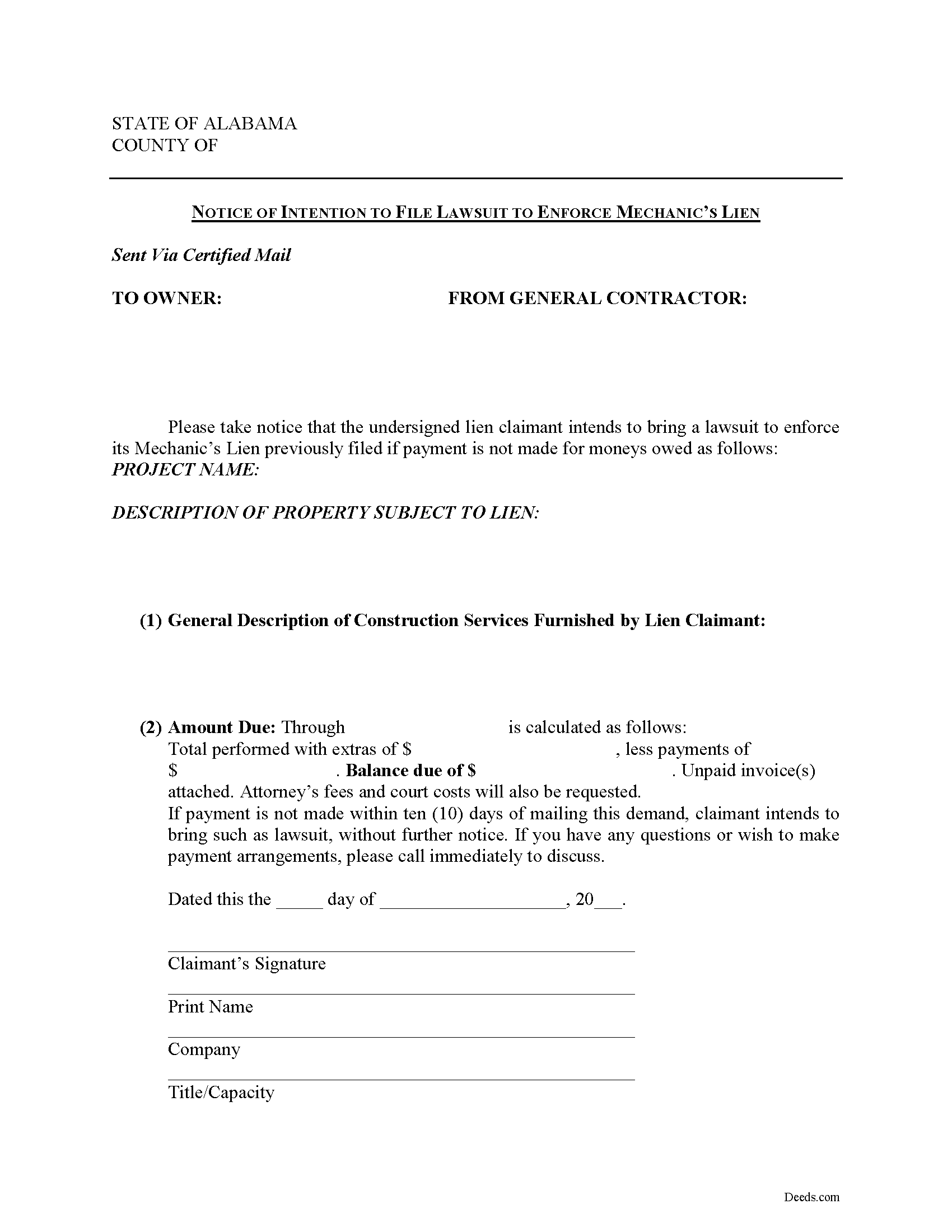 Steps Before Filing a Lawsuit to Enforce an Alabama Mechanic's Lien

Lawsuits can be long, emotionally draining, and expensive. Therefore, before filing suit, first attempt an informal settlement with the other party. When dealing with mechanic's liens in Alabama, a good technique is to send the owner notice of intention to sue to enforce the lien if timely payment is not made first.

When the amount involved exceeds $50.00, actions for the enforcement of liens may be brought in the circuit court having jurisdiction in the county in which the property is situated. Ala. Code Ann. 35-11-220. In all other cases actions to enforce such liens shall be brought before the district court in the county in which the property is situated. Id.

Any action for the enforcement of the lien declared in this division must be commenced within six months after the maturity of the entire indebtedness secured thereby. Ala. Code Ann. 35-11-221. Therefore, ensure the notice is sent within this timeline to prevent inadvertently waiving the right to claim a lien.

The notice identifies the parties, the location of the project, the nature of materials and services provided for the project, and relevant dates, fees, and payments. Deliver the notice to the responsible party via USPS Certified mail.

If the notice does not accomplish a settlement, be prepared to hire an attorney and sue. Lien enforcement suits, when brought in the circuit court, shall be commenced by summons and complaint. Ala. Code Ann. 35-11-222. The complaint shall contain a description of the property on which the lien is claimed, and shall allege the facts necessary to entitle the plaintiff to the lien and the enforcement thereof; in all other respects, the pleadings, practice and proceedings shall be the same as in ordinary civil actions. Id.

This article is provided for informational purposes only and should not be relied upon as a substitute for the advice from an attorney. Please speak with an Alabama attorney for any questions regarding lien notices or filing suit to enforce a lien.
Back to Alabama