Arizona Conditional Lien Waiver on Progress Payment
Conditional Lien Waiver on Progress Payment for Real Estate Located in Arizona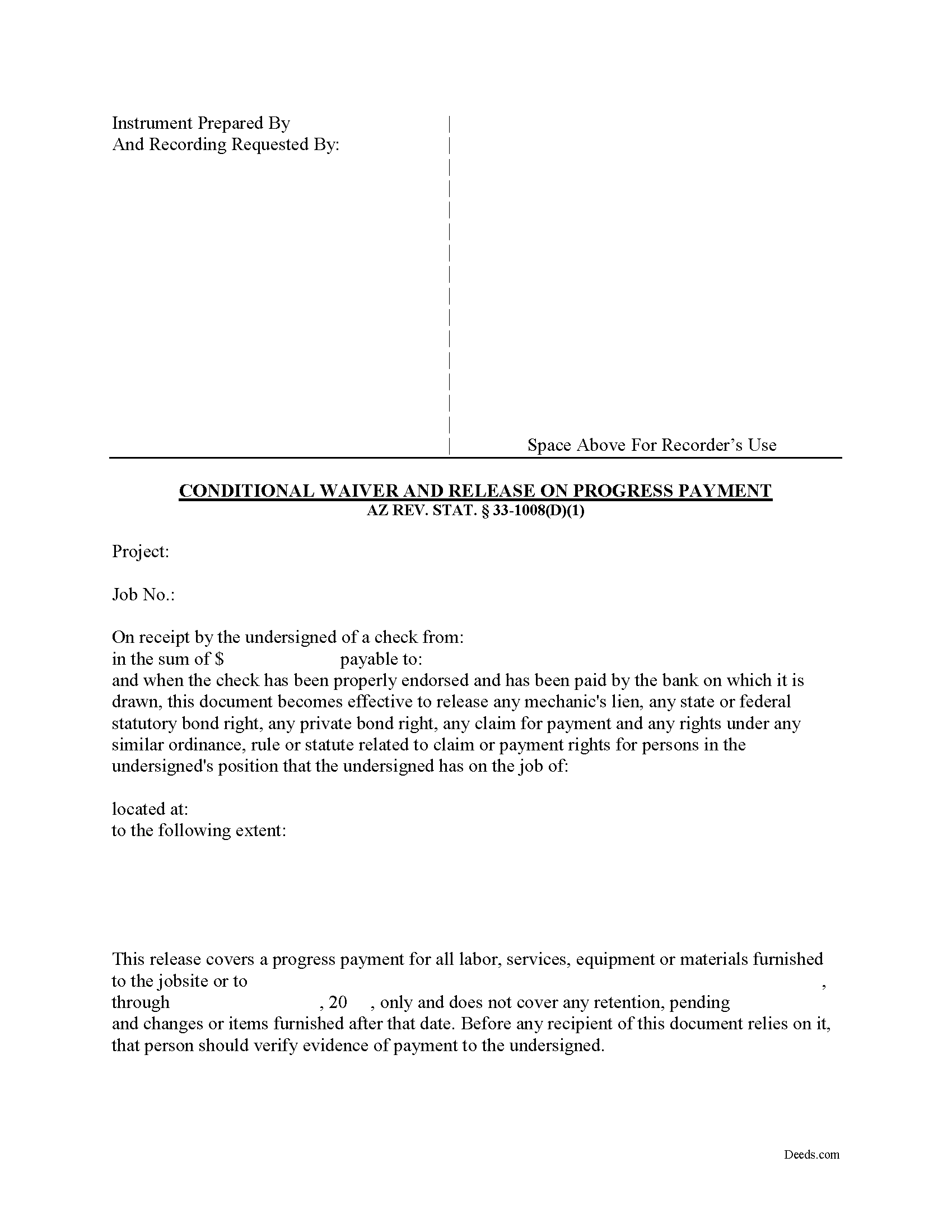 Arizona Conditional Lien Waiver on Progress Payment

Lien waivers are part of the mechanic's lien process. The waiver is a document from a contractor, subcontractor, materials supplier or other party to the construction project (the claimant) acknowledging receipt of payment and waiving any future lien rights to the owner's property. Lien waivers are governed under Arizona Revised Statute 33-1008.

In Arizona, lien waivers require strict compliance with the statute and any document purported to waive a lien must follow the statutory format. AZ REV. STAT. 33-1008(A). Any contract or other form attempting to waive lien rights is void as a matter of law. Id. Additionally, lien waivers filed in the state require evidence of actual payment when the waiver is conditioned on receipt of payment. Id.

There are two classifications of lien waivers: conditional and unconditional. Within either class, there are subcategories of "partial" and "final" waivers. A conditional waiver is effective only when payment is received, usually verified by a check clearing the bank. So, a conditional waiver given after a progress payment releases the claimant's right to lien, up to a specified date, but only after the check used to pay clears the bank.

The waiver must contain details identifying the job/project, the amount and type of payment, including the name of the person who wrote any checks, the property owner, the location and a description of the work, relevant dates, and the claimant's signature. 33-1008(D)(1).

This article is provided for informational purposes only and should not be relied on as a substitute for the advice of an attorney. Please contact an Arizona attorney with questions about mechanic's lien waivers.
Back to Arizona