Warranty Deed for Real Estate Located in Michigan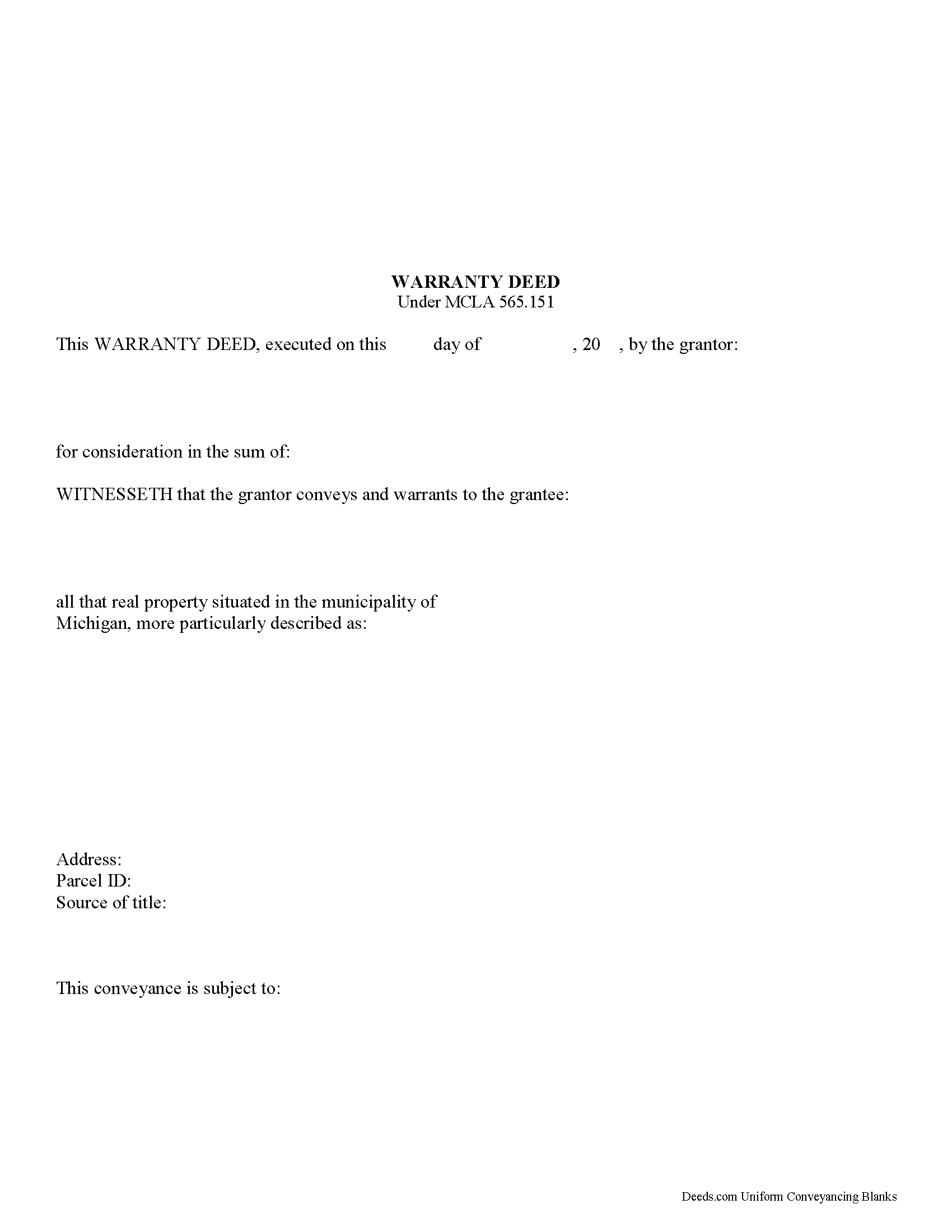 Real estate in Michigan can be transferred by purchase, by will, by inheritance, through adverse possession, or by eminent domain. A real estate deed, specifically a warranty deed, is the most common way to transfer title to real property in this state. A warranty deed that has been dated, duly signed, and acknowledged by the grantor is a conveyance in fee simple to the grantee, his heirs, and assigns, with covenants from the grantor that (1) he is lawfully seized of the premises, has good right to convey the premises, and guarantees the quiet possession thereof; (2) that the premises are free from all encumbrances; and (3) that the grantor will defend the title to the premises against all lawful claims (565.151). The warranty deed is used often in Michigan, as this state does not technically allow limited warranty deeds, according to section 750.275 of the Michigan Revised Statutes.

A warranty deed should be dated, duly signed by the grantor, and acknowledged. Warranty deeds executed in Michigan can be acknowledged before any judge, clerk of a court of record, or notary public within the state. The officer taking the acknowledgment should endorse a certificate of acknowledgment on the deed (565.8). Warranty deeds executed out of state and according to the laws of such state can be acknowledged before a judge of a court of record, notary public, justice of the peace, or other officer authorized by that state to take acknowledgments and can then be recorded in Michigan (565.9).

A conveyance of real estate by warranty deed that is not recorded will be void as against any subsequent purchaser in good faith and for a valuable consideration, of the same real estate or any portion thereof, whose conveyance is first duly recorded. If the first recorded conveyance is in the form of or contains the terms of a quitclaim deed and release, this does not affect the question of good faith of the subsequent purchaser, or be of itself notice to him or her of any unrecorded conveyance of the same real estate or portion thereof (565.29). Real estate deeds should be recorded in the county where the property is located.
Back to Michigan