Quitclaim Deed for Real Estate Located in Oregon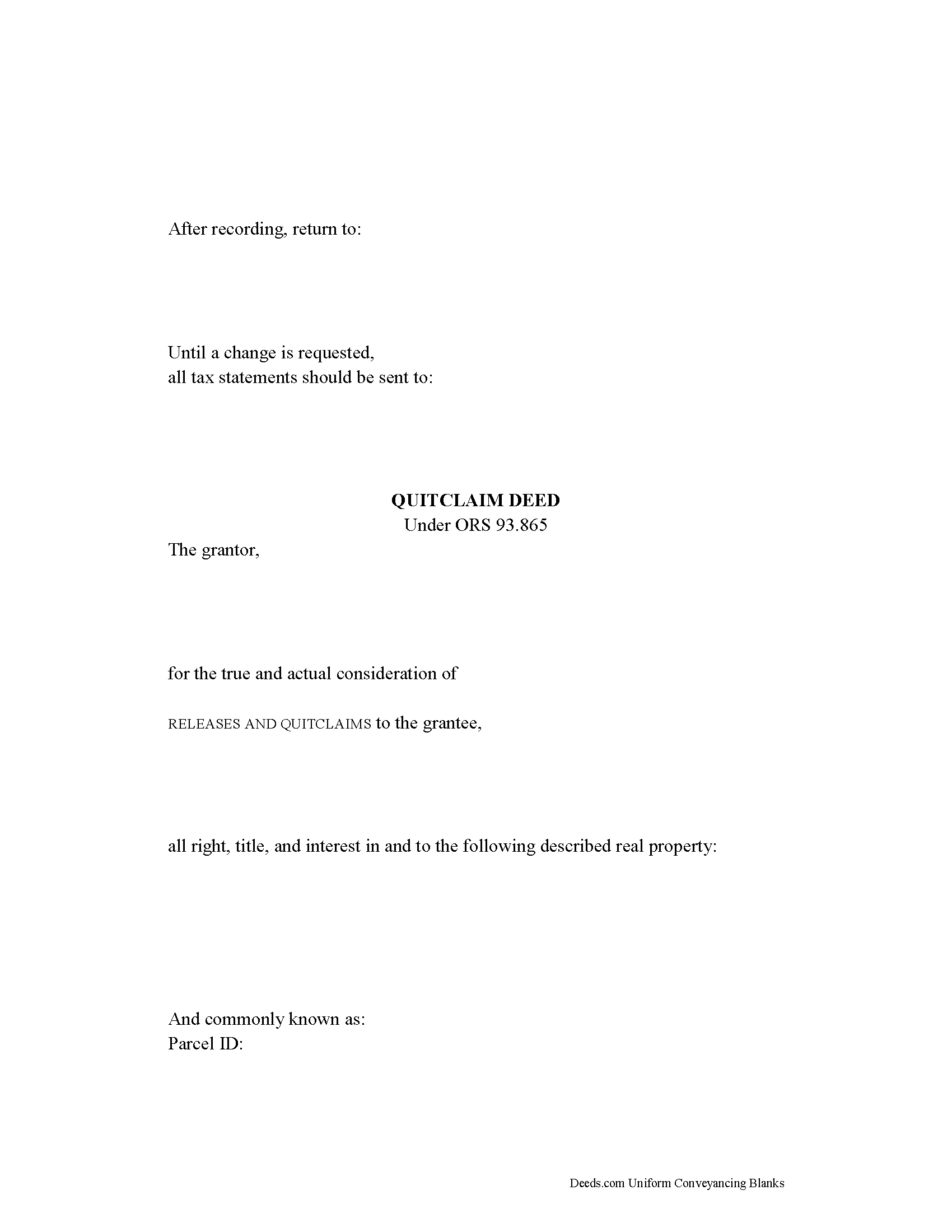 In Oregon, title to real property can be transferred from one party to another by executing a quitclaim deed. Quitclaim deeds are statutory in Oregon under ORS 93.865, and they convey real property in fee simple with no warranties of title. This type of deed only conveys the interest the grantor has at the time the deed is executed, and it does not guarantee that the grantor has good title or right to the property.

In Oregon, a lawful quitclaim deed includes the grantor's full name, mailing address, and marital status; the true consideration paid for the transfer (ORS 93.030); and the grantee's full name, mailing address, marital status, and vesting. Vesting describes how the grantee holds title to the property. Generally, real property is owned in either sole ownership or in co-ownership. For Oregon residential property, the primary methods for holding title are tenancy in common and tenancy by entirety. A conveyance of real estate to two or more unmarried persons is presumed to create a tenancy in common. A conveyance to a married couple creates a tenancy by entirety. Joint tenancy is abolished unless the conveyance is to trustees or personal representatives (ORS 93.180).

As with any conveyance of realty, a quitclaim deed requires a complete legal description of the parcel. Detail any restrictions associated with the property. The completed deed must be acknowledged by the grantor (and his or her spouse, if applicable) in the presence of a notary.

Deeds affecting property in Washington County are subject to a local transfer tax (Chapter 3.04, Washington County Code). If an exemption to the transfer tax applies, the proper application form must be submitted. Forms are available through Washington County's department of assessment and taxation.

Record the original completed deed, along with any additional materials, at the clerk's office in the county where the property is located. Contact the same office to confirm accepted forms of payment.

This article is provided for informational purposes only and is not a substitute for the advice of an attorney. Contact an Oregon lawyer with any questions related to the transfer of real property.
Back to Oregon