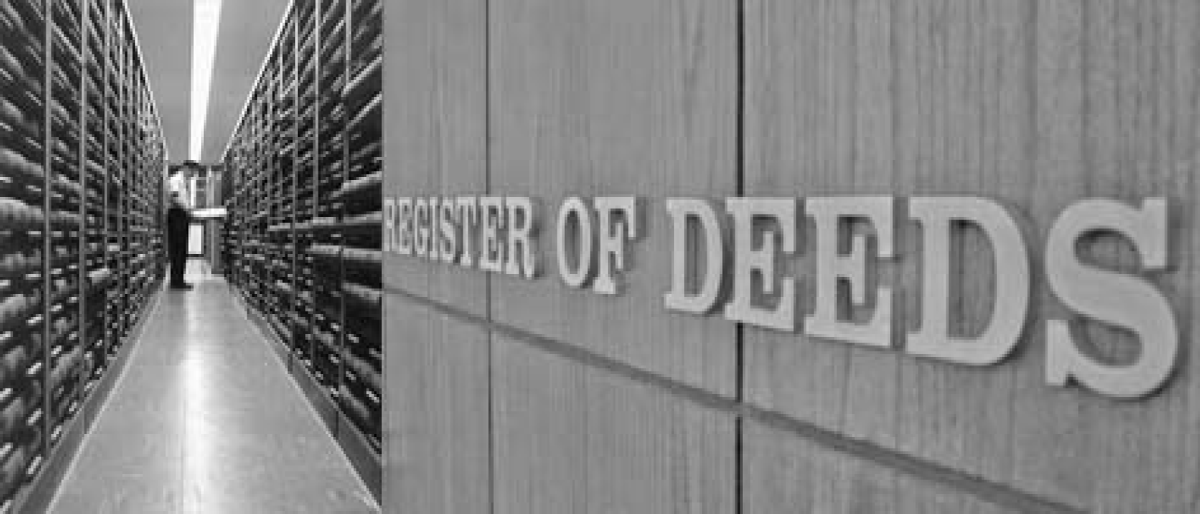 You are NOT on the Grenada County official website, you are on Deeds.com, a private website that is not affiliated with any government agency.
The Chancery Clerk is responsible for recording and maintaining real property records in Grenada County.
Recording Fees
As required in Mississippi code ANN. 25-7-9
Effective January 1, 2020

DEEDS: Warranty, Timber, Quitclaim, Trustee's Deeds, Deeds of Trust,
Leases, Plats, Covenants, Construction Liens, Lis Pendens, Townhouse
and Condominium Liens, Powers of Attorney, UCC filings in land records,
Miscellaneous documents, Mobile Home Certificates, etc.
$26.00 Includes indexing for the first 5 pages
$1.00 EACH additional page more than 5

EACH: Assignment, Partial Release, Release, Amendment, Cancellation, Authority to Cancel, Amendment of Supplement to Covenants, Subordination, Modification, Substitution of Trustee Etc.
$27.00 Includes indexing for the first five (5) pages and marginal notation.
$26.00 EACH additional assignment, release, etc.
$1.00 EACH additional page more than five (5)

Oil & Gas Leases, Mineral Deeds, Royalty Deeds, Etc.
$26.00 Includes indexing for the first five (5) pages.
$1.00 EACH additional section or subdivision lot
$1.00 EACH additional page more than five (5)

EACH: Oil & Gas Release / Cancellation / Assignment.
$26.00 Includes the first five (5) pages
$4.00 EACH section or subdivision lot
$1.00 EACH additional page more than five (5)
$1.00 EACH additional page more than five (5)
$1.00 EACH additional book and page marginal notation when applicable.
$18.00 For assignment: Each additional assignee

Mineral Stamp Fees: (MISS CODE ANN. 273179)
1-10 years: $0.03 per mineral acre
11-20 years: $0.06 per mineral acre
20+ years: $0.08 per mineral acre
Furnishing Minerals on deeds are $.08 per mineral acre
NOTE: Mineral Stamps if applicable are $1.00 minimum

A document that does not meet formatting requirements will be recorded for an additional fee of $10.00

Furnishing Copies:
Performed by clerk or employee $0.50 per page
If performed by any other person $0.25 per page
Certified Copies $1.00 per each complete document.


Document Formatting Requirements
1. An instrument must be acknowledged or proved in order to be recorded. If an instrument is not acknowledged or proved but is otherwise admitted to record, all persons shall be on constructive notice of the contents of the instrument. The grantor must sign the document and have his signature acknowledged.

2. A document should consist of one or more individual pages with printing on one side only. Pages should not be permanently bound or in a continuous form and there should not be any attachments stapled or affixed to any page except as necessary to comply with statutory requirements. Individual pages of a document may, however, be stapled together for presentation for recording. A firmly attached label with a barcode or return address may be attached to a page.

3. Documents must be printed in a font size of at least 10 point. If the document contains print smaller than 10 point, it should be accompanied by an exact typewritten or printed copy that meets the requirements.

4. In order to be recorded, a document must be of sufficient legibility. If it is not sufficiently legible to produce a clear reproduction, it should be accompanied by an exact typewritten or printed copy that meets the requirements. This will be recorded as additional pages.

5. Use white paper of at least 20# weight. All text within the document must be of sufficiently legibility and clarity.

6. Signatures should be in black or dark blue ink and of sufficient color and clarity to ensure that when the document is scanned for record, the signatures are legible. A corresponding name should be typed, printed, or stamped beneath the original signature. The typing or printing of a name or the application of an embossed stamp should not cover or interfere with any part of the document, except where provided by law. Failure to type, print, or stamp corresponding names beneath signatures does not invalidate the document.

7. On the first page, provide a top margin of at least 3 inches. This space is to be left blank for the recorder's use. All other margins should be a minimum of .75 of one inch. Non-essential information such as form numbers or customer notations may be placed in a margin other than the top margin.

8. Any document presented for recording that contains any of the following information should provide the information on the first page, below the 3-inch top margin:

a. The name, physical business mailing address, and business telephone number of the individual who prepared the document, and of every grantor, grantee, borrower, beneficiary, trustee, or other party to the instrument. If the instrument has been prepared by an attorney, the attorney's Mississippi bar number should be provided.

b. A return address.

c. The title of the document or instrument.

d. Any address and telephone number required by section 27-3-51 of the Mississippi Code. This requires the address and telephone number of the grantor and grantee. If the grantee may receive mail at the address of the property transferred, that address should be used.

e. The legal description of the property or indexing instruction per section 89-5-33(3). If there is insufficient space on the first page for the entire legal description or the entire indexing instruction, immediately succeeding pages should be used.

9. A document where one of the original parties is deceased or incapacitated is exempt from this requirement.

10. Every surveyor or other person who prepares a legal description of land or who prepares an instrument utilizing an existing legal description and every person who prepares a deed of trust should include an indexing instruction stating the section, township, and range and one or more quarter sections, governmental lots, or other applicable subdivisions of each section in which the land is located. The preparer may elect to note the quarter-quarter section in which the land is located, but is not required to do so. The indexing instruction should be distinctly set apart in the instrument so that it is readily apparent to the chancery clerk.

11. Instruments describing land by reference to officially platted subdivisions or to official surveys or to unofficial subdivisions and surveys commonly in use will not require an indexing instruction.