Alabama Assignment of Rents and Leases
Assignment of Rents and Leases for Real Estate Located in Alabama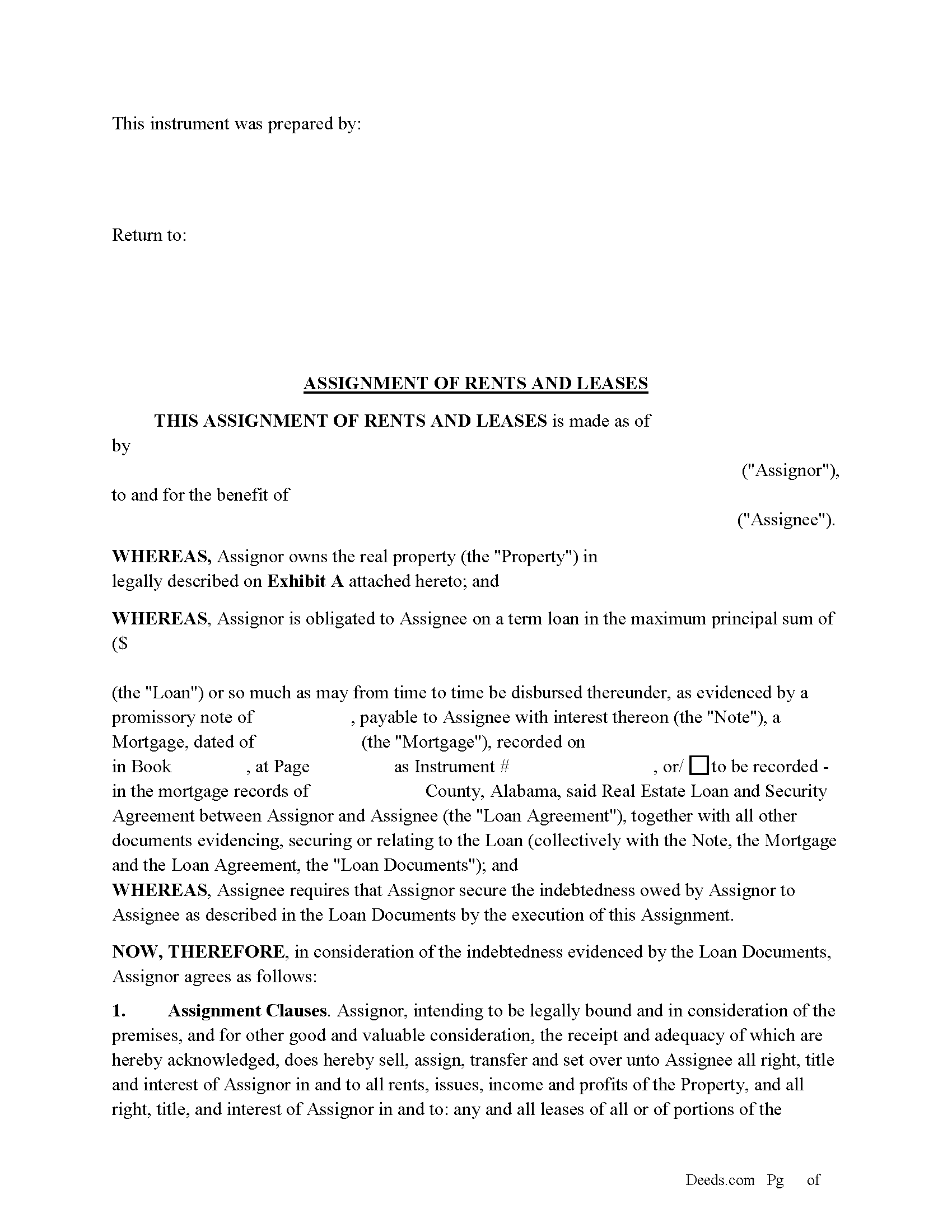 In this form the Assignor/borrower is allowed to collect the rent until an Event of Default, as defined in the subject Loan Agreement, Assignee/lender may, at its option, and without regard to the value of the Property or the adequacy of the security for the indebtedness, either in person or by agent, with or without bringing any action or proceeding, or by a receiver to be appointed by a court, enter upon, take possession of, manage and operate the Property or any part thereof, do any acts which Assignee deems proper to protect the Property and the Leases, and either with or without taking possession of the Property in the name of Assignor or in its own name, sue for or otherwise collect and receive such rents, issues, income and profits, including those past due and unpaid, and apply the same, less costs and expenses of operation and collection, including, but not being limited to, reasonable attorneys' fees, management fees and brokers' commissions, upon any indebtedness of Assignor to Assignee described in the Loan Documents, and in such order as Assignee may determine. Assignee reserves, within its own reasonable discretion, the right to determine the method of collection and the extent to which enforcement of collection of delinquent rents shall be prosecuted and shall not be accountable for more money than it actually receives from the Property. The entering upon and taking possession of the Property or the collection of such rents, issues, income and profits and the application thereof, as aforesaid, shall not cure or waive any default under the Loan Documents. Assignor agrees that it will facilitate in all reasonable ways Assignee's collection of such rents and will, upon request by Assignee, promptly execute a written notice to each tenant directing the tenant to pay rent to Assignee.

This form can be attached to a Mortgage, then recorded with the mortgage as one document or it can be recorded as single document to accompany a previously recorded mortgage. In short, this form is used as an inducement for the borrower to make payments on the subject mortgage security agreement.

For use in Alabama only.

Back to Alabama