Beneficiary Deed for Real Estate Located in Arizona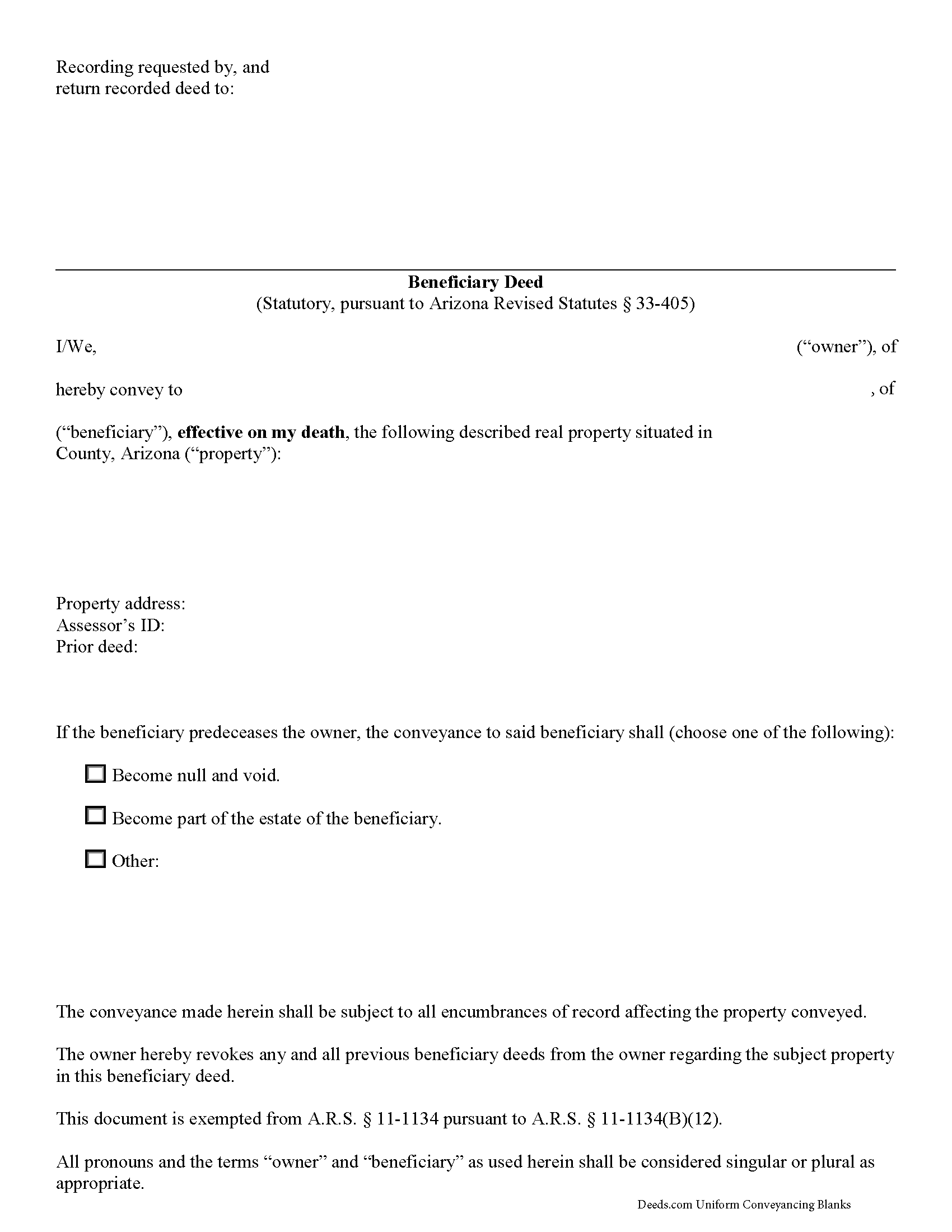 Arizona beneficiary deeds allow property owners to retain absolute control over their real estate, with the freedom to use, modify, or sell the land at will. The owner may also change the beneficiary or revoke the deed without any obligation to notify the beneficiary because the transfer of the remaining property rights is not finalized until the recipient records the appropriate documentation.

This instrument, governed by Arizona Revised Statutes 33-405, is a useful estate planning tool.
It gives owners/grantors of Arizona real estate the ability to initiate, but not complete, the transfer process to a designated beneficiary, while keeping all rights and title to the property during the owner's lifetime. This means the owner (grantor) may sell, rent, mortgage or otherwise use the property with no penalty for waste or obligation to the named beneficiary.

In addition, because the conveyance is not completed until the owner's death, he/she may change or remove beneficiary designations at will. Because of the potential for change, there is no obligation for the beneficiary/grantee to provide consideration (money or something else of value).

Arizona beneficiary deed must meet the statutory requirements as set forth in A.R.S. 33-405. This includes identifying the property owners (grantors), the beneficiaries, the real estate to be transferred, and other details as needed for the specific situation. The deed must also follow all state and local standards for recorded documents. The owner or owners must sign the deed in front of a notary and file the completed form with the land records for the county where the property is situated. After the owner's death, the remaining interest in land transfers to the beneficiary outside of the probate process.

NOTE: In order to be valid, this deed must be recorded, during the owner's lifetime, in the county where the land is situated.

This information is not a substitute for legal advice. Consult an attorney with questions about beneficiary deeds, or for any other issues related to estate planning or real property in Arizona.
Back to Arizona