Grant Deed for Real Estate Located in Florida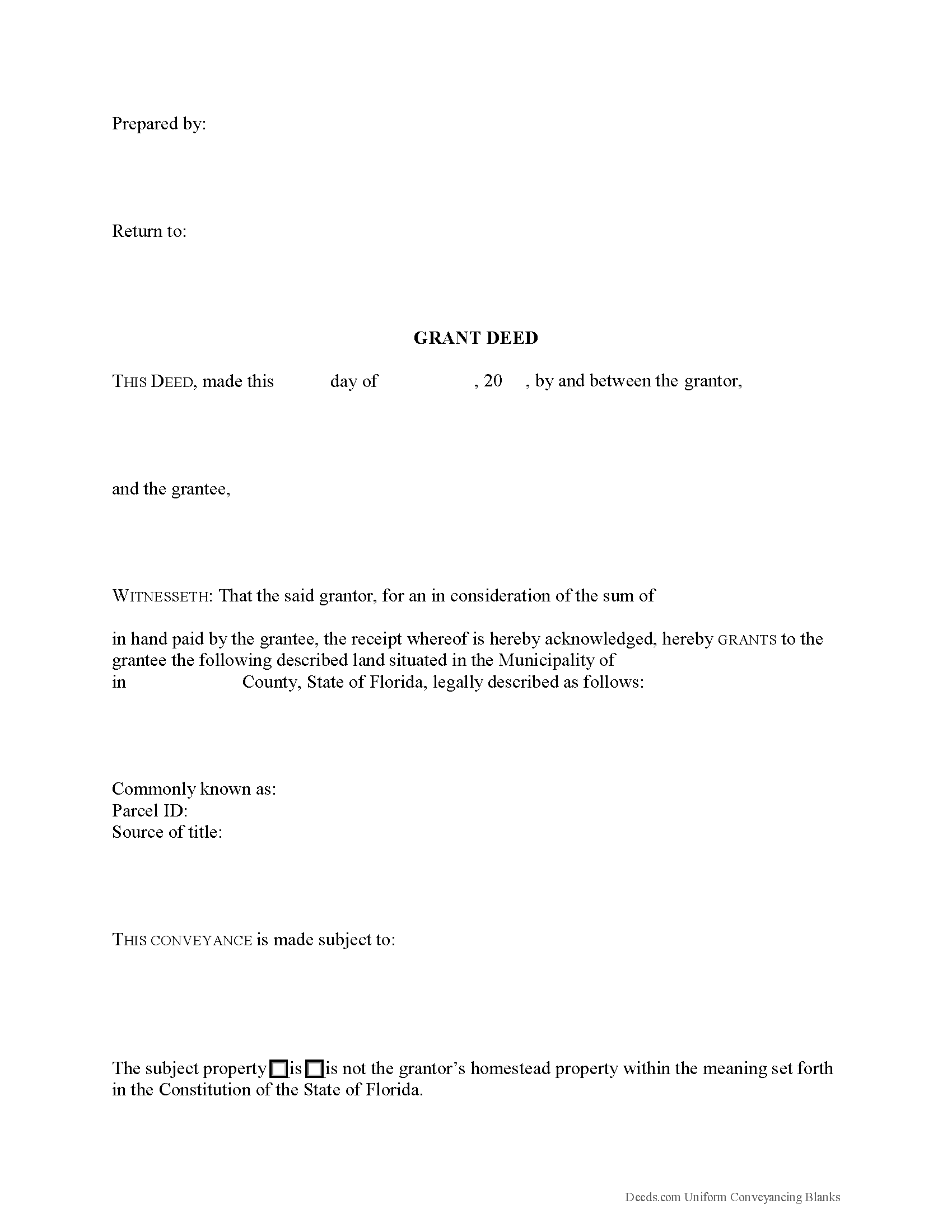 A grant deed in Florida can be used to transfer ownership in property from a grantor to a grantee. An estate or interest of freehold, or an estate for a term of more than one year is created, made, granted, transferred, or released by a deed in writing that is signed by the grantor in the presence of two subscribing witnesses (689.01). The grant deed is not mentioned by name in the Florida Revised Statutes, but it can be used in this state to transfer ownership from one living person to another. In a grant deed, the grantor promises that the title has not been previously transferred to anyone other than the grantee and that there are not any encumbrances on the property, other than those that may be stated in the deed. The grant deed does not offer as much protection as a warranty deed.

To entitle a grant deed to be recorded, it must be signed by the grantor, and the execution of the deed must be acknowledged by the party executing it, and proved by two subscribing witnesses or legalized or authenticated by a civil law notary or notary public who affixes his or her official seal, before the officers and in the form or manner dictated by statute. The notary public may serve as a witness, but must sign the document twice if doing so: both as a notary and as a witness. An acknowledgement made in Florida can be made before a judge, clerk, or deputy of any court; a United States commissioner or magistrate; or a notary public or civil law notary of the state. The certificate of acknowledgement or proof must be under the seal of the court or officer (695.03). If acknowledgements are made out of state or in another country, they must conform to the provisions of 695.03(2) and (3).

Unless a grant deed is recorded according to law, it will not be good and effectual in law or in equity against creditors or subsequent purchasers for a valuable consideration and without notice (695.01). Grant deeds should be recorded with the clerk of the circuit court in the county where the property is located. The priority of documents is determined by the order and time of recording.
Back to Florida