Wyoming Transfer on Death Deed
Transfer on Death Deed for Real Estate Located in Wyoming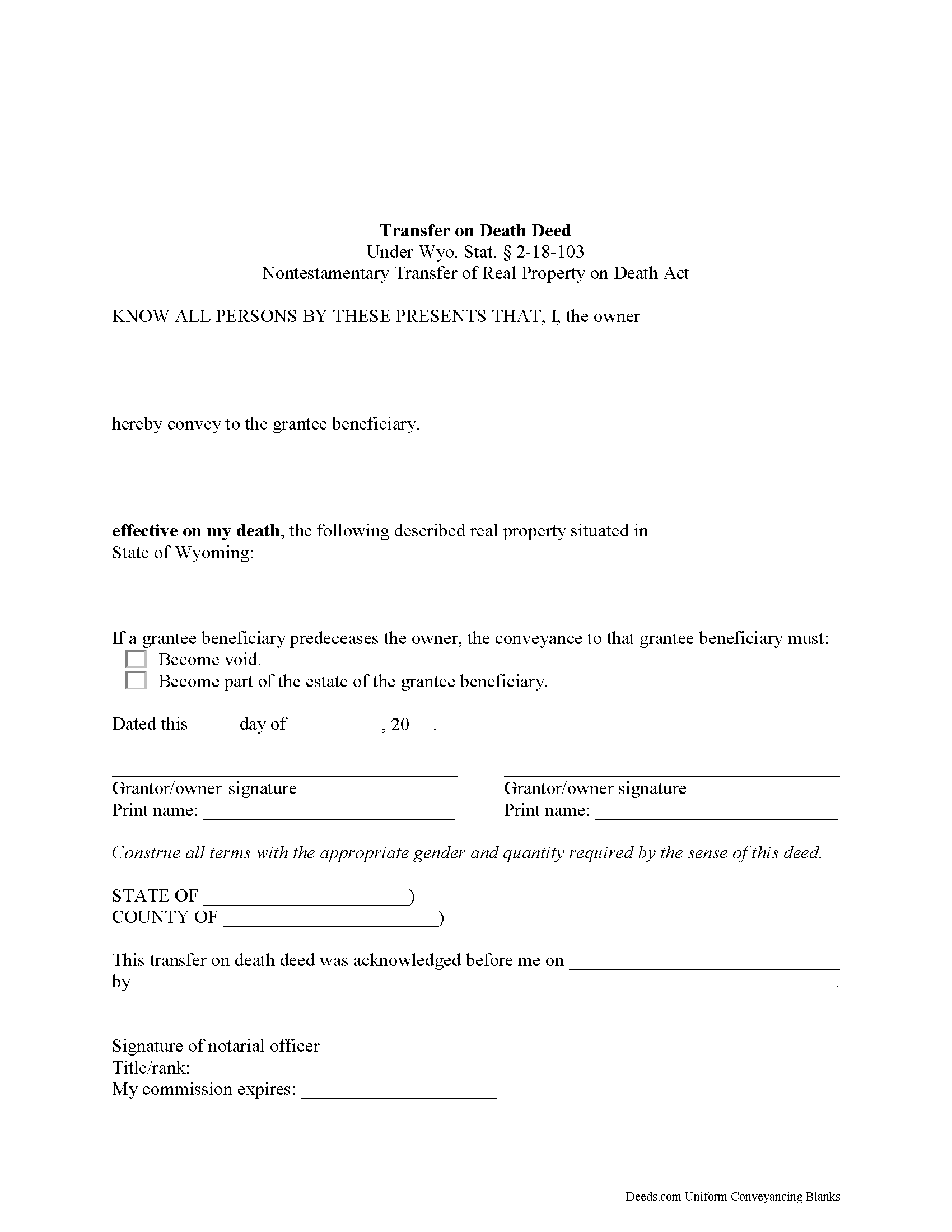 Wyoming's Non-testamentary Transfer of Real Property on Death Act went into effect on July 1, 2013. Find it at Sections 2-18-101-106 of the Wyoming Statutes.

A transfer on death deed is valid only if it is lawfully executed and recorded in the office of the county clerk for the county in which the real property is situated, before the death of the owner or the last surviving owner. See 2-18-103(d) for the rules concerning joint property owners, or contact an attorney for additional clarification.

By using transfer on death deeds (TODDs), people who own real estate in Wyoming have access to a flexible tool that allows them to direct what happens to their land after they die, independent from a will, and without the need for probate. As defined at 2-18-103, a TODD conveys the owner's interest in real property, subject to any debts or obligations in place during the owner's lifetime, to a designated grantee beneficiary. Note that, in addition to the providing the information required by the statutory form, TODDs must meet all state and local standards regarding format and content.

Until death, though, owners retain absolute interest in and control over the property, including the power to sell it to someone else, to change the terms of the future transfer, or to revoke the transfer outright, without notice to or permission from the beneficiary. This feature is important because it allows owners to respond to changes with minimal expense.

There are three primary ways to revoke a recorded transfer on death deed. Owners simply execute and record either
-a statutory revocation document;
-a new statutory transfer on death deed; or
-a traditional deed, such as a warranty or quitclaim deed, transferring the property to another party.

Modifications are fairly simple, but it is important to make sure that any other estate documents, such as wills, reflect the same wishes. Otherwise, the conflicts could lead to unnecessary delays and expenses.

Overall, Wyoming's transfer on death deeds can be a useful part of a comprehensive estate plan. Even so, they may not be appropriate for everyone. Please consult an attorney with specific questions or for complex situations.
Back to Wyoming