Warranty Deed for Real Estate Located in Alabama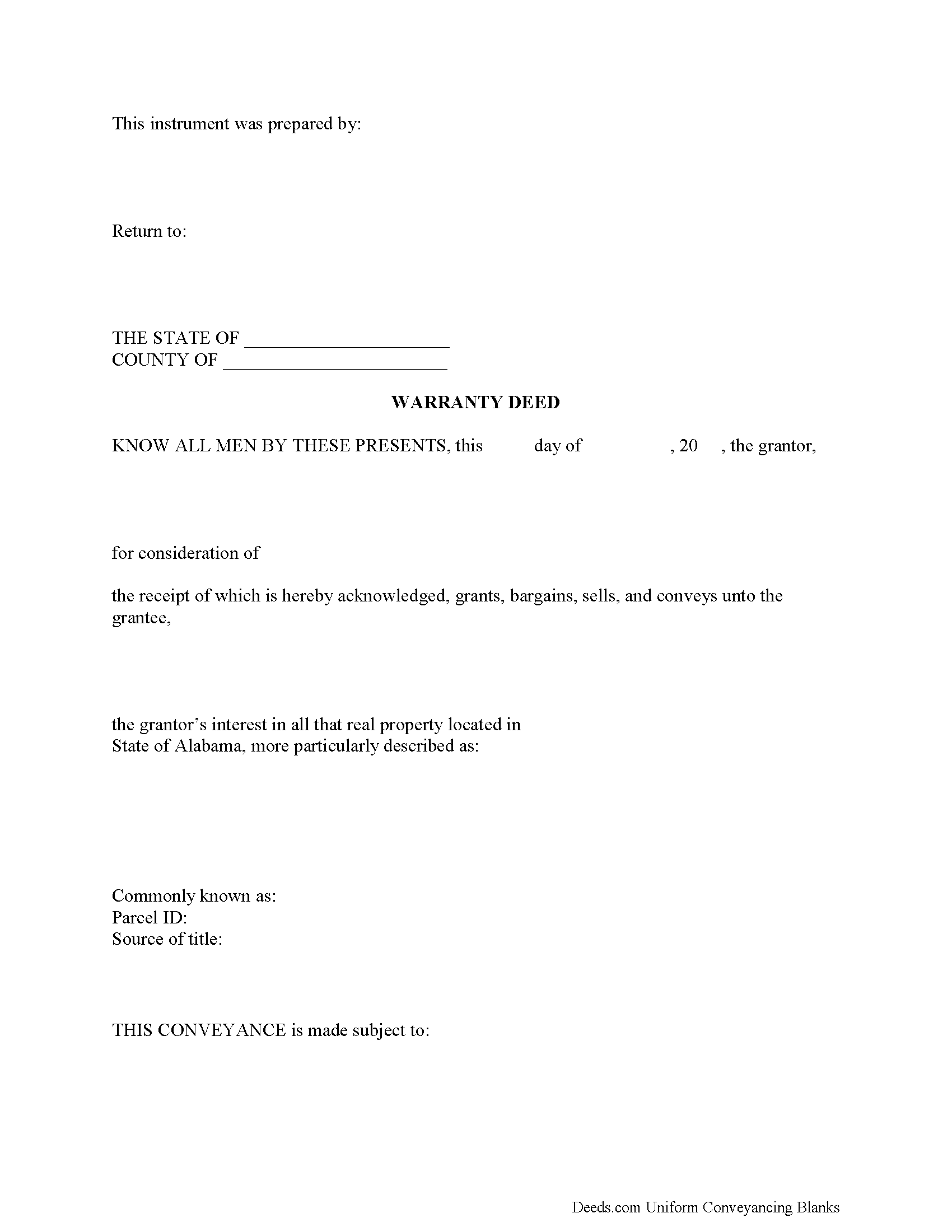 A conveyance of real property or of interest in real property in Alabama is required to be in writing and must be signed at the conclusion of the document by the granting party. The execution of a warranty deed must be attested by at least one witness or, if the party cannot write, by two witnesses who are able to write (35-4-20). A proper acknowledgement will satisfy the witness requirements listed in 35-4-20.

A general warranty deed in Alabama contains covenants that the grantor will warrant and defend the title against the lawful claims of all persons. Additionally, this type of deed includes a covenant of warranty that runs with the land. A warranty deed in this state can also be created for joint tenants with a right of survivorship.
In an Alabama special warranty deed (or statutory warranty deed), the words "grant," "bargain," "sell," or either of them, are construed an express covenant to the grantee, his heirs, and assigns, that the grantor was in possession of an indefeasible estate in fee simple, free from any encumbrances done or suffered by the grantor except any reserved rents and services, and also for quiet enjoyment against the grantor, his heirs, and assigns, unless specific language in the deed limits this. The grantee, his heirs, personal representatives, and assigns may, in any action, assign breaches, as if the covenants were expressly inserted (35-4-271). While this kind of deed conveys after-acquired title, the grantor assumes no responsibility if the grantee loses the property to a paramount title.

Conveyances in this state, including warranty deeds, are required to be recorded in the office of the judge of probate in the county where the property is located (35-4-50). When a warranty deed is filed for registration, it constitutes notice of the contents (35-4-51). All conveyances of real property are inoperative and void as to purchasers for a valuable consideration, mortgagees, and judgment creditors without notice, unless the instrument has been recorded before the accumulation of the rights of such purchasers, mortgagees, or judgment creditors (35-4-90).
Back to Alabama