Kentucky - Caldwell County Warranty Deed Form
All Caldwell County specific forms listed below are included in your immediate download:
---
Warranty Deed Form - Caldwell County
Fill in the blank form formatted to comply with all recording and content requirements.
Included document last updated 5/6/2018
---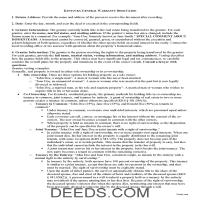 Warranty Deed Guide - Caldwell County
Line by line guide explaining every blank on the form.
Included document last updated 5/6/2018
---
Completed Example of the Warranty Deed Document - Caldwell County
Example of a properly completed form for reference.
Included document last updated 5/6/2018
---
*Kentucky and Caldwell County supplemental forms are included as a courtesy with your order.
Frequently Asked Questions:
How long does it take to get my forms?

Forms are available immediately after submitting payment.

What are supplemental forms?

Often when a deed is recorded additional documents are required by the state or local jurisdiction. These could be tax related, informational, or even as simple as a coversheet. Supplemental forms are provided for free with your order where available.

How do I get my forms, are they emailed?

After you submit payment you will see a page listing the forms you ordered with a download link to the pdf form file. You download the forms to your computer. You will also receive an email with a link to your download page in case you need it later.

What type of files are the forms?

All of our forms are PDFs. You will need to have or get Adobe Reader to use our forms. Adobe Reader is free software that most computers already have installed.

Can the forms be re-used?

Yes. You can re-use the forms for your personal use. For example, if you have more than one property in a given county that you need to transfer you would only need to order our forms once for all of your properties in that county.

Are these forms guaranteed to be recordable in Caldwell County ?

Yes. Our form blanks are guaranteed to meet or exceed all formatting requirements set forth by Caldwell County including margin requirements, content requirements, font and font size requirements.

Do I have to enter all of my property information online?

No. The blank forms are downloaded to your computer and you fill them out there, at your convenience.

Can I save the completed form, email it to someone?

Yes, you can save your deed form at any point with your information in it. The forms can also be emailed, blank or complete, as attachments.

Do I need any special software to use these forms?

You will need to have Adobe Reader installed on your computer to use our forms. Adobe Reader is free software that most computers already have installed.

Are there any recurring fees involved?

No. Nothing to cancel, no memberships, no recurring fees.
Areas covered by these Warranty Deed Forms:
Including:
What is the Kentucky Warranty Deed?
General warranty deeds are statutory conveyances under KRS 382.030. The deed must state that the grantor "will warrant the property hereby conveyed" or contain words of import like "with warranty" or "with general warranty" (KRS 382.030).

A warranty deed is a legal instrument used to transfer, or convey, rights in real property from a grantor (seller) to a grantee (buyer). They offer substantial protections for the grantee and are the most common type of deed for standard real estate transactions. When using a general warranty deed, the grantor warrants that they are the true owner of the property and have the legal right to convey it, that the property is free of liens or encumbrances unless otherwise listed in the deed, and that the grantor will defend the grantee's right to the property if anyone makes a claim against the title, forever.

In addition to meeting all state and local standards for recorded documents, a lawful general warranty deed identifies the grantor and grantee and their addresses. State law requires information on how the grantee will vest title in the property. For Kentucky residential property, the primary methods for holding title in co-ownership are tenancy in common, joint tenancy, and tenancy by entirety. A grant of ownership of real estate to two or more persons creates a tenancy in common, unless otherwise specified (KRS 381.050(1)).

Include a complete legal description of the property, and the source of the current grantor's title. State either the full amount of consideration exchanged during the transfer, or if nominal or no consideration has been exchanged, the fair cash value of the property in the consideration certificate section pursuant to KRS 385.135. The county assesses a transfer tax on the consideration, due at the time of recording, unless the transaction is exempt under KRS 142.050.

Provide the in-care-of tax address where the property tax bill may be sent (KRS 382.110(2)). Kentucky law requires the preparer's name and signature on the face of the deed (KRS 382.335). Each grantor and grantee must sign the deed in front of a notary (KRS 382.030).

Record the deed, along with any supplemental documentation necessary for the specific transaction, in the county in which the property is located (KRS 382.110(1)). Recording provides public of the change in owners and helps to maintain a clear chain of title.

This article is provided for informational purposes only and is not a substitute for legal advice. Contact an attorney with questions about general warranty deeds or for any other issues related to the transfer of real property in Kentucky.
Save time and money.
Get your Caldwell County Warranty Deed form done right the first time with Deeds.com Uniform Conveyancing Blanks. At Deeds.com, we understand that your time and money are valuable resources, and we don't want you to face a penalty fee or rejection imposed by a county recorder for submitting nonstandard documents. We constantly review and update our forms to meet rapidly changing state and county recording requirements for roughly 3,500 counties.
Guarantee:
We guarantee that you will receive access to the forms that you order and that those forms will be compliant with the recording requirements for the jurisdiction the forms were purchased for and the statutory requirements for content of the document.
Customer Rating: 9.47 out of 10 (30 Reviews)
---
On 05/17/18 Meredith McKell Graff Said:
Score: 10
Excellent. Especially appreciated getting the real estate excise tax exemption form and just happened to have green paper in the office on which to print it. So helpful thank you so much!
---
On 05/08/18 Susan Said:
Score: 10
Perfect. The city clerk accepted it no questions.
---
On 05/07/18 Gloria Holmes Said:
Score: 10
A great help thanks.
---
On 05/03/18 Douglas Stone Said:
Score: 10
Very simple directions downloaded quickly and has made the whole process quite simple. Excellent job!
---
On 05/02/18 Eric Finger Said:
Score: 7
Overall I was satisfied with the forms.
---