Chester County Grant Deed Forms (Pennsylvania)
Express Checkout
Form Package
Grant Deed
State
Pennsylvania
Area
Chester County
Price
$29.97
Delivery
Immediate Download
Payment Information
Included Forms
All Chester County specific forms and documents listed below are included in your immediate download package:
Grant Deed Form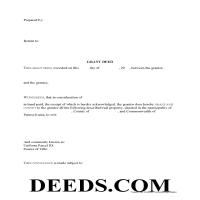 Fill in the blank form formatted to comply with all recording and content requirements.
Included document last reviewed/updated 8/7/2023
Grant Deed Guide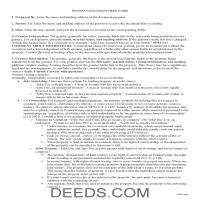 Line by line guide explaining every blank on the form.
Included document last reviewed/updated 9/20/2023
Completed Example of the Grant Deed Document
Example of a properly completed form for reference.
Included document last reviewed/updated 8/4/2023
Included Supplemental Documents
The following Pennsylvania and Chester County supplemental forms are included as a courtesy with your order.
Frequently Asked Questions:
How long does it take to get my forms?
Forms are available immediately after submitting payment.
What are supplemental forms?
Often when a deed is recorded additional documents are required by or Chester County. These could be tax related, informational, or even as simple as a coversheet. Supplemental forms are provided for free with your order where available.
How do I get my forms, are they emailed?
After you submit payment you will see a page listing the Chester County forms you ordered with a download link to the pdf form file. You download the forms to your computer. You will also receive an email with a link to your download page in case you need it later.
What type of files are the forms?
All of our Chester County Grant Deed forms are PDFs. You will need to have or get Adobe Reader to use our forms. Adobe Reader is free software that most computers already have installed.
Can the Grant Deed forms be re-used?
Yes. You can re-use the forms for your personal use. For example, if you have more than one property in Chester County that you need to transfer you would only need to order our forms once for all of your properties in Chester County.
Are these forms guaranteed to be recordable in Chester County?
Yes. Our form blanks are guaranteed to meet or exceed all formatting requirements set forth by Chester County including margin requirements, content requirements, font and font size requirements.
Do I have to enter all of my property information online?
No. The blank forms are downloaded to your computer and you fill them out there, at your convenience.
Can I save the completed form, email it to someone?
Yes, you can save your deed form at any point with your information in it. The forms can also be emailed, blank or complete, as attachments.
Do I need any special software to use these forms?
You will need to have Adobe Reader installed on your computer to use our forms. Adobe Reader is free software that most computers already have installed.
Are there any recurring fees involved?
No. Nothing to cancel, no memberships, no recurring fees.
Areas Covered by These Grant Deed Forms:
Including:
Atglen
Avondale
Berwyn
Birchrunville
Brandamore
Chatham
Chester Springs
Coatesville
Cochranville
Devault
Devon
Downingtown
Elverson
Exton
Glenmoore
Honey Brook
Immaculata
Kelton
Kemblesville
Kennett Square
Kimberton
Landenberg
Lewisville
Lincoln University
Lionville
Lyndell
Malvern
Mendenhall
Modena
New London
Nottingham
Oxford
Paoli
Parker Ford
Parkesburg
Phoenixville
Pocopson
Pomeroy
Pottstown
Sadsburyville
Saint Peters
Southeastern
Spring City
Suplee
Thorndale
Toughkenamon
Unionville
Uwchland
Valley Forge
Wagontown
West Chester
West Grove
Westtown
What is the Pennsylvania Grant Deed
In Pennsylvania, title to real property can be transferred from one party to another by executing a grant deed, but the state does not include an official form in the statutes. Use a grant deed to transfer a fee simple interest with covenants that the title is free of any encumbrances (except for those stated in the deed) and that the grantor holds an interest in the property and is free to convey it. The word "grant" in the conveyancing clause typically signifies a grant deed.

A lawful grant deed includes the grantor's full name, mailing address, and marital status; the consideration given for the transfer; and the grantee's full name, mailing address, marital status, and vesting. Vesting describes how the grantee holds title to the property. Generally, real property is owned in either sole ownership or in co-ownership. For Pennsylvania residential property, the primary methods for holding title are tenancy in common, joint tenancy, and tenancy by entirety. A conveyance of real estate to two or more persons creates a tenancy in common, unless otherwise stated (68 Pa.C.S. Section 110). A tenancy by entirety is available for spouses, and must be explicitly stated. In Pennsylvania, any property acquired by either spouse while married is presumed to be marital property "regardless of whether title is held individually or by the parties in some form of co-ownership" (23 Pa.C.S. Section 3501). Consult a lawyer for guidance on marital property implications.

As with any conveyance of realty, a grant deed requires a complete legal description of the parcel. Recite the prior deed reference to maintain a clear chain of title, and detail any restrictions associated with the property. Finally, the form must meet all state and local standards for recorded documents. The completed deed must be signed by the grantor (and his or her spouse, if applicable) in the presence of a notary.

All deeds in Pennsylvania require a certificate of residence. This certificate ensures the accuracy of the information used for updating the billing address for property tax bills and assessment notices, and should contain addresses recognized by the USPS. Enter the full name and mailing addresses of both the grantee and the tax bill recipient. The certificate must be signed by the grantee or the grantee's agent.

Any deed pertaining to an interest in real property for which a coal severance applies requires a notice pursuant to 52 Pa.C.S. 1551 (as part of the Conveyance Document Notice of Coal or Surface Support Severance Law). Any deed pertaining to an interest in real property situated in a Pennsylvania county in which bituminous coal has been found and separately assessed for taxation requires an additional notice signed by the grantee pursuant to 52 Pa.C.S. 1406.14 (as part of the Bituminous Mine Subsidence and Land Conservation Act). Note on the face of the deed whether the instrument requires either notice. Contact a lawyer to review the specific situation and ensure the deed contains all required notices.

Pennsylvania levies a Realty Transfer Tax based on the consideration paid, which is due upon recording. If the transfer is exempt from the tax, state the reason for the exemption on the face of the deed. See 61 Pa.C.S. 91.193(6) for a list of exemptions.

All deeds require a Statement of Value Form. Some counties require multiple copies. Contact the recorder for more information. Deeds falling under the jurisdiction of more than one municipality must stipulate the division of transfer taxes.

Some Pennsylvania counties require that deeds be submitted to the assessor prior to recording. Contact the local recording office to verify correct recording procedure. Record the original completed deed, along with any additional materials, at the Recorder of Deeds' office in the county where the property is located. (The City of Philadelphia handles recording for property in city limits.)

This article is provided for informational purposes only and is not a substitute for the advice of an attorney. Contact a lawyer with questions about grant deeds, or for any other issues related to the transfer of real property in Pennsylvania.
Our Promise
The documents you receive here will meet, or exceed, the Chester County recording requirements for formatting. If there's an issue caused by our formatting, we'll make it right and refund your payment.
Save Time and Money
Get your Chester County Grant Deed form done right the first time with Deeds.com Uniform Conveyancing Blanks. At Deeds.com, we understand that your time and money are valuable resources, and we don't want you to face a penalty fee or rejection imposed by a county recorder for submitting nonstandard documents. We constantly review and update our forms to meet rapidly changing state and county recording requirements for roughly 3,500 counties and local jurisdictions.
Reviews
4.8 out of 5 (4171 Reviews)
Angela J M.
September 29th, 2023
Quick turnaround (about 24hrs) easy process.
Reply from Staff
Thank you for your feedback. We really appreciate it. Have a great day!
Jennifer T.
September 29th, 2023
I got instant access to the exact forms I needed! The guide to completing the form was very thorough and easy to understand. I am very thankful for this service!
Reply from Staff
Thank you for the kind words Jennifer. We appreciate you!
Maria M.
September 27th, 2023
The requested documents I needed were provided and also complete instructions on how to fill them out. I definitely will you this service again.
Reply from Staff
We appreciate your business and value your feedback. Thank you. Have a wonderful day!
Deborah P.
June 7th, 2021
Very good information. Easy access and easy to download. All the forms needed for TOD to be notarized and recorded with the county office. Much better than working with a Trust and the expense of lawyers, especially when several parties are involved and the owner of said property knows exactly to whom the property should go. Having forms and instructions available for the public to have their wishes recorded and confirmed makes handling final planning much easier and prevents family members from having the unnecessary task of going through court to solve property distribution issues. Thank you for this site and the forms you provide. I will recommend Deeds.com to those I know who are making final plans.
Reply from Staff
We appreciate your business and value your feedback. Thank you. Have a wonderful day!
Justin C.
January 28th, 2021
I was a first-time customer to Deeds.com and was very pleased with my ability to navigate the site and find just what I needed in a very short time. Great value for the price.
Reply from Staff
Thank you for your feedback. We really appreciate it. Have a great day!
Karen D.
September 25th, 2020
Very easy to use and understand. Thank you.
Reply from Staff
Thank you!
Tim G.
April 23rd, 2020
Pretty good all in all. I do wish I could download forms to a word doc instead of a .pdf. Word is more 'accessable'.
Reply from Staff
Thank you!
Greg M.
March 16th, 2020
This is a great site! Very easy to use and has all the documents I required. Thank you!
Reply from Staff
Thank you!
Dianna B.
July 23rd, 2020
Amazingly easy! I absolutely love it because it is so efficient and I only have to pay for when I use it. I use to have to drive to the recorders office or to a Kiosk station. The turn-around time was really quick as well.
Reply from Staff
Thank you!
Thomas W.
January 16th, 2019
easy to use, no problems except in beneficiary box. Need to make the box bigger because I have 4 beneficiaries to list. how do I enlarge the box.
Reply from Staff
Thanks for reaching out. All available space on the document is being used. As is noted in the guide, if you have information that does not fit in the available space the included exhibit page should be used.
Michelle M.
April 24th, 2023
This was an excellent source. The fee was much lower than the first site I checked. The sample form was very helpful.
Reply from Staff
Thank you!
Maura M.
January 15th, 2020
Easy user friendly website
Reply from Staff
Thank you!
Charles F.
November 20th, 2020
Fantastic service. I purchased the form one day, had it filled out, notarized and e-filed the next day. The following day I received the recorded document back. It was really overnight service!
Reply from Staff
We appreciate your business and value your feedback. Thank you. Have a wonderful day!
Frank H.
April 26th, 2021
All the forms downloaded are very comprehensive of Quit Claim transfers.
Reply from Staff
We appreciate your business and value your feedback. Thank you. Have a wonderful day!
Daniel D.
February 9th, 2020
Well done. A little pricy.
Reply from Staff
Thank you!
Legal Forms Disclaimer
Use of Deeds.com Legal Forms:
On our Site, we provide self-help "Do It Yourself Legal Forms." By using a form from our Site, you explicitly agree to our Terms of Use. You acknowledge and agree that your purchase and/or use of a form document does not constitute legal advice nor the practice of law. Furthermore, each form, including any related instructions or guidance, is not tailored to your specific requirements and is not guaranteed or warranted to be up-to-date, accurate, or applicable to your individual circumstances.
NO WARRANTY:
The Do It Yourself Legal Forms provided on our Website are not guaranteed to be usable, accurate, up-to-date, or suitable for any legal purpose. Any use of a Do It Yourself Legal Form from our website is undertaken AT YOUR OWN RISK.
Limitation of Liability:
If you use a Do It Yourself Legal Form available on Deeds.com, you acknowledge and agree that, TO THE EXTENT PERMITTED BY APPLICABLE LAW, WE SHALL NOT BE LIABLE FOR DAMAGES OF ANY KIND (INCLUDING, WITHOUT LIMITATION, LOST PROFITS OR ANY SPECIAL, INCIDENTAL, OR CONSEQUENTIAL DAMAGES) ARISING OUT OF OR IN CONNECTION WITH THE LEGAL FORMS OR FOR ANY INFORMATION OR SERVICES PROVIDED TO YOU THROUGH THE DEEDS.COM WEBSITE.
Damage Cap:
In circumstances where the above limitation of liability is prohibited, OUR SOLE OBLIGATION TO YOU FOR DAMAGES SHALL BE CAPPED AT $100.00.