Gift Deed for Real Estate Located in Alabama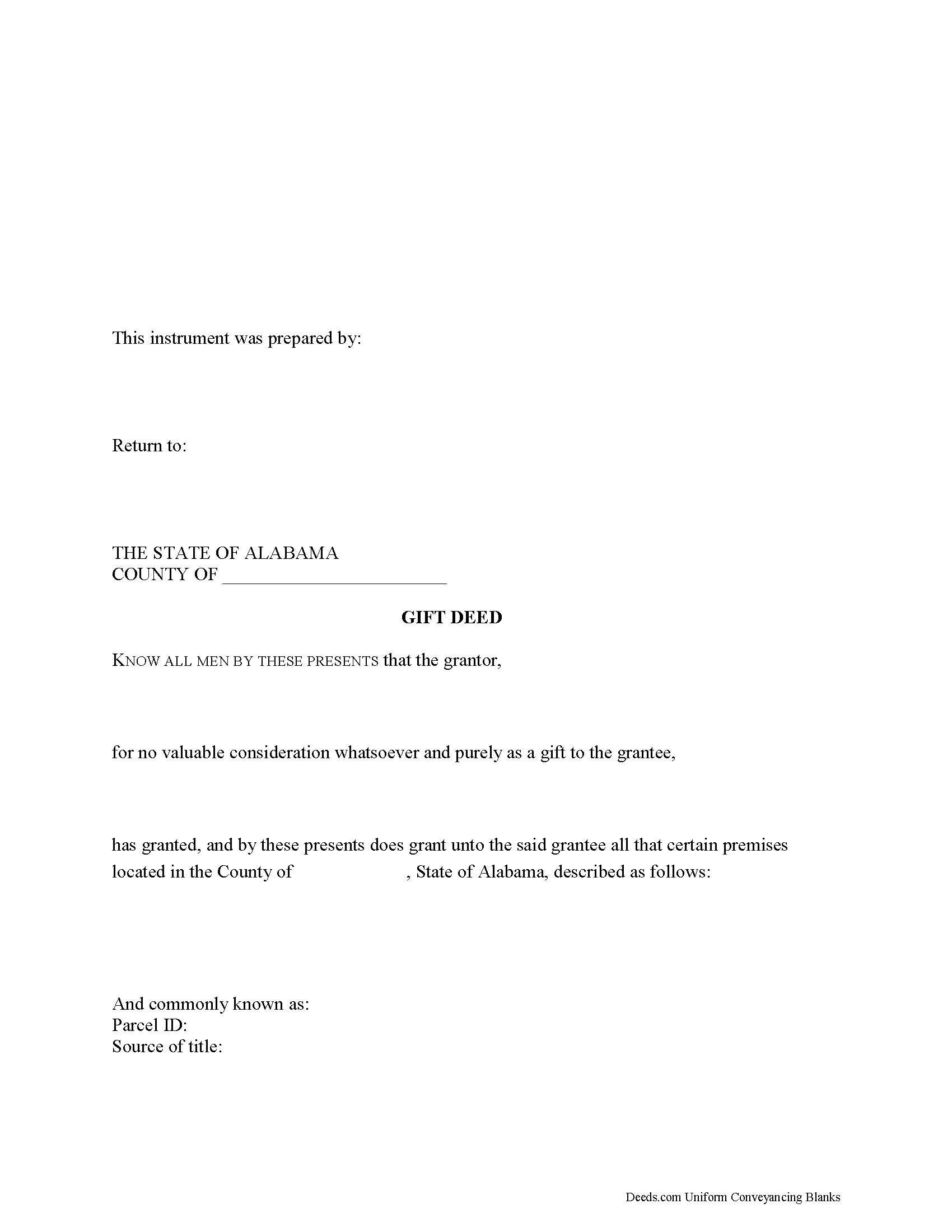 Gift deeds convey title to real property from one party to another with no exchange of consideration, monetary or otherwise. Often used to transfer property between family members or to gift property as a charitable act or donation, these conveyances occur during the grantor's lifetime. It is important that a gift deed contain language that explicitly states that no consideration is expected or required. Ambiguous language, or references to any type of consideration, can make the gift deed contestable in court.

A lawful gift deed includes the grantor's full name and marital status, as well as the grantee's full name, marital status, vesting, and mailing address. Vesting describes how the grantee holds title to the property. Generally, real property is owned in either sole ownership or in co-ownership. For Alabama residential property, the primary methods for holding title in co-ownership are joint tenancy and tenancy in common. The primary characteristic of joint tenancy is the right of survivorship. In Alabama, the right of survivorship is not presumed and must be specified in the form of the deed (Ala. Code 1975, 35-4-7).

As with any conveyance of realty, a gift deed requires a complete legal description of the parcel. In Alabama, if the legal description references a plat, the plat should be attached to the deed, or the deed should describe the plat book and office in which it can be found (Ala. Code 1975, 35-4-74). Recite the source of title to establish a clear chain of title, and detail any restrictions associated with the property. The document must be signed and acknowledged by the grantor in the presence of two credible witnesses, one of which can be the notary (Ala. Code 1975, 35-4-65). Record the completed deed, along with any additional materials, in the probate office of the county where the property is located. Contact the same office to verify accepted forms of payment.

Consult an attorney licensed in the State of Alabama with questions regarding transfers of real property in the state.
Back to Alabama