Quitclaim Deed for Real Estate Located in Montana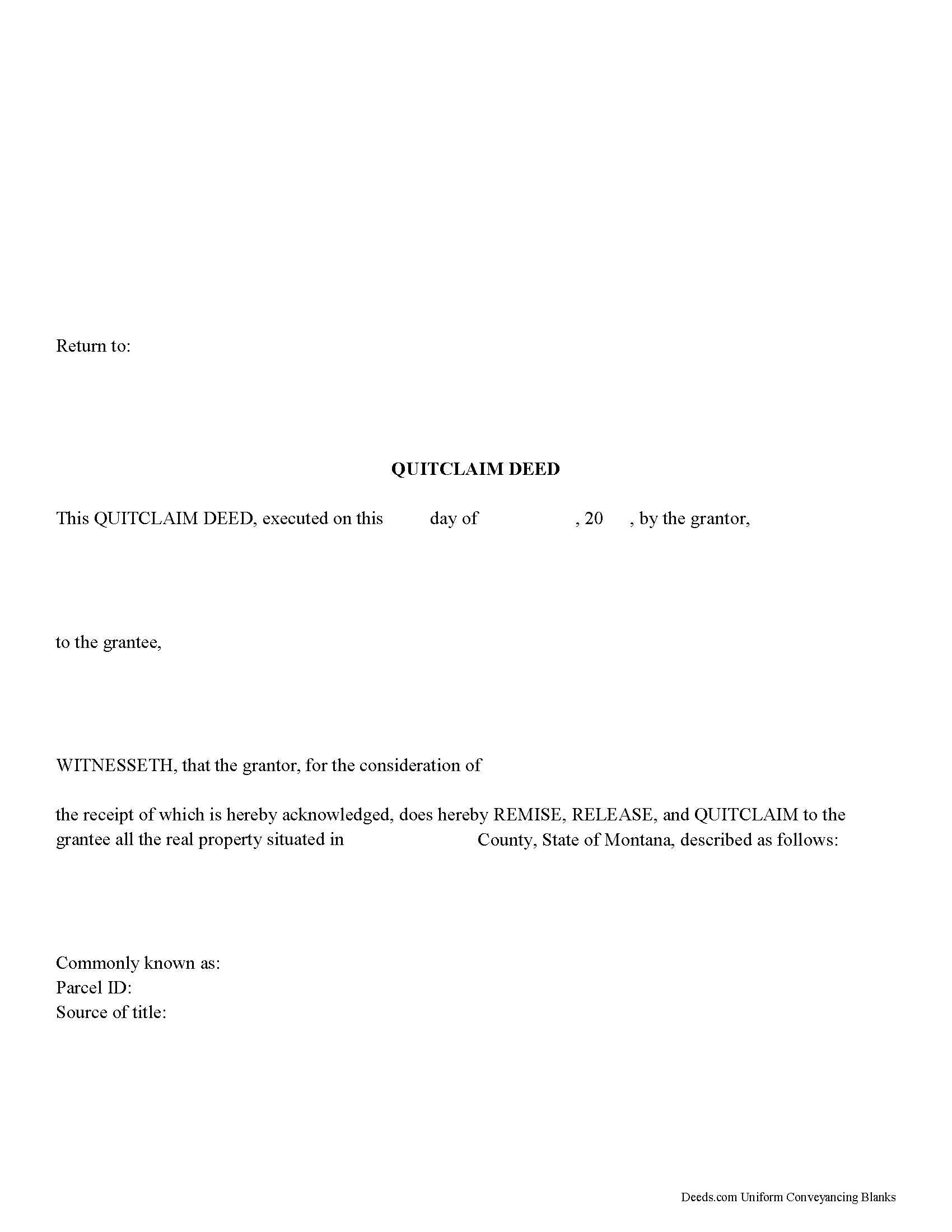 Real property transfers are governed by Title 70 of the Montana Code of Laws. Quitclaim deeds, while valid, are not specifically defined in the statutes.

Quitclaim deeds transfer any interest in real estate the grantor may have in real estate from the grantor (seller) to the grantee (buyer) without any warranty of title. When using a quitclaim deed, there may be potential unknown claims or restrictions on the title, and the buyer accepts the risk, effectively taking the title as-is.

These deeds are frequently used in instances such as a divorce, with one spouse signing all of his or her rights in a piece of real property over to the other spouse; when there is uncertainty about the history of the property's title, and it is necessary to clear extant claims on the title; or when a current owner or buyer wishes another party with interest in the property to disclaim that interest.

A lawful quitclaim deed includes the names and addresses of each grantor and grantee and a complete legal description of the property. Include the preparer's name, address, and signature as well (7-4-2618, 7-4-2636, MCA). Besides these requirements, the form must meet all state and local standards for recorded documents.

All recorded documents or documents affecting a change in property ownership must contain information on how the property will be vested. For Montana residential property, the primary methods for holding title are tenancy in common and joint tenancy. A grant of ownership of real estate to two or more persons is presumed to create a tenancy in common, unless otherwise stated in the conveyance (70-1-307, 70-1-314, MCA).

Include all relevant documents, affidavits, forms, and fees along with the deed for recording. Any party transferring real property is required to file a Realty Transfer Certificate. File the form with the County Clerk and Recorder. Montana law requires this form be completed and may impose up to a $500 penalty for failure to file (15-7-304--310, MCA).

A quitclaim deed must be signed by the grantor and acknowledged before a notarial officer before it is submitted for recordation in the county where the property is located (70-21-203, MCA). Recording a quitclaim deed provides constructive notice to all subsequent mortgagees and purchasers (70-21-302, MCA). Submit all deeds to the local Clerk and Recorder's office of the county in which the property conveyed is located.

This article is provided for informational purposes only and is not a substitute for legal advice. Contact a lawyer with questions about quitclaim deeds or any other issues related to the transfer of real property in Montana.
Back to Montana